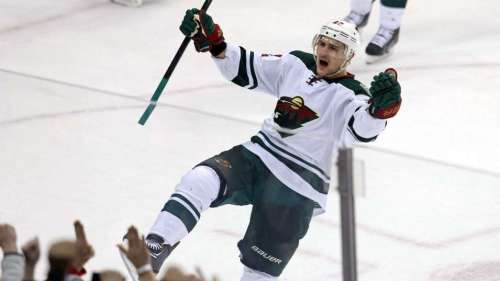 Hello fellow Wild fans!
In less than a month we will all finally be able to enjoy that greatness that is Wild hockey once again.
By the way, in case you didn't recognize the name up top, yes, I am now a new contributor here for the Minnesota Wild for HOHM. Now, let me just take some time to introduce myself.
As you already know by now, my name is Dan Czarnecki. I'm originally from Milwaukee, WI, and I'm now a junior at the University of St. Thomas in St. Paul, MN majoring in Information Systems, which under the category of Computer Science. I've become a fan of the Wild because of going to college in Minnesota, and also because my home state of Wisconsin doesn't have an NHL team. We just have an AHL team, the Milwaukee Admirals, the farm team for the NHL's Nashville Predators.
Anyways, enough about me.
Lots of exciting things have been happening for the Wild during this offseason.
Most recently, as of this past Thursday, we heard the exciting news about the Wild and Nino Niederreiter agreeing to a 3-year/$8 million contract. This is great news for us, as Niederreiter had a spectacular showing with us last year. His whole season with us was outstanding, but the standout moment for him would have to be that game-winning goal he scored in overtime of game 7 in the opening round of this past season's playoffs against the Colorado Avalanche. In other news, the Wild, as well as their AHL affiliate Iowa Wild, agreed to an affiliation with the Alaska Aces of the East Coast Hockey League (ECHL), another developmental league that the Minnesota team will be able to rely on for prospects.
Perhaps the biggest news of this offseason was the signing of Thomas Vanek. During this past season, Vanek originally played with the Buffalo Sabres before getting traded to the Montreal Canadiens during the trade deadline. During this year's free agency though, he signed a 3-year, $19.5 million contract with the Wild.
This is only scratching the surface of what the Wild have done during this offseason. I could go on, but I don't want to keep you guys here for too long.
The Wild's preseason is set to begin in a few weeks now, with their first matchup against the Winnipeg Jets (in Winnipeg) on September 22nd at 7 PM.
The Wild will then begin their regular season on October 9th against the Colorado Avalanche.
That's about all for me right now. I hope you guys enjoy getting to know me as a new contributor covering the Minnesota Wild here at HOHM. I can't wait to get to know all of you too!