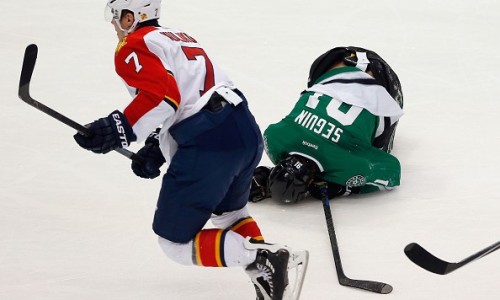 The Florida Panthers are in the thick of the playoff race for the first time since 2011-2012; duking it out with the Boston Bruins for the final Eastern Conference Wild Card berth, the Cats are four points back with a game in hand, putting themselves in a fairly sturdy position to mount a run and upend the B's postseason aspirations. It's a promising development, one who's potential is being checked by two mitigating factors: 1) Tuukka Rask's remembering that he's Tuukka f%$@ing Rask, and 2) the Cats' overly literal interpretation of that whole "variety is the spice of life" thing that basic b*tches the world over probably throw into their Instagram captions.
Score more goals, have less drama. They sure like to keep things interesting, but what's life if it doesn't have a little bit of kick in it? You know, in so long as that "kick" isn't a full-scale judo-chop of Tyler Seguin that results in an indefinite suspension pending an in-person hearing with the Department of Player Safety, the Panthers should be in tip-top shape!
Unfortunately, Dmitry Kulikov managed to pull that one off in style, flipping the former Bruin (ILLUMINATI) like a flapjack and scratching "get suspended" off of his bucket list. Compounding the effects of the Russian's exile are the extended absences of captain Willie and forward Brandon Pirri, adding to the recent developments surrounding Sean Bergenheim and his agent's trade request on the Finn's behalf. The Sunrise-based Hockey Club has also scored a lone goal in it's last 140 minutes of hockey (typing this while watching the Panthers-Blues game WHADDUP MULTITASKING)-lending to a minor two-game slip-but that's none of my business.
Delving a little deeper into those other factors, Willie Mitchell's absence from the line-up extends back to February 3rd, where the former Los Angeles King sustained the ever-ambiguous "upper-body injury". Overall, however, there hasn't been much of a precipitous drop in performance; with call-up Steven Kampfer performing admirably in his stead, the Cats have compiled a 2-2-1 record, shooting par for-and even bettering-the course, improving on their Points Percentage of five games prior. Pirri's situation is a tad more complex. Having missed two games following an upper body injury incurred against the Anaheim Ducks and slated to remain on the shelf for the next two weeks, the forward's medical leave robs the Panthers of a legitimate goal scoring threat. His nine goals in 28 games place him fourth among Panthers' skaters, his 12.30% shooting figure ranking second. In the small sample size afforded by his most recent stint on the IR, the Cats-as I mentioned prior-have been held to one goal over three games, the attacking corps plodding about the ice and currently trying their hand at solving the Blues' Brian Elliot. With team offense a glaring weakness, Pirri's nonappearance serves as a form of diluted kryptonite; it may not be super, but any positive contribution helps.
As far as Bergenheim goes, this just outright bums me out. In the spirit of conciseness, here's another nifty-neato *BULLETED LIST* that sums that whole shebang up pretty nicely, if I may say so myself. Unfortunately, cave-speak is a mandatory feature on this model; if you'd like more eloquence, you'll have to upgrade to the next trimline.
BERGY GET SCRATCHED. BERGY NO LIKE GET SCRATCHED.
GALLANT SAY BERGY NO TRY.
TODD DIAMOND SAY GALLANT FULL OF POOP.
DIAMOND ASK FOR TRADE.
Bergenheim's continuing to rack up the frequent visitor points up in the press box, as Gerard Gallant scratched the former Tampa Bay Lightning playoff hero for tonight's tilt against the visiting Blues. A deal might be done sooner than later, and if it comes to pass, I hope it does with the utmost speed. Distractions of this ilk may only serve to upset the locker room, and Lord knows THEY DO NOT NEED THAT RIGHT NOW. Just trade for Garth Algar, Mr. Tallon. I hear he's a serviceable netminder.
And now, a pithy ending.
I suppose that what I'm attempting to get at is this; obviously, these uncontrollable external details wouldn't do any hockey club any good, but what separates the good squads from the great is the ability to rise above whatever adversity the hockey gods throw at them. It's all in cliche terms, but it ain't cliche for nothing. Sometimes, you've got to make your own destiny.
Random tidbit of the day-I just watched Wayne's World for the first time, and it's safe to say that my life has been changed forever.