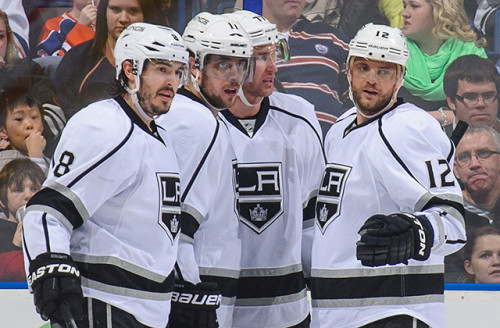 What is in store for the 2013-14 Stanley Cup Champions this upcoming season?
After a disappointing 2014-15 season, the Los Angeles Kings will be looking to have a bounce back year. Let's have a look at what is most important; the Kings depth chart.
Lucic will be joining Kopitar and Gaborik on the first line this year. Look for these guys to be lights out!
Carter will be up the middle between Toffoli and Pearson. Expect big things from both these young wingers.
Lewis & Shore will be up and down between playing centre on the third/fourth line. Either option, they will both have Nolan, King, & Clifford to add some big body grit.
Captain Brown slots in nicely with the third line to add a great combo of hard work and finesse.
Doughty will take another stab at the Norris. Muzzin will compliment all of Doughty's skills as he did last year.
Ehrhoff as a new addition will be a great fill in for a few defensive departures.
Greene and McNabb will hold down the back end well with their solid defensive play.
Quick will of course be the number 1 in Los Angeles. He is typically pegged as a top goalie in the league, although is numbers are very average. Quick needs to have another solid year for the Kings to make another Stanley Cup run.
Key additions: Milan Lucic & Christian Ehrhoff
Key departures: Justin Williams (RW), Mike Richards (C), Jarret Stoll (C), Andrej Sekera (D), Robyn Regehr (D), and Slava Voynov (D).
2015-16 Predictions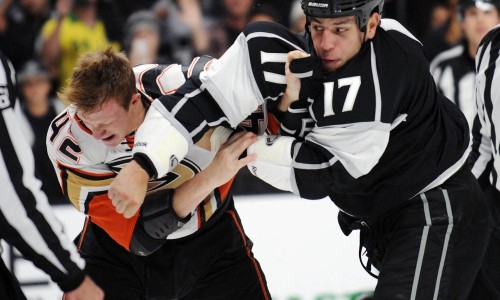 Kings Record: 44-27-11 (99 points)
Regular Season Standings: 2nd, Pacific Division. 6th, Western Conference.
Playoff Outlook: Lose in the Conference Semi-Finals to Anaheim Ducks.
Not-so-bold prediction: Lucic will top his career season point total with 70+ points.
Bold prediction: Kopitar will score a career high 40 goals and notch up 90+ points.
Smith's Sleeper: Predicting Tyler Toffoli to be a King's top 3 scorer and be in the top 50 of NHL scoring.