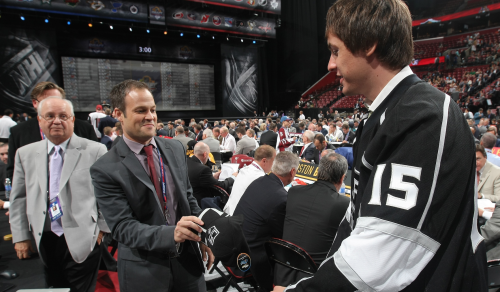 The 2015 NHL Draft Class consisted of some highly skilled players. From Connor McDavid to Jack Eichel & Lawson Crouse, this draft was very deep. Thankfully for the Los Angeles Kings this draft was so deep, as they were without a 1st round pick. After failing to make the playoffs this past season, the Kings were in desperate need to draft some talent that could contribute to their future. In the 2014 draft, the Kings managed to have 10 picks, which is almost unheard of by a team that just won the Stanley Cup. For 2015, the Kings had 6 total picks.
With their 2nd round, 43rd overall pick the Los Angeles Kings selected Erik Cernak. This 6'4″ defenseman was born in Kosice, Slokavia in 1997. Weighing in at 203lbs, this 18-year old is coming straight from professional hockey in the Slovak league. As a 14-year old, Cernak was pegged as a potential professional hockey player; playing for the HC Kosice U18 team in 2011. Most recently winning a Bronze medal for Team Slovakia in the World Juniors, Cernak should be able to handle playing in the NHL. This big-bodied defenseman was not selected for his offensive prowess. With his natural defensive ability, points are not of concern in this young prospect's performance. His defensive ability overshadows all his offensive faults as Cernak has proven he is a heavy checker, big shot blocker, willing to battle in front of the crease, and has a strong defensive awareness. Where does Cernak fit into the Kings line-up? The defensive core in Los Angeles is quite strong, so to see this young defenseman in the depth charts would be surprising. Look for Cernak to begin the year with the Kings AHL affiliate; Ontario Reign, and be called up for a few games to get some NHL experience.
At 74th overall, with their 3rd round pick the Los Angeles Kings drafted Alexander Dergachyov. Born in 1996, at 18-years old Dergachyov is from Langepas, Russia. He stands at 6'4″, and weighs in at 200lbs. This gritty center is your ideal two-way center slotting in the 3rd or 4th line. Another talented individual that has more of a defensive benefit to the team. Dergachyov is that grinding centerman that plays a strong power game. He is tough on the puck, possesses some puck handling ability, and while he is a predominately a physical presence, Dergachyov has also shown some hints of finesse in his game. A perfect example of his grinding, hard-nosed attitude of play is this long battle with Darnell Nurse in the most recent World Juniors: Darnell Nurse VS Alexander Dergachyov. Where does Dergachyov fit into the Kings line-up? He is likely to stay one more year in Russia and fulfil his contract before coming to North America. When he does arrive in North America, it is likely he will play in Junior before getting his official début into the NHL.
Taken in the 4th round and the 99th pick in the draft was Austin Wagner. This Calgary, Alberta native weighs in at 178lbs and 6'1″ tall. Wagner made his début in the WHL when he was a mere 15-years old. He played 1 game that year with the Regina Pats, before heading back down to finish his year in Midget. The following year Wagner played in Regina; he only played half the games that season in 2013-14 for his rookie season with the Pats. His next year with the Regina Pats, Wagner stepped up his game and had more of an impact, being slotted in the first line for multiple games and potting 20 goals on the year. Wagner's biggest asset is his speed on the left wing. His speed has proven to be not only a large offensive asset, but has a big impact on his defensive game. Consistently the first one back in his own zone on the back-check. His defensive work ethic & concern plays a huge role in his overall ability. Wagner has some major potential to have an impact in the NHL. Where does Wagner fit into the Kings line-up? With a talented roster, the Kings squad will be hard to make for Wagner. Don't expect to see any 18-year old forwards in this line-up other than Adrian Kempe. Another year or two in Regina for Wagner would be beneficial to his development, then he can play in the big league as a 2nd or 3rd line winger.
Moving into the 5th round, the Kings were looking for a big body presence forward up front, and they got that drafting Matt Schmalz 134th overall. Schmalz has quite the large stature. At 6'6″, 209lbs, Schmalz has notably used his size throughout his OHL career. Since joining the Sudbury Wolves in 2012, Schmalz has made it known he is willing to get involved in the fighting aspect of the game. With 11 tilts in his career with the Wolves, Schmalz recognizes this plays a larger role in what he brings to the table as a future NHL player. Here is a quick video of one of Schmalz's (in white) fights: Schmalz VS Lepkowski. This past season, Schmalz brought his game to a new level. He put up 40 points, with 68 penalty minutes in the 66 games he played. Although, those stats are not overwhelmingly great, taking into account that he did this while playing for the last place team that only won 12 games and scored less than 150 goals for all year. Schmalz uses his size for his biggest asset, specifically highlighting his board work. Very rarely will you see Schmalz lose a battle along the boards. At 19-years old, he already has a man's body, so look to see him utilize that when he gets his first shot. Where does Schmalz fit into the Kings line-up? He will probably spend another year or 2 with Sudbury to develop. Schmalz will likely get a few opportunities to play with the Kings if the injury bug kicks in the Los Angeles locker room. Schmalz fits into the Kings organization well with his style of play and hard-nosed attitude. Give him a few years to develop, then you will see him making an impact as 3rd line winger.
With no picks in the 6th round, the Kings looked to the 7th round, where they had their final 2 picks in the 2015 Draft. With the two picks only seven picks a part, the Kings went with 2 big-bodied defenseman. At 187th overall, the Kings selected Chaz Reddekopp, and at 194th overall, they drafted Matt Roy. Both defenseman will prove to be significant assets in 5-6 years as they develop through Los Angeles' system. Reddekop has quite the large stature, standing at 6'4″ and weighing in at 220lbs. He has a large presence in the defensive zone, and will prove to be an asset while short-handed. At 20-years of age, Roy stands at 6'1″ tall and has been skipped over being selected the past 2 draft years. The Kings decided to take a chance on this Michigan Tech defenseman. Where do Roy & Reddekopp fit into the Kings line-up? Roy will take a little longer than Reddekopp to develop. Reddekopp will likely have a more successful career than Roy. Both will be lucky to fit into a 5th or 6th defenseman role.
The Los Angeles Kings 2015 draft class. Overall rating on the Kings draft is a "C+". From the 6 prospects drafted by the Kings Cernak & Schmalz will likely be the most successful in their NHL careers. Wagner & Dergachyov will make it to the show, but probably only in a small supporting role. Reddekopp & Roy could come out of nowhere and be something big, but both will more than likely end up playing in the AHL. All in all, the Kings came out of this draft with some honest prospects, but definitely far from their best draft.
Love Reading About Hockey?

Subscribe to keep up-to-date with the latest and most interesting hockey news!
| | |
| --- | --- |
| | We hate spam just as much as you |