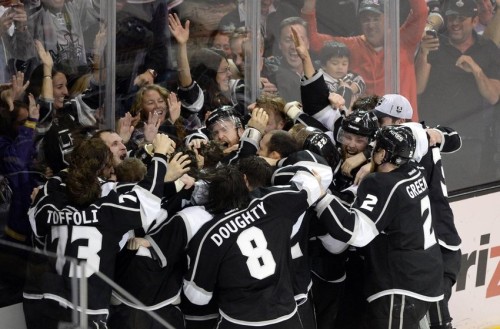 After a very weak season, there are many Los Angeles Kings players that are looking to get off to a quick start and have a much better season. Let's jump right into it and look at who should be on your radar this year.
Dustin Brown; the captain himself had a very poor season last year, and he is looking to bounce-back big time. Last season, Brown had 27 points. The past 3 years, he has not been able to surpass that 30-point mark. Brown needs to forget about all other distractions and just go out their and play his game. He is 30-years old as he enters this season, but he can play like a gritty 20-year old who wants the puck! High expectations for Brown to have a bounce-back season and rack up 50+ points.
Other notable players in need of a bounce-back season: Jeff Carter – Although coming off one of his better seasons since being traded to Los Angeles, Carter is a much better player than he has shown these past 4 years.
Marian Gaborik

Since Marian Gaborik underwent hip surgery back in the 2008-09 season while he was playing for the Minnesota Wild, he has completed one season. After signing with the New York Rangers for the 2009 season, Gaborik had a hot starts before suffering a knee injury. The next season, Gaborik missed a month early on in the season due to shoulder injury. The point is, when Gaborik plays he plays. Gaborik need another healthy season to be completely effective. Here is short recap of his injuries:
2008-09: Hip – missed 65 games
2009-10: Knee – missed 6 games
2010-11: Shoulder – missed 10 games
2013-14: Collarbone – missed 41 games & Olympics
Anze "Anz Fire" Kopitar
Anze Kopitar has been one of the hottest players in the NHL the past few seasons. He is almost averaging a point per game in his career. Not many players are capable of doing that. He is also in his prime at the age of 28-years. After a rough start to the season last year, Kopitar turned it around to finish the season strong. He will ride that momentum leading into this season and will not only come out strong, but play like the top 20 forward he is.
Whenever a star player is traded to a new team, they are usually highly effective. This is most definitely going to be the case with Lucic. He should be playing on the top line with Kopitar & Gaborik, so he will have lots of ice time and accumulate a ton of points. Under the guidance of Darryl Sutter, Lucic will develop his game even more and will likely tally among the top 45 in points for the season.
At 23-years old, Toffoli is just beginning to enter his prime. No doubt is he a talented hockey player. Since coming into the NHL in 2012-13, Toffoli has only played for the Kings and has posted 83 points in 148 games. Definitely nothing to brag about, but it shows he has the skill to become a player that racks up the points. Last season he really started to produce; scoring 23 goals & 26 assists. Tofolli will likely line-up on the 2nd line wing with Carter & Tanner Pearson. Both will compliment Toffoli on his skill and help him as he comes into his own in the league.
Other notables on the rise this season would be Toffoli's line mate: Tanner Pearson – He showed some glimpses of major skill last season, so have an eye on him to breakout some more this year.
These are the main guys to keep an eye on, but of course there are countless players that you can look out for on the Kings. These players are the ones that the Kings need to be successful this year to really put them back into position at another Stanley Cup. Now of course, a player like Drew Doughty will have a huge impact regardless. One could argue Jonathan Quick will need to play really well for the Kings to have a shot. The fact is though that Quick is an elite goalie that is expected to play at a high level. Between Brown, Gaborik, Kopitar, Lucic & Toffoli you will see some increased reliance on this core to lead the Kings to another Stanley Cup Playoffs.