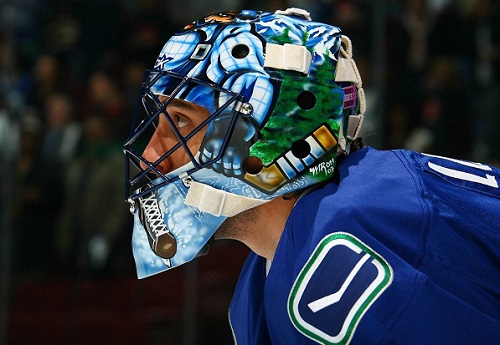 Yesterday was a long day; you see, Spring Break equates to Spring Workouts for the boys and girls at UF Crew (and just about every other rowing team in America). That equates to two-a-days out at the lake, which equates to everyone having roughly four hours of down time in between practices, with which I spent the majority attempting to cook myself lunch. Having finished my second session-thoroughly drenched, frigid, walking by an act of divine intervention-I rallied up my carpool, eager to get back an empty campus. Per usual, I picked up my cell phone at a red-light, checking messages as teenagers are prone to do. Two messages, however, caught my eye-one an ESPN screenshot, the other a sad, sad sentence. Both read the same-ROBERTO LUONGO TRADED TO PANTHERS, JACOB MARKSTROM HEADED TO VANCOUVER.
I screamed. A lot. I opened my window and screamed to passersby roaming the Downtown Gainesville sidewalks. Not any old scream-something along the lines of Chance The Rapper's signature "IGH" adlib. I don't know WHAT kind of Kool-Aid y'all are sippin' on down there, but I WANT SOME RIGHT M**********N' NOW.
The trade-one which saw maligned forward Shawn Matthias packaged with the young Markstrom for Luongo and some dude named Steven Anthony-seemingly draws a hectic day to a close for the Sunrise-based hockey club. The blockbuster deal rounds out a string of moves by General Manager Dale Tallon; Mike Weaver was dealt to the Montreal Canadiens for a 2015 fifth-round draft pick in the early afternoon, while Brad Boyes re-upped with the Cats, signing a two-year, $2.625 million extension that includes a limited no trade clause (that's a damn good deal, JUST SAYIN'). Furthermore, perennial back-up netminder Scott Clemmensen, as well as pivot Scott Gomez, were placed on waivers.
Just take a moment to process this all. I'll wait. For the record, this is big. Pretty big. Like, top-trending on Facebook big. Which is kind of like trending on Twitter, except nobody likes Timeline or Mark Zuckerberg or whatever.
Personally, I'm not quite sure what the trade brings to Florida; the secondary piece of this two-for-two swap, prospect Steven Anthony, is a 22-year old prospect currently plying his trade with the St. Charles Chill of the Central Hockey League. Described as a playmaker by prospect database Hockey's Future, the website caps his potential at a 6.0/10, indicating a player who, at his ceiling, can step into a bottom-six role on an NHL squad. Granted, this is assuming the player lives up to his potential; while prospect ranking is a crapshoot at best, questions have apparently surfaced about Anthony's work ethic. No bueno, Taco Bell.
Moving onto the centerpiece of the deal, Roberto Luongo seems to have finally worked his way out of a rock and a hard place. Having wanted to return to his home in Sunrise, the former Panther great gained all of that and more, presumably falling straight into a starting role in the home crease at the BB&T Center. However, what do the Cats really gain here? Though a brilliant goaltender in his own right, Luongo is rapidly approaching 35-years of age, and with a yearly average cap hit of $4.232 million dollars through the 2022 season, one has to wonder whether or not his contract-factoring in age-based skill regression-will turn into a bigger albatross than the one that stranded him in Vancouver for the better part of three years.
If we look at the deal in it's individual components, Tallon shipped out Shawn Matthias-a speedy skater who can chip in scoring on your bottom-six-for a prospect who's chances at cracking an NHL roster appear to be marginal at best. And while the latter half of the deal-Luongo for Markstrom-looks fantastic on paper, I might be one of the only people not celebrating this trade. Markstrom, while experiencing more than his fair share of struggles at the NHL level of late, has rebounded nicely playing for the San Antonio Rampage of the American Hockey League, where he recently won Goalie of the Month after turning aside 186 off 195 shots throughout February, good for a .954 save percentage and a 1.31 Goals Against Average. He's long been touted as an elite goaltending prospect, and though his path to the NHL has been marred by inconsistent play, he has the potential to reach his ceiling yet. Perhaps playing behind a defensive-minded coach (i.e. John Tortorella) could change his fortunes. That, along with not playing behind a defense that better resembles a colander.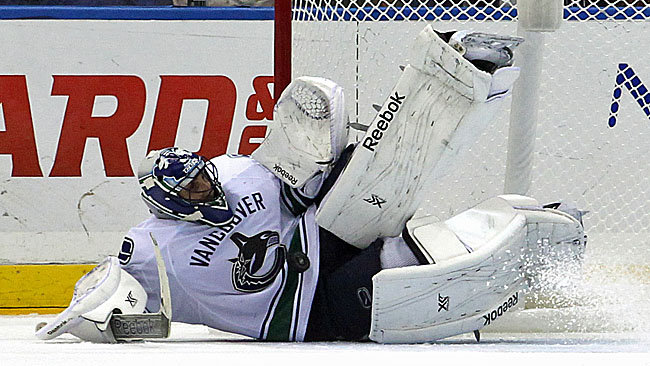 Furthermore, the Panthers' depth at the goaltending position takes a considerable hit-not so much in the short-term as in the long run. Currently, the average age of the top-three netminders-Luongo, Tim Thomas and Clemmensen-in the Panthers' organization sits at steep 36.3 years old. And although Hockey's Future qualified Markstrom as having "graduated" from their prospect pool, who do the Cats currently have in their ranks? Heading the system, Michael Houser and Evan Crowley both project-according to H.F-as, and I quote, "journeyman number one goaltenders", unlikely to reach their ceilings, who have the potential of regressing to the existence of a "top minor league goaltender". Topping everything off, Sam Brittain and Sergei Gayduchenko prove worse for wear. The pool lacks a clear-cut top gun.
Let me get this straight. I'm happy-and I mean hella stoked-to see Luongo wearing red once again. It's good for him, his family, the fans of a fanbase jaded beyond belief. But does this deal really change much? As far as I'm concerned, we're still projected to miss the playoffs for God knows how long, at least for two more years. Will a 38-year old Bobby Lu (you know, this year plus two=three. Tack that onto the 35-years he'll be after April 4th, and you get 38. Boom, math) be as sharp as the version primed to seize the Panthers' crease? Will he flash shades of vintage Luongo, that of a Cats career .920 save percentage? I sure as hell hope so. I really, truly do. Age, though, is a funny little bugger. No one knows how a particular person will respond to its inevitable track. Will he be a Jaromir Jagr, or a 2011-present Martin Brodeur; good, but a shadow of the force he once was?
But the question remains-should he have even been shipped to Vancouver in the first place?