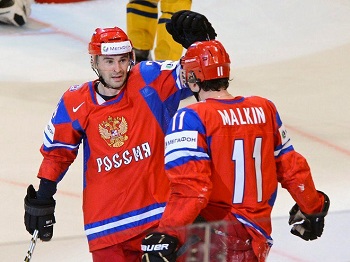 Penguins center Evgeni Malkin put an exclamation point on Russia's decisive 7-3 victory over Sweden Friday afternoon. In a show of heroics and prowess, Malkin earned a hat-trick and two assists, totaling five points. His steadfast efforts enthused teammate Pavel Datsyuk: "Today he played unbelievable. He did a good job."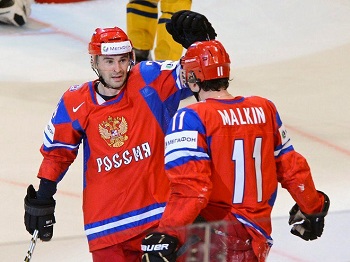 Billed as a matching of passion, grit, and vigor, both Russia and Sweden entered the contest undefeated thus far in the tournament. Ultimately a lack of discipline and focus contributed to Sweden's undoing, squandering a 3-1 lead. Two consecutive power play tallies, scored by Malkin and Alexei Yemelin, resurged the Russians and served as the catalyst for an enthralling comeback. Russia's fourth goal came fifteen seconds into the third period by Alexander Perezhogin, capitalizing on a poorly managed rebound.
Alexander Popov fed an open Malkin the puck for his second of the game and tenth of the tournament. Malkin beat Fasth at 2:08 of the third period, the puck sailing through the Swedish netminder's pads and past the goal line. The duo would connect again at 11:08 with Malkin's shot soaring past Fasth, earning Russia a two goal lead and completing Malkin's hat-trick. The period concluded with an elated Malkin assisting two goals. Russia outworked and dominated Sweden, playing a smart, gallant, and focused sixty minutes. "We played against the best team in this tournament but we focused for all 60 minutes," said Malkin after the game. "The last five minutes the PK and defense did an unbelievable job, and the goalie, too."
Unwavering and unrelenting, Russia effectively bore down on Sweden and pressured key players. Despite multiple scoring opportunities, namely a five minute power play in the final frame, Sweden failed to build any momentum against Russia's doughty defense. Beaten, bloodied, and bruised, Sweden suffered at the hands of Malkin and the Russians. This is a sentiment echoed by Swedish defenseman Victor Hedman: "They got some momentum and then they scored right away in the third period. We can't let them score five in a row. We need to stop the bleeding before it gets too big, and we didn't do that today."
With this performance, Malkin cemented his role on Russia's roster and proven he is a dominant force and a fierce competitor. What is striking is his maturity and composure. Penguins' fans will recall various scouting reports on Malkin, all citing his hot temper and tendency to take retaliation penalties. To this, Malkin has responded and blamed this on emotions and nerves, particularly in high pressure situations. Interestingly, Friday afternoon showcased a disciplined side of the NHL's Hart Trophy nominee. When Malkin narrows his focus to the task at hand, the results are electrifying. Currently, Malkin leads all players in the tournament in both goals (six) and points (twelve). Russia remains undefeated, with five wins in five games. Russia's next test will be Sunday against the Czech Republic.