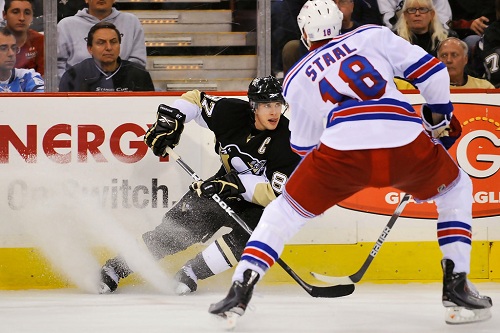 The NHL is a fast-paced game. Players shoot pucks over 95 MPH and they are faster than ever before. Should the NHL require all players to wear a visor? What about a full-cage? A new rule could be enforced as early as next season for visors.
There have been a lot of players get a stick to the face, or hit with a puck. Most notably this past season, the Pittsburgh Penguins Sidney Crosby and the New York Rangers Marc Staal took pucks to the head. Crosby was wearing a visor but was hit in the mouth area. Crosby lost some teeth and had to have surgery after the game.
http://www.youtube.com/watch?v=jj8AbjJqcCM
Staal was not wearing a visor when he took a puck to the eye. He missed about 2 months of hockey. He returned to play one playoff game vs. the Washington Capitals but was scratched after that. His eye will never be 100 percent but hopefully he can come back and play at a high level. While he did not wear a visor before, he is in full support of all players wearing one now.
http://www.youtube.com/watch?v=SWFhAePZSHs
Most likely, the league will approve a mandate that will require players entering the league to wear a visor. Those that are already in the league will have the option to not wear one. (grandfather clause). Right now, close to 70 percent of players wear a visor. Does it seem possible that not that long ago, players didn't even wear helmets? With the skill-set and speed of players a lot faster than it was before, if players didn't wear helmets today, it's possible some players could have died from pucks to the head.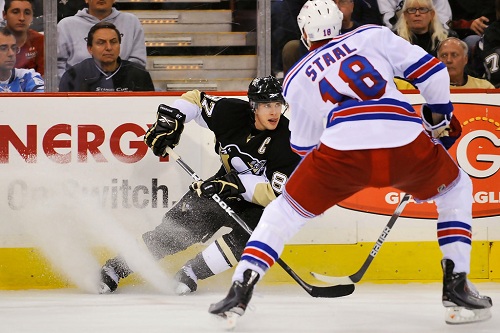 Is having players wear visors enough? Should players wear a full cage for protection? Is it kind of weird that players in collegiate hockey are forced to wear a full-cage but can opt for a visor or nothing when they move on from the collegiate ranks? I think a full-cage would help cut down the severity of some of these injuries. If Crosby and Staal had worn full cages, how much damage would have been done?