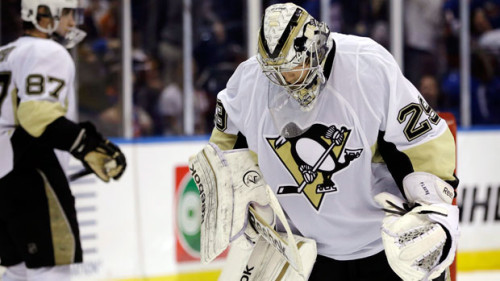 As reported by Josh Yohe of the Pittsburgh Tribune-Review, Jim Rutherford has no plans to extend Marc-Andre Fleury's contract prior to the 2014-2015 season. With plenty of one-year deals set to expire next summer, along with Paul Martin's, this seems like a safe move to keep an open mind going into next off-season. But with plenty of buzzing questions, what does this mean for the Penguins in net?
Marc-Andre Fleury is in the final year of his seven-year, $35 million deal. Signed after the Penguins loss in the 2008 Stanley Cup Final, Fleury would quickly prove himself worthy of the deal by playing between the pipes for a second straight Stanley Cup Final in the following season, not to mention a victory the second time around. But are the Penguins still getting the Marc-Andre Fleury of 2009?
Fleury's regular season numbers have never really been in question. He's finished Top 10 in wins since the 2008-2009 season. He's started every post-season campaign. He even finished the 2014 Stanley Cup Playoffs with his second best post-season save percentage (.915) and shutout total (2) since the 2009 Stanley Cup Playoffs (.908/0). It is in between those post-seasons that the questions begin to appear.
He has only finished 3/8 post-seasons with a save percentage above .900. He has only finished 1/8 post-seasons with his GAA under 2.00, and only 2/8 with his GAA under 2.50. Multiple "meltdowns" have left the team in big trouble, including losing his starting job in the 2013 Stanley Cup Playoffs to backup Tomas Vokoun. Those statistics alone suggest not to offer him an extension, but where would that leave the Penguins?
With a limited NTC and a strong desire to stay in Pittsburgh, it doesn't seem that Fleury will be traded at any point during the 2014-2015 season. If the Penguins and Fleury decide to part ways at the end of the season, the list of UFA's in 2015 doesn't give the Penguins many options:
Antti Niemi
Viktor Fasth
Karri Ramo
Michal Neuvirth
Josh Harding
Jonas Gustavsson
Evgeni Nabakov
Peter Budaj
Jonas Enroth
Ray Emery
You could make a case for anyone on this list, but why risk paying more for similar numbers when you have a player that wants to stay and could possibly take a bit of a discount to do so?
Many will also point to prospect Tristan Jarry as a replacement. However, he is still a few years out of a starting job, much less a shot at NHL ice.
With below average numbers in Marc-Andre Fleury, no suitable replacement on the open market, and no prospects immediately ready to take over, what is the best option for the Penguins?
Sign Fleury to a short-term deal with a similar cap hit.
This would give the Penguins the consistent success they've had in the regular season, while still having a good shot in the playoffs. In the mean time, Tristan Jarry will continue to develop into a possible starter when Fleury's contract is up.
While Fleury has taken the majority of the blame for the Penguins post-season shortcomings since 2012, more and more issues with the team have unraveled at the same time, softening the blow for him each passing year. Some would even argue that he was the reason the Penguins even made it to the second round last season.
The 2014-2015 season will be a big point in Fleury's career – either keeping his career solidified in Pittsburgh, or hitting NHL ice in something other than black and vegas gold at the start of the 2015-2016 season. With some faith restored after his 2014 Stanley Cup Playoff performance, and what will hopefully be a better defensive system in front of him, the stage is set for the flower to bloom at the perfect time.