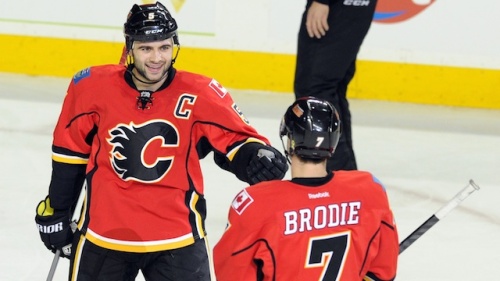 It's hard not to take note of what's going on in Calgary right now. The Flames, who were (rightly) considered underdogs prior to the start of the 2014-15 season, got out to a hot start in October and haven't slowed down since.
Through 17 games they sport a 9-6-2 record – including wins against some formidable opponents – and have bee anchored by the performance of their captain Mark Giordano. On November 10 the league took note of his work, too, naming him first star of the week for Nov. 3-9.
Giordano's stellar week – seven points in three games – helped the team to a 2-1 record with wins coming against the Washington Capitals and Florida Panthers. Highlighting the week was his franchise record-tying four game multi-point streak, punctuated by the game against the Florida Panthers when he scored a goal and notched two assists.
What may come as a surprise to some is his production this season hasn't been all that different from that of last season. The only difference was the Flames did so poorly in 2013-14 there was no sense giving any extra attention to a basement dweller. But with a hot start – and a spot near the top of the Pacific Division standings – the attention has rightly turned to Giordano's excellence.
He has unquestionably been the team's leader on the ice through 17 games, as his 19 points are tops on the team. Even on a league-wide scale his numbers have been exceptional: He leads all defensemen in points and, as of Nov. 10, is tied for third in the league ahead of Evgeni Malkin, Steven Stamkos, Corey Perry and many other forwards (yes, it's still very early, but hey).
While it isn't likely Giordano will be the top scoring defensemen by season's end – Erik Karlsson, Shea Weber, etc. have still yet to hit their stride – he could still finish in the top 5-10. And if Calgary has any hopes of sustaining this highly improbable success, Giordano's production will undoubtedly play a major role in it.
If he can continue it – and the Flames at least finish in a battle for a playoff spot – there's a good chance his name will be thrown into discussions for the Norris trophy and maybe even the Hart.