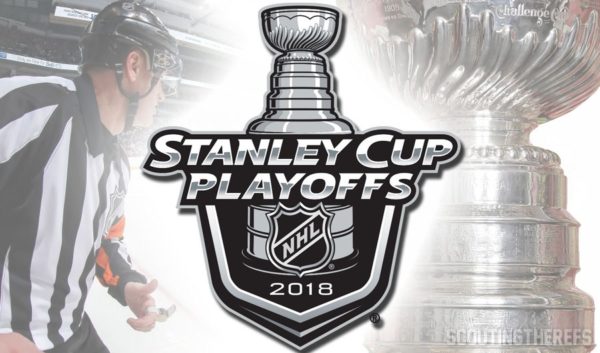 McKenna's weekly NHL Mailbag will be open via Twitter Wednesday through Friday for the remainder of the 2018 NHL season and Stanley Cup Playoffs. To have an NHL related question featured in Hooked On Hockey Magazine tweet to @KMcKenna_tLT5 by using the hashtag #McKennasDigest.
In a quick turnaround McKenna's NHL Mailbag takes to Hooked on Hockey Magazine just in time for the start of the 2018 Stanley Cup Playoffs.
Do you think usual backups Kinkaid and Grubauer will carry the crease for the duration of their team's playoff runs, or will the perennial starters Schneider and Holtby win back the blue paint? #McKennasDigest

— Paul Campbell (@WayToGoPaul) April 11, 2018
This is a question that will be an ongoing theme throughout this year's Stanley Cup Playoffs for a handful of teams, especially in the Eastern Conference. In recent memory, NHL fans alike have witnessed teams establish playoffs runs by using more than one respective goaltender during series' in order to advance to the next round.
Let's just look back at a team that can make history this postseason with the two-time defending Stanley Cup Champion, Pittsburgh Penguins. The Pens primarily used two goaltenders, Marc-Andre Fleury and Matt Murray, to hoist Lord Stanley in 2016 and 2017. Other successful playoff teams in recent memory such as the Chicago Blackhawks, Boston Bruins, Anaheim Ducks and Philadelphia Flyers have also utilized backup netminders to make deep runs at Lord Stanley.
https://www.instagram.com/p/BhPzGFDAsvl/?hl=en&taken-by=njdevils
For some of those teams mentioned above an opportunity was born for then (current) backups, but the key was that there were tandems used between the pipes for all of those teams – not just one masked man.
The #Caps turn to Philipp Grubauer for Game 1, who earned his second career #StanleyCup playoff start with his outstanding play. #ALLCAPS https://t.co/NHTTWV30EB

— Washington Capitals (@Capitals) April 10, 2018
In no disrespect towards the "1A" goaltenders from the Washington Capitals and New Jersey Devils, in Philipp Grubauer and Keith Kidkaid, but expect to see both of those teams turn to their perennial starters in Braden Holtby and Cory Schneider at some point during the 2018 Stanley Cup Playoffs.
The NHL's goaltending situation is not what is used to be where teams would rely on one sole goaltender to lead them to the promise land. Now, the equality of talent in the blue paint is stronger and more competitive than ever. The term "backup goaltender" is slowly, and surely, being erased not only by each passing season; but after each postseason.
If the Capitals and Devils want to advance – they won't fall back on, but utilize both of their goaltenders. In a sense, Holtby and Schneider are being challenged — expect them to rise to the occasion when called upon.
(Paul Campbell is a writer at InGoal Magazine: See more of his work here.)
@KMcKenna_tLT5 What is the most intriguing matchup in the first round of the #StanleyCup Playoffs?

— Zach Monell (@Zach_Monell) April 10, 2018
Since the NHL updated its' (bracket) format for the Stanley Cup Playoffs it seems that the matchups have been more intriguing each year, especially during the opening rounds. Now, we could see the top two teams from each Conference meet in the second round of the playoffs – where in the past that was impossible; as the top ranked teams that advanced would go on to play the respective lowest seeds.
Yes, the spotlight is on the Pacific Division's Vegas Golden Knights and Los Angeles Kings, but let's not sleep on the Boston Bruins and Toronto Maple Leafs over in the Atlantic Division bracket.
"This is why you play, this is, again, the whole season you're hoping you get a chance to do this." – @JVReemer21

🎥: https://t.co/nyk9Bqlbsd#TMLtalk | #StanleyCup pic.twitter.com/08f6LkOZnx

— Toronto Maple Leafs (@MapleLeafs) April 11, 2018
The top two teams this season from the East were the Tampa Bay Lightning and Boston Bruins. Both clubs would rather not play an up-and-coming Leafs team that has bracket buster written all over their Original Six sweaters.
Why?
Toronto arguably has the best coach currently standing behind an NHL bench at the moment with Mike Babcock, and Babs has already proven this team can give a Cup contender a scare in the early-goings of the Stanley Cup Playoffs (ala 2017 first round vs. Washington).
See Last Week's NHL Mailbag: McKenna's NHL Mailbag 4/8/2018
Auston Matthews has displayed he doesn't shy away from the spotlight, and his other young Leaf teammates in Mitch Marner and William Nylander, are just as deadly to their opponents at all times on the ice.
Forwards Nazim Kadri and James van Reimsdyk will be key assets for the Leafs in this series and will take a load of pressure off of the youngsters mentioned above. Let's not forget about one of the most storied NHL skaters of the last two decades in Patrick Marleau, either. The former San Jose Sharks all-star has displayed that he's still capable of being a force on a playoff caliber squad, especially on the power play (5G-4A –9PTS).
"It's gonna be a battle."

🎥 @bmarch63 on the B's first-round series with the Maple Leafs: pic.twitter.com/R37fG3LjYe

— Boston Bruins (@NHLBruins) April 11, 2018
The Bruins came on hot during the second half of the season, and the depth Boston's lineup entails in all areas on the ice is built to a make a deep run in the playoffs. The Bruins are physical and have a good mix of youth, plus veteran talent too.
If NHL teams and fan-bases thought that they couldn't stand Boston forward, Brad Marchand – just wait, he only gets more annoying come playoff time. Marchand thrives in the Stanley Cup Playoffs and his supporting cast of Patrice Bergeron, Zdeno Chara, Rick Nash, David Backes and Brian Gionta all know what it takes to lead a team to the Cup Finals.
However, center David Krejci may be the team's MVP for this first round against Toronto. Krejci's two-way play will shine this postseason, and haunt the Maple Leafs all series long. The Czech Republic native's career 45 points (14G-31A) in the regular season vs. the Leafs are the most he's recorded against any other team.
Toronto goaltender Frederik Andersen may steal a majority of the spotlight from the Bruins' Tuukka Rask between the pipes, but Rask is still an All-World goaltender that's capable of backstopping a Cup contender to the Finals.
Expect a seven-game series…
Tweet your NHL related questions to @KMcKenna_tLT5 to have them answered & be sure to use the hashtag #McKennasDigest
Kyle McKenna covers the NHL for Hooked On Hockey Magazine. He can be reached on Twitter (@KMcKenna_tLT5)