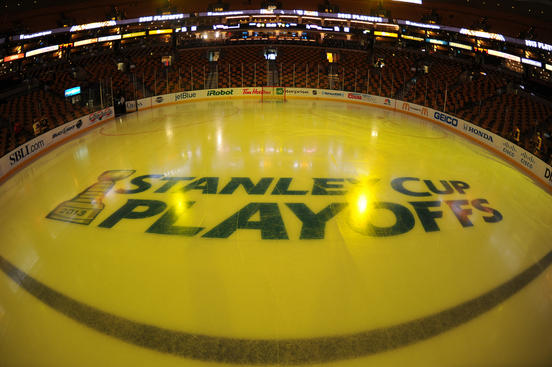 McKenna's weekly NHL Mailbag will be open via Twitter Wednesday through Friday throughout the remainder of the 2018 NHL season and Stanley Cup Playoffs. To have an NHL related question featured in Hooked On Hockey Magazine tweet to @KMcKenna_tLT5 by using the hashtag #McKennasDigest.
@KMcKenna_tLT5 If they meet in the playoffs, who do you like between the Bruins and Lightning? @HOH_Magazine #McKennasDigest

— John O'Callaghan (@J_OCallaghan93) April 4, 2018
It could arguably be the most anticipated matchup that the 2018 Stanley Cup Playoffs would witness prior to the Stanley Cup Finals. This hockey enthusiast has been high on both the Boston Bruins and Tampa Bay Lightning all season, and that was prior to the 2018 NHL Trade Deadline when both teams made significant additions to their rosters.
Yes, forward Nikita Kucherov and the Lightning have been front runners all season to at least make an appearance in the Cup Finals, but times have changed and I'm now leaning towards Boston.
Listen to no one. #InOurBlood pic.twitter.com/UjWKobmcbx

— Boston Bruins (@NHLBruins) March 22, 2018
Tampa has the offensive fire power with its' 3.54 Goals-For Per-Game average, which was an NHL best this past season; but what about the team's overall defensive struggles? Goals for can only take you so far in the Stanley Cup Playoffs, and teams that can play a better overall defensive game could ruin the Lightning's dream this postseason. Heading into the playoffs the Lightning allowed four or more goals in a game on nine different occasions during the months of March and April.
https://www.gofundme.com/funds-for-humboldt-broncos
Similar to the Lightning, the Bruins have an ideal mix of veteran experience and youthful talent in all areas on the ice. However, Boston may have the edge in respect to that factor with notable skaters such as Zdeno Chara, Patrice Bergeron, Rick Nash, Brad Marchand and goaltender Tuukka Rask – and that's just a sample from what Boston has to offer come playoff time. Four of those skaters were on Boston's 2011 Stanley Cup championship roster, too.
Aside from the Chicago Blackhawks, Los Angeles Kings and Pittsburgh Penguins – the Bruins are not only the lone team to make the Cup Final more than once since 2010, but are the only other team to hoist Lord Stanley since that time.
A second Cup coming back to Beantown has been in the making, and flew under the radar, these past few seasons for the Bruins. This series should go seven games, but that's if one of them can get past a tough and well coached Toronto squad in the first round.
Which player do you think the Rangers are more likely to give a contract to? Namestnikov or Spooner?

— Dan Federico (@DanJFederico) April 4, 2018
A big Taylor Hall supporter and New Jersey Devils fan I see.
Jersey's fan base has every right to ask and support the idea that the team's leading goal-scorer this past season should be up for the Hart Trophy come this offseason. Still, going back to last week's mailbag again, the key factor for this hockey enthusiast was that a player up for the Hart (then) had to help get his team into the 2018 Stanley Cup Playoffs…
https://twitter.com/NJDevils/status/982246926178398215
The other potential winner for the Hart Trophy in Colorado Avalanche forward, Nathan MacKinnon, helped his Avs get into the playoffs on the final day of the team's season (5-2 win over St. Louis). It was a dramatic way to end the regular season and enter the playoffs for both MacKinnon (1G-1A) and the Avs, which yesterday stole headlines from Hall and company.
There's logic to why Hall may not win, but keep in mind that the Devils were a long shot to make the 2018 Stanley Cup Playoffs and that will factor into the equation. Jersey's Team closed out its final ten games of the season going 7-2-1, and Hall recorded 15 points (6G-8A) in nine games played of the ten.
New York would ideally like to lock up both come the 2018 offseason, and there's good chance that the Rangers' front office will. Both Ryan Spooner and Vladislav Namestnikov are young centers with the potential to be a top-two center-duo with a club, and one such as a rebuilding Rangers squad.
Namestnikov had superstar and offensive talent surrounding him during his playing days in Tampa, so it's no surprise that it's been a big adjustment since coming over to the Rangers at the 2018 NHL Trade Deadline. New York should put their belief in the restricted-free-agent, especially since they gave up skaters such as former captain Ryan McDonaugh and J.T. Miller.
"I just try to go out there and play."

@RSpooner2376 on fitting in with #NYR and his play since coming to New York in February. https://t.co/yDUR7prfQx

— New York Rangers (@NYRangers) April 5, 2018
While Namestnikov only recorded four points (2G-2A) in his brief stint with New York, Spooner had an impressive showing on Broadway since coming over from Boston (trade deadline), and there is no question that the team would re-sign him in a heartbeat.
The former second-round draft-pick (2010) struggled in the face-off circle with New York (30.0%), but Spooner did find the back of the net four times while chipping in 12 helpers for 16 points in 20 games played.
Centers are so crucial when it comes to building a Stanley Cup winning caliber team, and having depth at the center position is never an easy task to accomplish. The Rangers have two that entail the potential to offer that championship depth down the middle of the ice in Spooner and Namestnikov. Think about the teams mentioned in the first question for this mailbag and their top centers; Sidney Crosby; Anze Kopitar; Jonathan Toews. All of whom had a supporting cast, too.
If the Blueshirts stick to the plan – the future is bright in New York for the Rangers.
@KMcKenna_tLT5 Who has a better chance of getting fired in NY: AV or Garth Snow? #McKennasDigest

— Zach Flaherty (@zachxicab) April 4, 2018
Well, that question was answered just hours after the New York Rangers' regular season ended. It was announced late last night that the Rangers relieved Alain Vigneault of his head coaching duties. There was a similar question in last week's mail bag (Read Here), and Vigneault's status seemed to be on the fence.
Think about it, after New York's 5-0 shutout loss to the Philadelphia Flyers yesterday – the former 2007 Jack Adams winner seemed confident in the postgame press conference that he'd be back behind the bench come next season for the Broadway Blueshirts. Yet, that wasn't the case.
Full #NYR Press Release: https://t.co/0kwqQq5kqM https://t.co/jr6p0feUIB

— New York Rangers (@NYRangers) April 8, 2018
Rangers' management appears to know what they want in a coach moving forward and wasted no time making that clear, either. I mentioned that current Chicago Blackhawks head coach Joel Quenneville would be a good fit for New York, but it seems that he's staying put in Chicago after ownership and the team's front office addressed the media saying both believe in him moving forward with Chicago.
Lindy Ruff served as assistant this past season with the Rangers, and the club may turn to him for next season, but expect the coaching hunt process at Madison Square Garden to move slow – and after the Stanley Cup Playoffs officially come to an end.
In relation to this question's part about New York Islanders general manager, Garth Snow…
I wouldn't imagine that Snow would have been fired before Vigneault, and in large part because general managers aren't as expendable as head coaches in the NHL. There's more pressure than ever this offseason on the Isles, and to find a new general manager before July 1 (unrestricted-free-agency) more than likely wouldn't make sense — unless there was another general manager available that the team absolutely couldn't pass over.
The Orange and Blue should have one focus only – sign team captain, John Tavares.
Firing the general manager before the NHL's UFA starts could rub Tavares the wrong way and could portray that the organization is struggling to have a solid direction in which way it wants to go for the team's future sake.
Perhaps Snow would consider letting go of head coach Doug Weight, and offering Vigneault a contract – if he thinks he'd be the right fit. While Vigneault inherited a good Rangers team back in 2013, he still helped lead the Boradway Blueshirts to a Stanley Cup Final for the first time in 20 years (1994-2014), and reached 100 regular season wins with the team faster than any other coach in Rangers' history.
Tweet your NHL related questions to @KMcKenna_tLT5 to have them answered & be sure to use the hashtag #McKennasDigest
Kyle McKenna covers the NHL for Hooked On Hockey Magazine. He can be reached on Twitter (@KMcKenna_tLT5)