Featured
McKenna's NHL Mailbag & Digest 5/15/2018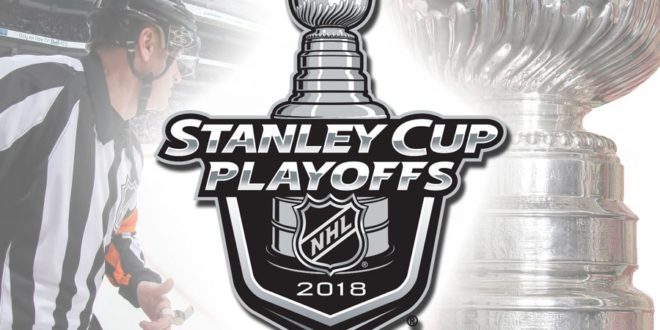 McKenna's weekly NHL Mailbag will be open via Twitter Wednesday through Friday for the remainder of the 2018 NHL season and Stanley Cup Playoffs. To have an NHL related question featured in Hooked On Hockey Magazine tweet to @KMcKenna_tLT5 by using the hashtag #McKennasDigest. 
Let's address Vegas' potential post-2018, Patrik Laine of the Winnipeg Jets and which former New York Ranger has been the best during the 2018 Stanley Cup Playoffs.
@KMcKenna_tLT5 Is Vegas the real deal and will they be able to keep up this pace next season or are they this season's Ottawa Senators?? #McKennasDigest

— Mindy Avino (@MSA824) May 7, 2018
Vegas was the real deal for this season and is in the postseason. If there were any more doubts that the Golden Knights wouldn't be able to keep up the pace entering the 2018 Western Conference Finals, Vegas not only silenced its relentless critics but the Winnipeg Whiteout last night as well. The Knights played a great road game last night en-route to a 3-1 victory over Winnipeg to tie the conference final series at 1-1.
Vegas played gritty and physical beneath the dots on both sides of the ice last night and was able to create substantial offense by outworking the Jets along the boards in the offensive zone. The Knights' rostered players have all accepted their role to be successful as one unit a long, long time ago, and seem to only get better by each new challenge they come across.
LAST.

NIGHT.

SUCH.

FUN. pic.twitter.com/VdxNKXySq1

— Vegas Golden Knights (@GoldenKnights) May 15, 2018
For Vegas' sake, I wouldn't dare worry about the Golden Knights portraying this year's Ottawa Senators (Ottawa advanced to the 2017 Eastern Conference Finals, but finished in 30/31 this past season) come next season. For starters, the Knights have too good of a coach in Gerard Gallant to let this team suffer like that next season.
Vegas' roster, and ability to acquire additional skaters, next season is also more talented than Ottawa's this past season. After the unimaginable success, the Golden Knights had this season, Sin City is more than likely going to be a preferred destination to go play at, too. While the team could reach the Stanley Cup Finals this season, that also doesn't mean Vegas is a shoe-in to make the postseason next year.
The competitive equality of the NHL is the best among the four major sports, and there's always a chance for the tables to turn and have a number of different teams make the playoffs come 2019 — that didn't clinch in 2018.
What do you think makes Laine so good? #McKennasDigest

— Zach Flaherty (@zachxicab) May 10, 2018
Great question. 
Winnipeg Jets sophomore skater Patrik Laine is in a small class of other superstar youngsters in the sense that he has this uncanny ability to find the rare open areas in the offensive zone to make scoring chances look a lot easier than they should be.
Patrik Laine with an absolute laser to give the Jets a 2-0 lead. #StanleyCup pic.twitter.com/KpvVAR1uHv

— Sportsnet (@Sportsnet) May 12, 2018
Laine has a unique skill when he has possession of the puck, that creates time and space for himself with his high Hockey IQ, and ability to look one way (fake a pass) and move or shoot in another direction. He's not afraid to make mistakes either, which in this hockey writer's mind is an overlooked and common flaw with most young players; especially the ones that have the higher expectations to produce on a nightly basis.
Who's the best ex-NY Ranger still in the playoffs? I've got JT Miller #McKennasDigest

— #TheJake (@TheJAKEpod) May 7, 2018
Solid question and answer from an NBA guy.
I'd have to agree with "The Jake" on this one. Former New York Ranger J.T. Miller had been playing exceptional through the first two-rounds of the 2018 Stanley Cup Playoffs. He brought the necessary energy level that the playoffs require in order to be successful with his physicality and ability to move the puck up ice.
He was at his best towards the end of Round One vs. New Jersey and in Round Two against Boston. Though, he needs to get back on track and as soon as the puck drops tonight in the nation's capital at 8:00 p.m. (ET) for Game 3 of the Eastern Conference Finals vs. Washington.
Tweet your NHL related questions to @KMcKenna_tLT5  to have them answered in HOHM's NHL Mailbag & be sure to use the hashtag #McKennasDigest
Kyle McKenna covers the NHL for Hooked On Hockey Magazine. He can be reached on Twitter (@KMcKenna_tLT5) 
Love Reading About Hockey?

Subscribe to keep up-to-date with the latest and most interesting hockey news!
| | |
| --- | --- |
| | We hate spam just as much as you |