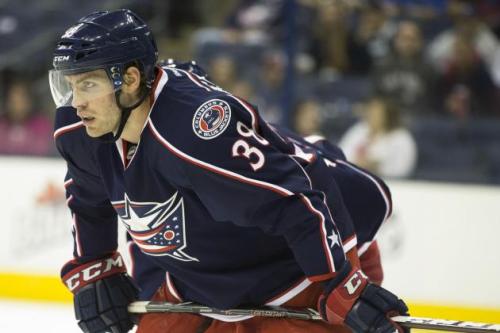 As the offseason winds down and we begin the countdown to the regular season, it's time to get familiar with those who will be donning the red, white and blue in Columbus. We'll take a look at those guaranteed to make the roster as well as those with a shot to make the club out of camp.
Today, we take a look at one of the younger Blue Jackets: Boone Jenner.
The 21-year-old Jenner, taken in the second round of the 2011 Draft by the Jackets, made a name for himself with the Oshawa Generals of the OHL as a strong, skilled two-way forward. Then, in his final year in Oshawa, he blew up for 45 goals in 56 games and many wondered if he was an underrated goal-scorer. He only had a brief stint with Springfield of the AHL, but scored three goals in his five games.
At 6'2" 200, he's got the size to be an effective, physical two-way center in the NHL. During his rookie year in 2013-14, he showed a strong defensive game and suggested that maybe that sudden goal-scoring prowess wasn't an aberration by scoring 16 goals in 72 games last year. It's a nice start, but he's obviously got to build on that in year two and beyond. To give you a fair assessment of where people think his game could end up, he's been compared to Rod Brind'Amoour, former NHL captain and stellar second-line center for both the Philadelphia Flyers and Carolina Hurricanes.
One of the other things heard frequently around the NHL is that Jenner has all the qualities team look for in their leaders. He's been a leader on the junior level and has already been pegged as a future captain of the Jackets.
The early indication is that Jenner will man the right wing on the second line next year, with Brandon Dubinsky in the middle and Matt Calvert on the left side. It should be a fast, physical line with surprising offensive pop if both Calvert and Jenner can continue their development.
A big step forward in 2014-15 by Jenner would be a huge boost to a Jackets team that looks to be on the verge of making the first deep playoff run in franchise history.
Follow me on Twitter: @TwoPadStackRW