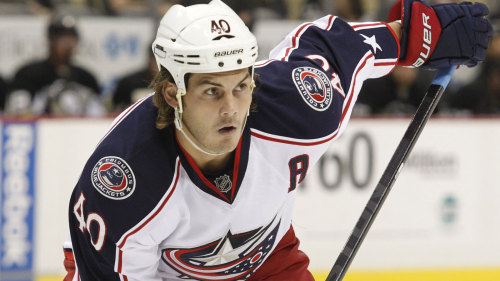 As the offseason winds down and we begin the countdown to the regular season, it's time to get familiar with those who will be donning the red, white and blue in Columbus. We'll take a look at those guaranteed to make the roster as well as those with a shot to make the club out of camp.
Today, we take a look at one of the leaders of the Blue Jackets, entering his seventh season in Columbus: Jared Boll.
The definition of a homegrown player, Boll has known no other NHL team than the Columbus Blue Jackets. Selected in the fourth round (101st overall) in the 2005 NHL Draft, Boll worked his way into the lineup by 2007/08 and has spent the last seven seasons, and 416 games, with the Jackets.
Though he's never been able to live up to his offensive output with the Plymouth Whalers of the OHL, where he scored 28 goals and 55 points in his second and final season, he's still played an integral part in Columbus. After all, when he was drafted, it wasn't for his dazzling offensive skills.
Last year (and in 2011-12), Boll battled injury. He suffered an ankle injury on November 22nd of last year and tried to play through it, but ultimately needed surgery to repair torn ligaments. He would end up playing in just 28 games last year.
Boll's role has grown over the years. He started out as an up-and-coming enforcer, dropping the mitts more often than not and even tying the Jackets' all-time penalty minutes record of 1,025 that was previously held by Jody Shelley.
Since then, he's focused his game in to becoming an energy guy, playing smarter with the puck than he ever has before. His presence in the lineup and 6'3" frame keep opponents honest, letting other teams know that there will be no liberties taken on anyone in the red, white and blue.
Boll might not jump out to those only glancing at the stat sheet, but he's become an integral part of the lineup. He plays with an energy and passion teams love, inspiring his teammates to follow suit. It's little wonder he sports an "A" on his sweater.
Boll will likely see fourth-line minutes again this year, lining up with fellow energy player Corey Tropp and possibly underrated center Mark Letestu, if not someone from the farm. Boll might only end up with a few minutes per night, but you can guarantee he will make the most of that time.
Follow me on Twitter: @TwoPadStackRW