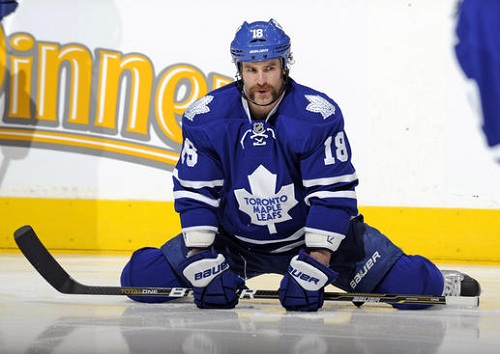 Well, just two days after it was reported that Maple Leafs defenceman Mike Komisarek wanted out, it seems that the Leafs did get busy in the trade market, sending gritty winger Mike Brown to the Edmonton Oilers for a fourth round pick. Aaron Ward, former NHL player turned TSN analyst, broke the news this morning just before 11am on twitter.
Although this may come as a shock to some Leafs fans as there weren't any whispers of Brown's impending move, it makes more sense once you look at his case again.
Brown only suited up for 12 games for Toronto this season, after starting the season on the injured reserve, and putting himself in the doctor's office a couple of times again this season after fights. He missed a total of eight games due to injury and two more as a healthy scratch.
His injuries, along with the emergence of Leo Komarov and Frazer McLaren along the wings, left him the odd man out. That doesn't even take into consideration that Matt Frattin (Leaf's leading scorer with seven goals before he injured his knee) is set to return as early as tonight.
If Frattin returns, the possibilities of getting in on right wing look slimmer with Phil Kessel obviously not budging, and Nikolai Kulemin, Frattin, and even Colton Orr looking really good over the last couple of weeks.
Brown, a Brian Burke acquisition and favorite, will be missed for his grit and heart, but in depth players that's not too hard to find. Burke loved him because he stood up for anyone , but new GM Dave Nonis might just look at the 25 points in 254 career games -including only one assist this season- and see an expendable piece in the puzzle.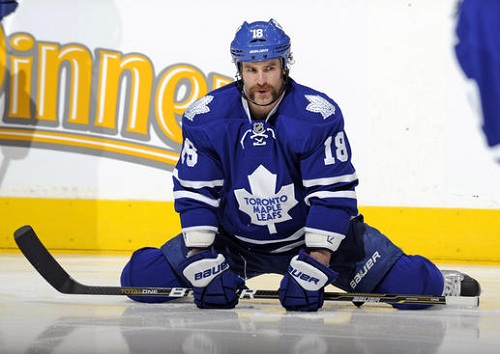 Plus, with the fourth round choice (in 2014) the Leafs acquire, it's a possibility they add a better player down the road to someone who was losing his place on the roster anyways. The Oilers get a good guy, but good guys are easier to find than good talent. All the best to Brown in his new, colder home though.
The Leafs play the New Jersey Devils tonight, and it's in important game standings-wise. The Leafs move into fifth place with a win and separate themselves (sixth in the Eastern Conference, 26 points) from the Devils (seventh in the East, 25 points) by three points if they win in regulation. With a loss they'd fall to seventh spot. Look for Frattin to return tonight or next game against Ottawa. James Reimer gets the start in net tonight.
Love Reading About Hockey?

Subscribe to keep up-to-date with the latest and most interesting hockey news!
| | |
| --- | --- |
| | We hate spam just as much as you |