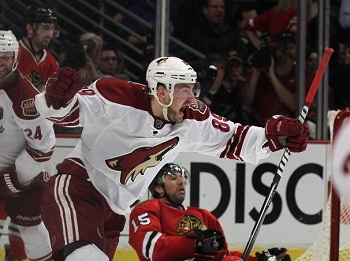 He is quickly becoming an extremely valuable asset for the Phoenix Coyotes, and with the last two game winning goals, it's easy to call Mikkel Boedker the OT hero. Last night Phoenix faced off against Chicago for Game 4 of the Western Conference Quarterfinals, and just like in Game 3 on Tuesday night, the teams took it into overtime, and it was Boedker who came up strong.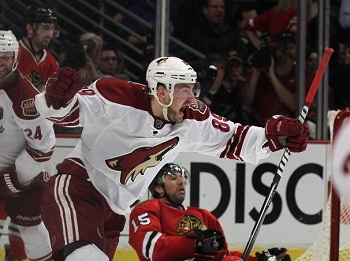 "(Boedker) has really come in and played well," Head Coach Dave Tippett said. "He's a very good young player, he's an intelligent player, he's a today's NHL kind of player because he's got great speed, and he cares and he works, and you love to see people like that get rewarded, so good for him."
There is no doubt Boedker is a powerhouse skater, even at just 5'11". In the past few years however, the right winger has had his troubles staying on the roster. Boedker joined the 'Yotes in 2008, but was sent down to the AHL in 2009, and then brought back again to the team last season. Looks like now after netting his second consecutive OT winner that Phoenix may want to hold onto this guy.
Post-practice this afternoon Boedker spoke to Phoenix's XTRA Sports 910AM saying that scoring his back-to-back game winning goals was "a big honor". He stated that they haven't been the prettiest goals, but I don't think 'Yotes fans mind that in the least. When asked about last night's OT victory and if his goal was more difficult than that in Game 3, Boedker replied "I think that the second one, the one I scored last night was the most difficult one… I didn't expect to score the first, but yesterday was a partial breakaway, hard with two guys on me… I was just hoping I could get more than a step on the guys". Maybe he doesn't think that it was a good looking goal, but in my honest opinion that puck sliding through Crawford's legs only 2:15 into OT was quite a beautiful sight.
Up next for the Phoenix Coyotes and Chicago Blackhawks is Game 5 on Saturday at Jobing.com Arena. Mikkel Boedker told reporters that he and the team are focused on the game ahead, and that they feel a slight advantage being on home ice. "Our fans have been phenomenal," Boedker told XTRA Sports. The puck drops tomorrow at 7 p.m. (Arizona time).