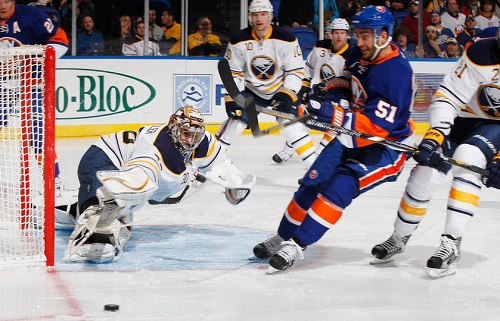 Ryan Miller made 41 saves and stopped a key penalty shot by John Tavares to lead the Sabres 3-2 over the New York Islanders. "Ryan made some big saves when we needed them" said Sabres coach Lindy Ruff. Thomas Vanek continued his hot streak with one goal and one assist.
The Sabres would strike first in the 1st period. Jordan Leopold took a loose puck and went around the net. He passed it out front and both Cody Hodgson and Vanek whacked at it. Vanek eventually put the puck in the back of the net, beating Evgeni Nabokov for his league-leading 11th goal to make it 1-0. "Rebound out front, just found a way to get it in" said Vanek
Instead of leaving the period with a 1-0 lead, the Sabres again let in a late goal with under one minute left in the frame. Tavares won a face-off in the Buffalo zone. Brad Boyes made a pass to Brian Strait who fired it onto the net. Tavares got the rebound and buried it to tie it 1-1.
Buffalo would re-gain the lead in the 2nd period. Vanek made a pass to Hodgson. Hodgson had a give and go with Christian Ehrhoff who joined the rush. Ehrhoff beat Nabokov to go up 2-1. The Islanders would respond later in the period. Strait took a shot from the point and it went behind the net. Casey Cizikas was there to take the puck who then passed to a wide-opened Colin McDonald in the slot. McDonald beat Miller and it was all tied up at 2.
Buffalo would re-gain the again in the 3rd period. Mikhail Grigorenko fed a pass to Steve Ott. Ott then fed a streaking Alexander Sulzer who fired a shot on Nabokov. Nabokov was able to grab a piece of the puck but it wasn't enough and the puck fell into the net to make it 3-2.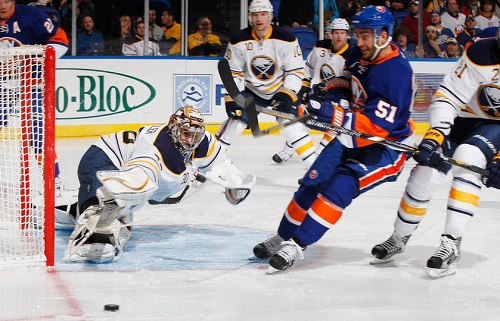 Things would get interesting late in the 3rd period. McDonald fed Tavares a pass and soon he was on a break-away. The only thing Ehrhoff could do was hook him. This allowed Tavares to have a penalty-shot, one of the most exciting things in hockey. However, Miller would get the last laugh as Tavares would ring it off the pipe.
Game Notes:
This is the first time since the first 2 games of the season that the Sabres have won 2 games in a row.
Matt Moulson played his 257th consecutive game.
Andrej Sekera and Patrick Kaleta both returned to the lineup after missing games with injuries.
The last time the Sabres won a game where they were outshot by 28 shots or more was March 1988 vs Quebec Nordiques by a score of 3-1.