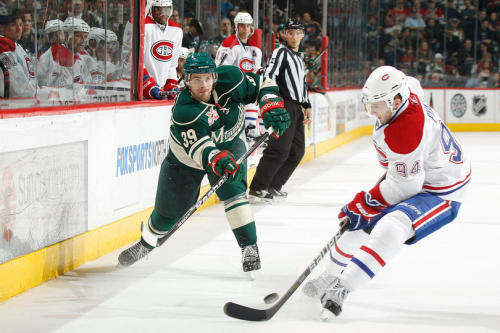 Oof. This has been a tough week for us Wild fans.
The Wild have suffered 2 rough losses in a row, the first of them coming at home in a 4-1 loss to the Penguins, and then a 3-0 shutout loss in Ottawa against the Senators.
Some of us are probably thinking this is happening to us because of some key players of ours being out with injuries right now. Those players would be Zach Parise, Jared Spurgeon, and Matt Cooke. Even without these key players, this team should still be able to have depth and be able to produce, but unfortunately, that has not been happening lately.
When the Wild faced the Canadiens last season, the season series was split, each team getting a win on their home ice. The Wild won 4-3 at home, and the Canadiens won on their home ice 6-2.
The Wild hope that this year's affair at the Bell Centre will be a better one, as the loss they faced came at the hands of a Max Pacioretty hat trick plus 3 more goals after that. 2 goalies needed to be used in that game, as Harding was pulled after Pacioretty completed his hat trick, and then Kuemper would come in only to have 3 more goals scored.
Here's what the lines are looking like tonight:
Zucker-Koivu-Coyle
Pominville-Granlund-Vanek
Fontaine-Brodziak-Niederreiter
Carter-Haula-Veilleux
Suter-Brodin
Scandella-Folin
Ballard-Dumba
Darcy Kuemper is slated to get the start between the pipes tonight, and he's hoping to redeem himself after what happened to him there last season. So far, he has posted a 6-3-0 record with a .922 save percentage, a 1.77 goals against average, and three shutouts. He is currently tied with Marc-Andre Fleury in the shutout category, while he is now ranked fifth in GAA.