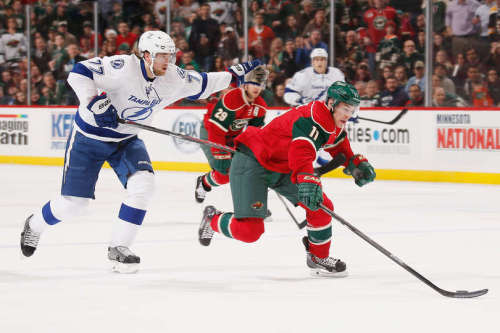 Good day, Wild fans!
If you couldn't tell by now, our schedule is finally starting to pick up! (why did you have to torture us like that NHL schedule makers?)
Tonight, the Wild continue their dominance at home at Xcel Energy Center (appropriately nicknamed the home of the home ice advantage). Their matchup tonight is against the Tampa Bay Lightning, our first of 2 meetings against them.
This will be a competitive matchup for sure, as the Lightning have such great players as Stamkos, Bishop, Callahan, and Drouin just to name a few.
Those aforementioned players look to be the difference-makers for the Lightning tonight, so if we're able to keep them most of them off the scoresheet, or at best limit them on the scoresheet, we should be in good shape.
The only thing I'm worried about though is the power play. The Lightning are currently tied with the Flyers for the league's 5th best power play, at 26.9 percent. The Wild (along with the Jets and Sabres), still have yet to score on the power play. As of right now, we are 0 for 19 on the power play, but strangely enough, the Wild are the only team in the league right now to average at least 2 shots on goal on EVERY power play opportunity that's come at us. Yes, you heard that right! At least 2 SOGs on EVERY opportunity we've had so far, but nothing to show for it yet! Tell me how that makes sense! What bewilders me even more is how our power play looked REALLY good in the preseason, but now it's back to looking how it usually does in the regular season. GAH!
Kuemper will likely be the starting goaltender again tonight, and he is off to a great start. Out of his 4 starts, he got shutouts in 3 of them, and has only let 4 goals go past him so far. He will really have his work cut out for him tonight though, so as much as I would love to see another shutout from him, I think it's a toss-up as to whether or not that will happen tonight.
As usual, game time tonight is at 7, and can be seen on FS-N, FS-WI, and can be heard on 100.3 KFAN and across the rest of the Wild radio network.
Enjoy the game tonight!
GO WILD!!!!
Love Reading About Hockey?

Subscribe to keep up-to-date with the latest and most interesting hockey news!
| | |
| --- | --- |
| | We hate spam just as much as you |