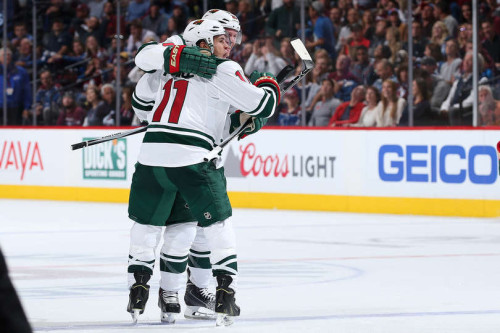 Once again, the Minnesota Wild are off to a solid start in this young 2015-16 NHL season.
It all started for them last Thursday in Denver taking on the Colorado Avalanche, their 1st round playoff opponent 2 seasons ago.
It was a rough start for the Wild in that game, as they allowed 2 power play goals from Iginla and Johnson, as well as a goal from Landeskog to put them into a 3-0 hole after 1 period. They were also outshot 11-9 in the 1st period.
For the rest of that game, the Wild managed to claw their way out of that seemingly deep 3-0 hole to take down the Avs with a final score of 5-4. What made this win even more exciting is that 3 of those goals came from Minnesota's own Zach Parise, who joins Marc Chouinard, the only other player to accomplish the feat of a hat trick on a season opener. Chouinard did this 10 years ago, on Oct. 5, 2005. What's more, the 4 goals the Wild scored in the 3rd period of the game in 5:07 was a new franchise record. It was also the 1st time in franchise history that they won on the road to start the season. As rough as a game that was, a game like that one goes to show that the Wild are a team that simply won't give up.
Moving on to the Wild's 2nd game, the home opener against the St. Louis Blues, the good play has continued. While there were some rough spots in that game, such as the Wild's power play and penalty kill, it was overall a solid win. Charlie Coyle got his 1st 2 goals of the regular season, and Parise once again proved to be a workhorse, scoring on the power play. The last 2 goals the Wild scored were just 21 seconds apart from each other. The 2nd one went to a coach's challenge, but the call ended up standing to give the Wild a 3-2 win over the Blues.
Us Wild fans couldn't really ask for a better start to the season right now. For now though, we still have 3 more days off until getting back into action.
The Wild have their 3rd game of the regular season on Thursday in Glendale against the Arizona Coyotes. This will be the back end of a back-to-back for the 'Yotes, as they will be returning from facing the Ducks in Anaheim the night before. Despite being only 2 games in, the Coyotes have also looked solid in the early going, as they have also started off the season with 2 wins; a 4-1 win over the Kings in LA, and a 2-1 win over the Penguins back in Glendale for the Coyotes' home opener.