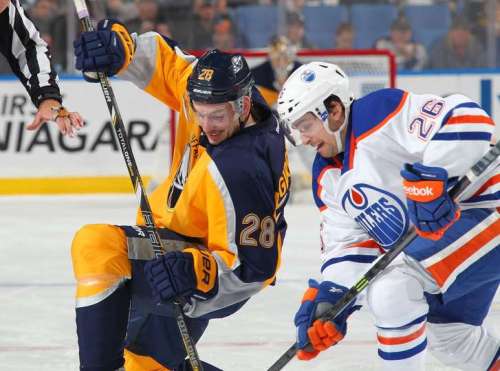 What happened to the Edmonton Oilers? You'd think by now they would be a top seed not only in the western conference but in all of the NHL with the likes of Taylor Hall, Jordan Eberle and their abundance of offensive stars rounding out the top two lines. Well, think again. The Oilers are in the running for next year's potential top draft pick, Connor McDavid this season after another less than stellar start to their 2014-2015 campaign. This should be a good team with all the offensive talent on the roster but for some reason the production that's expected isn't happening on the ice. Taylor Hall in my opinion has the most potential out of all the top draft picks they've drafted in recent years and so far he's been absolutely horrible. He should be at the likes of Tyler Seguin and Steven Stamkos level but that just isn't the case. Perhaps that's due to all the injuries sustained with his playstyle. He's not a leader and he's not leading the Oilers offense on a consistent basis.
The Oilers rookies also got wrecked through poor development. Nail Yakupov shouldn't have come up so early into the NHL; he needed an extra year in the minors, same with Nugent Hopkins. The Oilers haven't properly developed their NHL rookies and mainly have just thrown them out there to see what happens. Yes, they're skilled forwards and have the talent, but every rookie needs some grooming, the kids never got groomed in Edmonton.
One of the first places to look at are the mistakes made in the draft by this team. When they drafted Nail Yakupov, they should've drafted Ryan Murray, and when they drafted Draisatl this year, they should've traded up for Aaron Ekblad. The defense undoubtedly is a huge issue in Edmonton; it's weak and has bigger holes than swiss cheese. Darnell Nurse is the future of their d-core, but that's all they have going for them which in my opinion isn't going to get them out of this funk. Justin Schultz was also supposed to be the answer for them at D and so far he's been non-existent. They desperately need to repair their defense big time. Andrew Ference is okay and Justin Schultz is alright, but one pairing isn't going to take you to the Cup Finals or let alone the playoffs. They need three capable pairings to play on a nightly basis to get something out of their defense and on most nights they have one pairing playing "okay" hockey. Their PK must be the worst in the NHL (it's actually somehow middle of the pack at 15th). Do their coaches know how to put out a proper PK or no? This isn't basketball where you can triple team a defender and get away with it. I like the goaltending in Edmonton though. Ben Scrivens is a great goaltender and very underrated. Victor Fasth is a young and upcoming goalie who in no time could be the starter in Edmonton over Scrivens.
It's funny when they hired Dallas Eakins and a new coaching staff; they said they would fix the problem of having a constant coaching carousel in Edmonton. They thought Eakins could also help develop the young kids that come into Edmonton. Well, we are into his second year behind the bench and it seems as if his systems is broken which could lead to him being on his way out any day now. Eakins needs to go along with Kevin Lowe and Craig MacTavish. All three people have ruined the organization from top to bottom in their way, and if they keep any one of them on the team in the future, they won't get anywhere. The sad thing is in Edmonton; they're moving out of Rexall Place into their new arena called Rogers Centre very soon. It seems if they don't play any better they could be playing in front of an empty arena in the near future. Just recently, they got trounced by the Chicago Blackhawks 7-1 and were booed off the ice and into their locker room after the game.
It's sad how bad it's got in Edmonton and ownership is doing nothing to improve the issue. Owners need to fire the clown's that are running the team and do a complete overhaul of management.
In a head scratcher move, they got rid of Frederic Chabot, the Goalie Coach. No, not the Head Coach…because it's always the Goalie Coaches fault when you go 0-11-2 to start the season against Western Conference teams. Right? Or am I wrong? Maybe I am wrong.
Reports have surfaced out of Edmonton that they're dangling David Perron as trade bait. I don't think Perron is the problem, unless they're going to get something valuable in return, they're wasting time.
Until some management overhaul starts in Edmonton and ownership has the nuts to do something, the Edmonton Oilers will forever be in the basement of the NHL picking up top draft picks at the end of every season. Fans will start not showing up to games, because if they're going to pay to see a crappy hockey team; they can just watch it at home on their TV and comfy couch they own.