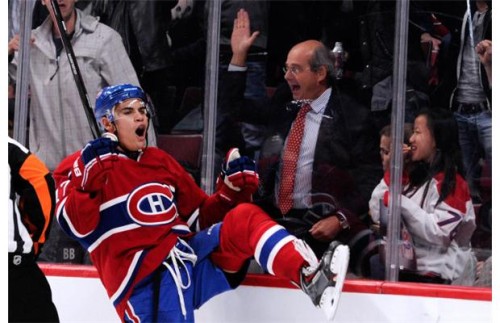 The Montreal Canadiens have had a really peculiar start to the 2014 season. When you're winning games that you have no business winning and losing games where you out play the opposition, it begins to be evident that changes are not only needed, but necessary. The Habs 8-4-1 record thus far is much like a mirage, it isn't quite indicative of their play. When considering changes, one needs to first figure out where the main problems lie. Here's some of the solutions to the problems:
1. Let the kids play
Why are players like Travis Moen and Dale Weise taking lineup spots away from the likes of Jiri Sekac and Michael Bournival? Speed and skill are the Canadiens identity and Sekac and Bournival both offer that to a young Canadiens lineup up front. The logic Therrien inserts to the lineup doesn't really make sense with the pieces he has been dealt. Travis Moen has the ability to bolster the Canadiens penalty kill, but other than that, his foot speed isn't there and Bournival can provide the same defensive awareness with much quicker feet. Speed changes momentum in hockey games and players that can generate offense and drive possession like Bournival and Sekac will help the Canadiens get back on track.
2. Stop juggling the lines and let the players find chemistry
When something clicks, let it continue to click. Do not juggle lines when things are working immediately. Do not panic right away when things are not working. Sometimes, players don't click right away. Sometimes luck is involved. There are so many variables involved with chemistry that it really takes the right eye to see who plays well together, who works well together and who communicates well together. Play your best players and try to find combinations that work, that is all you can do and it is very important not to over think things
3. Its time for the leadership core to be leaders
With the departures of Josh Gorges and Brian Gionta, the Canadiens lost some leadership in the off season. It was time for a new wave in the Canadiens leadership core. Enter Pernell Karl Subban and Max Pacioretty. The Canadiens are currently going through their first rough patch of the new campaign and really need their new leadership core to step up and lead the team into battle. Leaders need to lead by example and the Canadiens management team is strong believers that if you lead with your play on the ice, your teammates and coaches will respect you. PK and Max are exactly those types of players. They may not be the most vocal in the dressing room, but they let their play on the ice do the talking. The next stretch of Canadiens games will be a big test to see how the new leadership wave of the Canadiens holds up
Player Grades
Forwards
Michael Bournival: Hasn't gotten the fair end of the stick. Made his season debut vs the Blackhawks on November 4th, 2014. Look for Bournival to add some much needed speed to the Canadiens 4th line. (Grade unavailable)
Rene Bourque: Bourque hasn't played well. Its not because of lack of effort, he just doesn't have it anymore. (C-)
David Desharnais: The 5'7 center has been streaky to start the season. Need to get him going to energize the powerplay. (B-)
Lars Eller: Played well on the penalty kill and will finally get a chance to play with capable offensive players in Bournival and Sekac (B)
Alex Galchneyuk: The Canadiens best forward and arguably best player to begin the season. Leads the team in hits and is showing great flashes of the great player he is becoming (A)
Brendan Gallagher: After getting off to a hot start, Gallagher has cooled down a bit but is still providing an annoying presence that loves to drive the net and live in the crease (B+)
Manny Malhotra: Manny has provided exactly the presence the Canadiens management hoped he would. He has been exceptional on face offs and the penalty kill and is providing a voice in the dressing room (A-)
Travis Moen: Moen has been in and out of the lineup to begin the season and other than providing a steady presence on the penalty kill, he hasn't contributed much (C)
Max Pacioretty: Pacioretty has never been known for his hot starts. His emergence on the penalty kill as a scoring threat has been a great addition for the Canadiens (B+)
PA Parenteau: Much like Desharnais, PA has been streaky to begin the season. His addition up front has been a nice surprise for the Canadiens, along with his evident chemistry with Galchenyuk (B)
Tomas Plekanec: With Plekanec's new offensive oriented role, he has been a pleasant surprise to begin the year. Playing mostly with Alex Galchenyuk, Plekanec is finally showing his untapped offensive capability (A)
Brandon Prust: It has been a frustrating start to the year for Prust. Brandon has brought a strong physical presence but needs to think the game more and make the smart play (C+)
Jiri Sekac: Sekac started the year on a line with Eller and Bourque and looked to be fitting in very nicely with them, but was later healthy scratched in place of Travis Moen and Dale Weise. (B)
Dale Weise: Weise has been up and down the Canadiens lineup this season although he is much better suited for a 4th line energy role. (C+)
Defenseman
Nathan Beaulieu: Beaulieu has been in and out of the lineup along with fellow young teammate Jarred Tinordi. Has shown flashes of brilliance but still has some work to do (B-)
Alexei Emelin: Better than expected, but still not competent enough to be playing on the top pair or recieving the most even strength minutes on a daily basis (B-)
Tom Gilbert: Plays a solid two way game. Definite upgrade on Josh Gorges. Doesn't always pass the eye test, but gets a lot of tough defensive zone starts. (B+)
Andrei Markov: One of the smartest players with the puck of this generation. Thinks the game exceptionally well and has a strong stick. Not as quick but his ability to think the game makes up for his skating ability (A-)
PK Subban: Elite skater and much more responsible in his own zone, while still offering his offensive flare. (A)
Jarred Tinordi: Slowly putting together the pieces, Jarred has shown some flashes of nice play but has struggled at times (B-)
Mike Weaver: Steadily manning the 1st penalty kill unit. Strong defensive zone starts (B)
Goaltenders
Carey Price: Flat out has stolen some points for the Canadiens. Has been nothing short of great. (A)
Dustin Tokarski: A smart, intelligent back up that understands his role and plays to its strengths accordingly (B+)
Enjoy the games my friends.
Love Reading About Hockey?

Subscribe to keep up-to-date with the latest and most interesting hockey news!
| | |
| --- | --- |
| | We hate spam just as much as you |