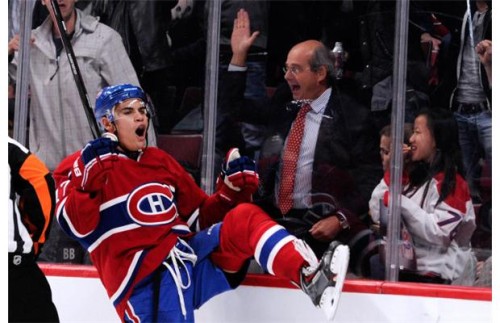 The Montreal Canadiens look to build off of an impressive 2013-2014 campaign where they found themselves in the Eastern Conference Finals, ultimately losing to the New York Rangers in 6 games.
Key Additions: RW P.A. Parenteau, C Manny Malhotra, LW Jiri Sekac, RD Tom Gilbert.
Key Subtractions: RW Thomas Vanek, C Danny Briere, RW Brian Gionta, C Ryan White, LD Josh Gorges
Prospects in the system:
Right Winger, P.A Parenteau
P.A Parenteau was acquired from the Colorado Avalanche along with a 5th round pick in the 2015 draft in exchange for Daniel Briere. Parenteau's 2013/2014 season was limited due to an MCL strain which left him out of action for 25 games. The 6 foot winger put up 33 points, tallying 14 goals and 19 assists last season in 55 games. Parenteau look's to slot in as the number 2 Right Winger on the Canadiens behind Brendan Gallagher. Look for Parenteau to play with David Desharnais and Max Pacioretty on the Canadiens number 1 line and get significant time on the Canadiens power play. It will be up to Parenteau where he stays in the lineup and it will be interesting to see how much Jiri Sekac will push him for that top line winger spot.
Center, Manny Malhotra
Malhotra was one of the first names off the board in free agency as he signed a 1 year deal with the Canadiens worth $850,000. Malhotra was signed to take over Ryan White's 4th line Center duty. Malhotra is a proven veteran and can help take some of the defensive responsibilities away from Tomas Plekanec. Malhotra is one of the best face off men in the league boasting a face off percentage of 59.5% in 2013 which ranked 6th overall. He will help to bolster a penalty kill unit that ranked 4th in the NHL last season, but lost key contributors Brian Gionta and Josh Gorges. Look for Mike Weaver to take Gorges positive on the top penalty killing unit. The Canadiens lost some leadership in the off season, but keep an eye out for Malhotra to be a big veteran presence in the room this season. It looks as though Malhotra will start on the Canadiens 4th line between Brandon Prust and Dale Weise.
Left Winger, Jiri Sekac
The Montreal Canadiens won the Jiri Sekac sweepstakes in the off season, signing the 22 year old KHL star to a 2 year/$925,000 per year entry level contract. The 22 year old put up 28 points in 47 games while tallying 8 points in 21 games in the playoffs for HC Lev Praha. The 6'2 190 pound winger looks to make the immediate jump to the Canadiens lineup this season as he has been in camp playing alongside Lars Eller and Rene Bourque on the 3rd line. The Kladno, Czech Republic native adds size and skill to a Canadiens team that looks to replace Thomas Vanek in their top 6 forwards. Look for the big left winger to make an impact with the Canadiens from day 1.
Right Defenseman, Tom Gilbert
The Canadiens went into July 1st looking for a Josh Gorges replacement, and found a cheap, reliable one in steady, puck moving defenseman Tom Gilbert. Gilbert was signed to a 2 year deal worth 2.8 million per year. Gorges and Gilbert play completely different styles as Gorges is seen as a shutdown defenseman and penalty kill specialist while Gilbert is seen as a two way puck moving defenseman. Don't be very surprised when you notice the upgrade of Gilbert over Gorges. Gilbert tallied 28 points in 73 games for the Florida Panthers playing on the top pairing with Brian Campbell. Look for Gilbert to solidify the Canadiens 2nd power play unit and add another puck moving defenseman to a team that already bolsters PK Subban, Andrei Markov and Nathan Beaulieu. Habs fans may get frustrated with Gilbert's lack of physical presence with such a big frame, but watch for his stick work and coverage in the defensive zone. Gilbert looks to be starting the year with Andrei Markov but don't be surprised to see him move up the charts once he finds his stride in a Canadiens uniform.
A Look at the likely Canadiens opening night lineup in Toronto
Forwards
Max Pacioretty-David Desharnais-PA Parenteau
Alex Galchenyuk-Tomas Plekanec-Brendan Gallagher
Jiri Sekac-Lars Eller-Rene Bourque
Brandon Prust-Manny Malhotra-Dale Weise
Ex. Michael Bournival, Christian Thomas
Defenseman
Alexei Emelin-PK Subban
Andrei Markov-Tom Gilbert
Nathan Beaulieu-Mike Weaver
Ex. Greg Pateryn, Jarred Tinordi
Goalies
Carey Price
Peter Budaj
Dustin Tokarski
3 Questions heading into the 2014/2015 season
Who will win the backup job behind Carey Price?
Look for this decision to be made within the next couple of days. Both Peter Budaj and Dustin Tokarski are capable of backing up Montreal's star goaltender, yet the problem is that both need to clear waivers in order report to the Bulldogs. The odds either of them clear would be slim at best. With Price's slight injury history, the logical decision is to keep promising young goalie Dustin Tokarski who would potentially be able to handle the workload if Price went on the shelf for an extended period of time (knock on wood).
(UPDATE: PETER BUDAJ TRADED TO THE WINNIPEG JETS ALONG WITH PATRICK HOLLAND FOR F ERIC TANGRADI)
Will Alexei Emelin bounce back? If not, what do you do with his contract?
Let's face it, the way Emelin played last season, his value is currently nowhere higher than a third pairing defenseman that can throw booming hits every now and again. His hockey sense just isn't there and he has not been the same since he tore his ACL in April 2013 against Boston. If Emelin can get back to his 2012 form, then we have a player, but until then, he needs to be played 3rd pairing minutes and have less responsibilities. Now either there wasn't a big enough market for Emelin (which is hard to believe as San Jose was able to fleece Pittsburgh with Douglas Murray), or the Canadiens management team was set on Emelin being more valuable than Gorges for the foreseeable future and dealt him instead. Time will tell on that mark.
Will Lars Eller finally breakout? Is this the year we see Alex Galchenyuk put it all together?
Lars Eller has all the tools to be a top 2 line center in the National Hockey League, but the question lies, will he ever reach his potential? If I were a betting man, I would say that playing with a player like Jiri Sekac will definitely elevate his game. Someone who drives possession like Sekac will definitely have a positive outlook with Lars. Look for this to be Eller's year on the score sheet. Now if Eller isn't able to put it together, do we see Galchenyuk push him out as the 3rd line center and shift him to wing? Coach Therrien has many options and lots of depth which is never a bad thing for a coach. Galchenyuk is starting the year on the wing with Plekanec and Gallagher, so look for him to get going early. Galchenyuk has had a promising training camp and if this is any indication of what is to come, Canadiens fans are in for a real treat.
Bold Predictions
Carey Price will win the Vezina trophy and lead the Canadiens to a 2nd division title in 3 years.
Alex Galchenyuk breaks out for 50+ Points
We see a capable Nathan Beaulieu in a top 4 role
Alexei Emelin's struggles continue
One of Budaj or Tokarski is traded before the end of camps
Rene Bourque is traded before December