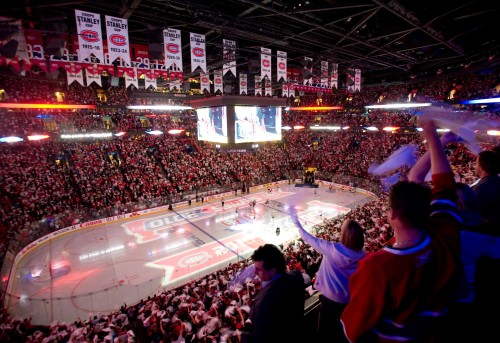 As a lot of writers and bloggers are learning, we really should have written our trade deadline previews for our respective teams a lot earlier. The GM's of NHL teams don't really seem to care that TSN and Sportsnet have 8 hours of hockey coverage scheduled on Monday, March 2nd because a lot of teams have firmed up their teams ahead of the March 2nd deadline.
---
Montreal Canadiens
Needs: Right wing scoring depth and a top 4 defenseman
Available Assets: Lars Eller– The Canadien's centerman has been thrown into trade rumors for the past month. Bergevin came out saying to Sportsnets Elliotte Friedman "I have a saying," Bergevin said. "There are players who get you in and players who get you through. Lars gets you through. When the chips are down, and the games are big, Lars is at his best.". Eller has a lot of value for the Canadiens as their 3rd line center, but he hasn't been able to put up the points fans expect because of his role as a shutdown center. Plekanec has been given more of an offensive role this season and Eller has grown into a much more responsible defensive center with offensive upside. Alexei Emelin-Although he's injured and I wouldn't classify him as much of an asset with his contract, there is little doubt in the hockey world that Bergevin has been trying to deal Emelin. His large contract gets in the way of any deal that can be made because the Canadiens will have to eat salary or take back another bad contract. Draft Picks/Prospects-Bergevin has said on multiple occasions that he will not deal futures for a rental player and with the high prices in this years market, it's likely he will stick to that statement and will only make hockey trades instead of mortgaging the future.
Who are the Canadiens looking at? Coyotes Center Antoine Vermette-The big, skilled center would look nice on the Canadiens roster, but the price seems absolutely to high. The Coyotes are rumored to be looking for a 1st round pick and another asset, and it's highly unlikely Bergevin will part with his first in such a deep draft. Blue Jackets Defenseman James Wisniewski– The former Hab still has a year to go on his contract after this season. He was asked to submit a list of 10 team's he could be traded to and he did so in a way that it would make it very difficult for the Jackets to trade him. On his list are teams that have no salary cap room or dont have a need for an offensive defensemen. Coyotes Defenseman Zbynek Michalek- Michalek is an excellent defensive defenseman. He is a great shot blocker and is very capable of playing a shutdown role and manning the 2nd powerplay unit with such a big shot. He is often injured so that may scare the Canadiens brass away.
The Canadiens possess a few needs heading into Monday's deadline, so don't be surprised to see Bergevin go fishing for a few big fish that aren't known to be on the market. He surprised Habs fans last season with the acquisition of Vanek, so don't be surprised if he makes a hockey deal or two before the buzzer strikes 3pm in the Eastern time zone on March 2nd.
Love Reading About Hockey?

Subscribe to keep up-to-date with the latest and most interesting hockey news!
| | |
| --- | --- |
| | We hate spam just as much as you |