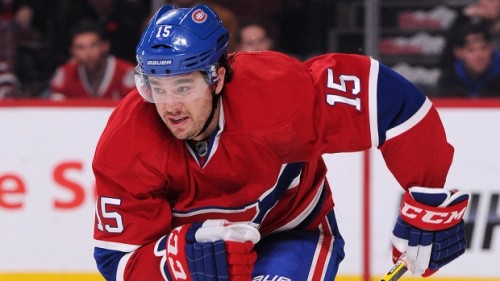 On Sunday afternoon, the Canadiens announced that they were placing Pierre-Alexandre Parenteau on unconditional waivers with the purpose of buying him out.
It may come as a shock to some, as the goal starved Canadiens will now have a dead cap space of 1.33 million for the next two seasons as a result of buying out Parenteau. Before judging this decision, we need to see what moves Bergevin makes to replace Parenteau and how they effect the hockey team. You have to think that the Canadiens have some other moves in mind, because after Brendan Gallagher, the Canadiens will be starved to find production coming from Dale Weise, Devante Smith-Pelly and Brian Flynn.
Who will contribute from the right side? I suppose that it's only June 28th, but the latest comments from Bergevin about his team make some believe that he actually likes where his team stands. Bergevin on free agency, "Jeff [Petry] and Torrey [Mitchell], that's my July 1. I'm not going to chase players July 1."
This is not necessarily a bad decision, because July 1st usually leads to overpayment and despair in the later years of the contract. A lot of the decisions that Marc Bergevin has been making lately make you wonder how much Bergevin is really catering to his coach and not trying to build a championship team.
Are the Canadiens wasting the prime years of PK Subban, Max Pacioretty and Carey Price? Only time will tell.