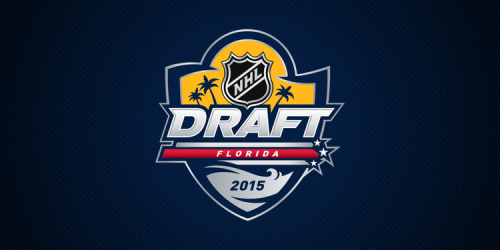 Let's see how many people I can piss off with my choice of vocabulary this time. The over/under is 1.5.
Opportunities are weird. Inherently unique and yet wholly common, chances to partake in capacious, impressionable or otherwise life-changing events come and go like the tides of the ocean. Some smart son of a bitch once noted that "opportunities are like sunrises; if you wait too long, you'll miss them", and to a degree, he was right. But every day brings its own sunrise-it won't quite be the same as the prior day's, but it still possesses that magic.
What does that have to do with anything? Other than a poor effort at wordplay and a growing propensity to get too "feelsy" in everything that I think, say, write or do, nothing. Absolutely nothing.
A hair under two months ago, I had the righteous opportunity to attend the 2015 NHL Entry Draft; set to take place in Sunrise, Florida (HAHAHA, THERE IT IS), a mere 15 minute trip down the Sawgrass Expressway was all that stood between me and a horde of athletes, on average a year or two younger than I, that were prepared to make hella f**cking bank. Tickets were free, parking was free, everything was free. And yet, true to form, I so very nearly messed it up. Strap yourselves in, my dudes-this is how it all went down.
Roughly a month or so before the whole shebang was slated to pop off, the Florida Panthers-hosts of the event-set up a page on their official website, serving as a formal request form for the free tickets they were set to dole out. Not wanting to miss my chance, I hastily filled out and submitted my request, stoked on the fact that I might not take the L for once and luck out on some free passes. Days fluttered by; those days turned to weeks, and before I knew it, other Cats fans were taking to social media, celebrating their newly acquired gen-ad tickets. My friend Eric, a former employee of the hockey club, got his e-mail as well, seemingly leaving me as the only sop in South Florida who got their application for free tickets denied, rejected, or otherwise lost in cyberspace. Because that's how sh*t works sometimes, I guess.
What I forgot to account for, however, was the forced migration of my e-mail address to a completely new server (it's GREAT to be a Florida Gator), a transition that claimed responsibility for the complete dissolution of any and all message forwarding settings I had set up. Granted, I probably should've taken care of the switch after any one of the 390,412 advisories UF sent me, but…just, nah. After a few minutes of snooping around, I managed to locate my missing message-I was, in fact, attending the NHL Draft, and was eligible to print out eight tickets, four for each half of the two-day affair.
Rallying a rag-tag squad comprised of a fellow rower, the bassist in my jam band (The Flying Amoebas-we've never recorded a single song, but we're a thing, I swear!) and big homie Eric, we concocted a half-baked plan to get our asses in our seats in time to watch Commandant Bettman take the stage. Meeting at my place, Brian (rower, Star Wars aficionado, all-around good guy), Eric and I piled into Heidi (my beloved 2011 Volkswagen Jetta) and hit the road. Behind schedule, we screeched into the BB&T Center parking lot, stationed our asses somewhere closer to the Everglades than the arena, and power-walked our way to the JetBlue Tarmac, keeping an eye for Wyndham's (bassist, lunatic, international man of mystery) familiar shock of blonde hair. Along the way, however, we noticed something peculiar; we weren't the only ones hustling to the front entrance. Supporters of every team-we happened to find ourselves in a flock of Flyers fans-swarmed in droves, piling into the stadium only minutes before the festivities began. Sign-toting fans hung out on the fringes, waiting for friends to arrive-one triptych of Oilers diehards were spotted sporting a posterboard with "ANYBODY BUT CROUSE" plastered on it in ink. The atmosphere surrounding the building was damn near electric.
Having rendezvoused with Wyn, we jumped into the fray, hustling to the general admission upper deck expecting to find rows of open seats to chose from. We stormed our desired entrance, only to be stunned by discovery numero dos. This is gonna sound bizarre, but you've got to take my word for it when I tell you that this place was LIT. Like, jumping Jesus on a pogo stick, the joint was POPPIN'. An ocean of faces greeted my surprised countenance-not a single open seat graced my sight, let alone multiple strung together. After sharing a group "dafuq" we headed over to an adjacent section, only to encounter the same reality. The upper deck was stuffed to capacity, with fans spilling over into walkways and entrances, waiting to pounce on a serendipitous vacation.
Shuffling aimlessly back and forth, we missed Commissioner Bettman's opening address (we booed anyway) as we shuttled along the concourse. But, just as all hope seemed lost, OUR HEROES ENCOUNTERED A LUCKY BREAK! Speaking to a fellow employee, Eric caught wind of a rumor that Panthers' representatives were patrolling the upper deck, dishing out free lower bowl tickets to needy fans in an effort to alleviate the overrun upper deck. Just like that, we were off like a prom dress, Eric leading the charge as we sought out anybody that looked remotely official. Using his above-average social skills, he compensated for our aggregated social anxiety, brushing off the inefficacy of one particularly schmuckish fellow before striking gold. Snagging four passes from a helpful steward, we were IN-relegated to seating in a restricted swath of the lower deck, but in nonetheless.
Taking the escalator to ground level, we stopped and watched on a live TV feed as the Edmonton Oilers opted to keep their first-overall selection and draft Canadian wunderkind Connor McDavid. We continued our conversation en route to our final destination; as I debated the merits of whether or not the Oil should've traded down, we finally arrived, and following some slight confusion, plopped down in our seats, just in time for the Buffalo Sabres to snag Jack Eichel at no. two. "Bangable" Brian Lee, Wyndham "I hate when people confuse me with Akon" Batchelor, Eric "fivedollanoblock" Calderon, Alejandro "QWOP" Lopez and a three-year old cutout of George Parros' mugshot-homies, we made it.
The Draft itself, in my opinion, was incredibly well put together; epic montage videos introduced each club, welcoming various executives and figures of athletic importance to the stage. Little kids in team jerseys darted back and forth on the floor, sweaters entirely too big for their frames, serving as couriers for the heads of hockey operations. We sat on the same level, a few sections removed, from players and their families, observers of what most likely proved to be the most important day of their young lives. As a whole, the vibe was fantastic; to my knowledge, no hands were thrown between opposing factions of fans, and that's always dope. Everybody and everything really came together under the shield of sport, and that, too, can be construed as dope. It was just DOPE.
Among the more memorable moments:
The pair of Columbus Blue Jackets' fans, two absolute gems of human beings, who lauded "America's Team" before summarily losing their sh*t when Jarmo Kekalainen drafted rearguard Zach Werenski at number eight. Quote of the night-"ANYBODY BUT A MICHIGAN WOLVERINE, MAN! ANYBODY BUT THIS GUY!".
The moment of "GODDAMMIT" shared between myself and a random Panthers' supporter when the Colorado Avalanche selected Mikko Rantanen at tenth overall, one spot before the Cats were set to pick.
The subsequent damning of Joe Sakic to H-E-double-hockey-stick.
The amazing-and I mean AMAZING-reception Dale Tallon received upon taking the stage, and the even sweeter applause that thundered about the confines of the BB&T Center when Lawson Crouse-newly drafted Florida Panther-climbed the stage for the obligatory photo op.
Walking to take a picture with the Stanley Cup, only to find an infinite line winding among velvet-cordoned ropes. We settled for a picture from about 30 feet away.
F***ING BEANS MET OLLI JOKINEN. WHAT THE HELL.
Peacing out midway through the first-round, our squad called it a night and disbanded. Big Wyn returned to the nether from which he came, and the remaining three shot the breeze for a while at Casa de Lopes before Eric headed on home. Brian and I, prepping for the next day's scheduled round of fishing, split a bed and set alarms for way-too-early-o'clock (it's totally normal, we're rowers). We then proceeded to catch absolutely NOTHING, except for some bait fish and a filefish. Twice. The same fish swam into the same net twice.
And, uhh, yeah. That's that. Y'all can leave now, if you want. Or not. Does anybody feel like starting a pop-punk band in Gainesville?