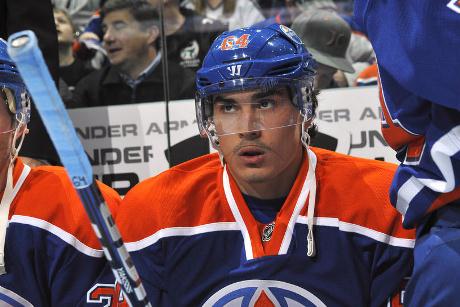 Nail Yakupov. Nail-ing it? Nail-ed to a sinking ship? (There are too many puns associated with his name, sorry.) While everyone has their own opinions about every player, and nearly no one is universally loved or universally hated, Yakupov has garnered a lot more controversy and divisive opinions than many other players this season. Part of the reason is that he's hard to place. He was drafted first overall in the 2012 NHL Draft by the Edmonton Oilers and many assumed he would be a player in the mold of Taylor Hall, Jordan Eberle, and Ryan Nugent-Hopkins. Many have grouped him with the young, promising offensive players in the Oilers, yet he's been a lot more uneven than the others in his playing.
There's been a lot of talk about him recently, so… let's yak about Yak.
He's been put in the fourth line for the majority of the season. He has played single-digit minutes for most of his games this season. He has been a healthy scratch numerous times this season. And he is definitely not happy about all of this.
A few months ago, the media had a fair bit of coverage on Yakupov and some comments his agent made. I mentioned it briefly in a prior article, but basically, Yak was frustrated and upset with his lack of playing time to an extent that implied he almost hoped for a trade. Teammate Hall commented on Yakupov's situation, saying that "people don't know how hard it is when you're playing every eight minutes or whatever… but Yak is a guy we expect a lot out of." Yak's frustration is understandable, but there's a lot more to the situation than merely denying him ice time.
The Oilers seem to have some kind of strategy by having him as a healthy scratch for a number of games recently. They're not willing to move a former number one pick, someone who occasionally shows utter brilliance, down to the AHL, yet they're also not willing to stick him on the ice with Hall and co until he learns a little bit more. In trying to explain his decision, Eakins stated that "it's still back to, you have to earn it. You have to earn it and you have to do a number of things on the ice every day. Every day, it can never change. We cannot give things to people, you have to earn them."
The decision to keep him off the ice has sparked a lot of controversy among fans. Some agree and some don't. The stats aren't in his favor – he's been a minus-player in the majority of his games. However, he was one of the most memorable players in a game against the Winnipeg Jets where he had a goal, an assist, and a fight within his very short time on the ice.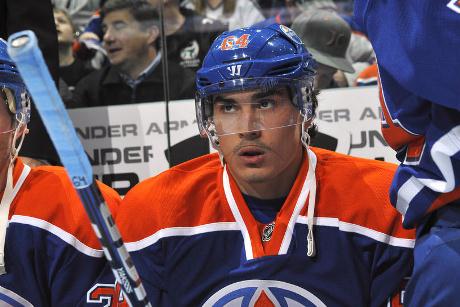 When he gets the puck, he usually manages to pull off at least a moderately good play. The problem, however, is what he does when he doesn't. He needs to get the puck to his linemates and become a bit more aggressive. Another problem is that, yes, the Oilers do have a lot of the same type of player in their group of forwards. While it's impossible to predict what Yakupov's role would be in another team, as every team has their own style and unique roster, in Edmonton he is definitely fighting for a spot among the multitude of young forwards in a way he might not have to on other teams.
Before pulling him as a scratch for a game against the Coyotes, Eakins reportedly had a conversation with Yak in the locker room. Though fans aren't privy to the exact details of what took place in that conversation, Eakins told the media that "Yak and I had a very long, in-depth conversation Monday morning, probably a good 40-45 minutes, the longest I've had with any player. Him and I have sorted a few things, it was a good conversation. At least it ended well. We have a definite plan moving forward. I have some things that I'm going to do. He's agreed to do some things from his end and we'll see how that goes."
Yak also commented about the chat, saying that ultimately "it's hockey, I'm 20 years old, you have to be strong and keep working, keep practising, keep listening to the coach and get things going."
In the theme of 'getting things going,' let's go back to his somewhat uncharacteristic fight . Many fans responded positively to his fight during the game against the Winnipeg Jets – and speculated what he told Yakupov in the penalty box to elicit a laugh from the young forward. Since joining the Oilers in September 2013, claimed on waivers by Edmonton from the Dallas Stars, Luke Gazdic has done a lot of Edmonton's fighting on the ice, often fighting players who had gone after Yakupov. However, against the Jets, Yak fought his own battle this time.
"You can stand there and take punches or you can fight back. He showed some fight," Gazdic told a reporter, "I did tell him I might need to teach him a thing or two when it comes to defending himself but I applauded him for putting up a fight."
"Of all the games Yak has played this year, I was most proud of him tonight," said Dallas Eakins.
Teammate Taylor Hall, who was responsible for setting Yak up for Edmonton's final goal of the game, also applauded his tenacity during the game – despite having less than 7 minutes of ice time, he made something happen. "It would have been easy for him to kind of throw in the towel and sulk," Hall said, "but he came out and every time he got the puck, he made something happen."
This seems to be the overarching thread in conversations about Yakupov – he needs to make something happen, to prove himself. While he's undoubtedly a skilled player, he can't sit back and expect to be on the first line. Everyone he's playing with is a skilled enough player to make it into the NHL, and he needs to consistently work to improve himself and his playing, to earn his spot.