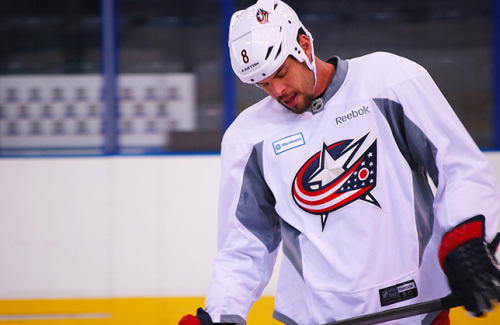 Even when there's a break on the horizon, Nathan Horton can never really get a fair shake.
That's been the case ever since he signed with the Columbus Blue Jackets. They knew he'd miss time recovering from a shoulder injury, but he was seemingly right back in the lineup before being taken out again with a need for abdominal surgery.
From there, it only got worse: it was discovered that he had a degenerative back condition that not only stalled his playing career, but might have ended it.
Horton spoke with the Columbus Dispatch for the first time on his condition, saying he can't even do simple things.
"I can't stand up like a normal person; I can't bend over," Horton told The Columbus Dispatch. "I can't run. I can't play with my kids. To get in and out of the car, I'm like a 75-year-old man … so slow and stiff. I can't sleep at night. I try to lay down and my back seizes up and I can't move, so sleeping is out. I'm like a zombie in the daytime."
There is a solution for Horton's back problems. The only caveat is that it would end his hockey career.
Aaron Portzline of the Dispatch has reported that a surgery could take place, including a three- or four-level spinal fusion with a titanium rod.
"I don't want to have surgery, because of what that means," Horton said. "I don't want to live with this pain, but I don't want to make that decision. It's hard for me to say that, at 29 years old, I'm done. I mean, really? Done at 29?"
According to Horton, he would need to have at least three of the five vertebrae in the lumbar region fused with a titanium rod. The rod provides stability and support as well as a relatively pain-free life, something Horton doesn't have right now.
"I've tried everything," Horton said. "I've seen so many doctors. So many people think they can fix me and they're so optimistic, and then I get optimistic, but then … nothing changes. It's so frustrating. I've seen so many people with back issues play through this, and it's a different thing, the pain. It controls everything."
Best of luck in whatever he decides. It's been a rough ride for Nathan Horton and though his solid young career might be over, at least there's hope for him to live a normal life.
Follow me on Twitter: @2PSBlog
Love Reading About Hockey?

Subscribe to keep up-to-date with the latest and most interesting hockey news!
| | |
| --- | --- |
| | We hate spam just as much as you |