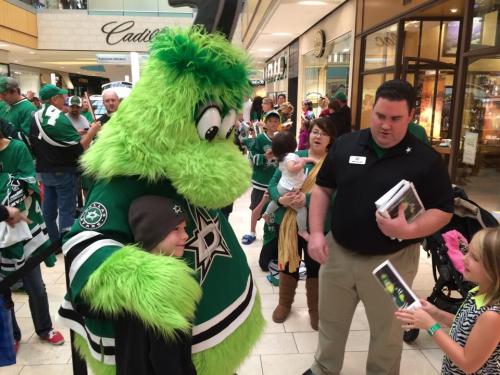 From the Phillie Phanatic to the New Jersey Devil, many franchises from pretty much all sports have taken a whack at creating a fun character for their fans to enjoy, and the Dallas Stars are no different.
At their annual Ice Breaker event on September 13, the Stars organization unveiled their newest member of the team, Victor E. Green. Victor, or Vic, is a giant, furry, green alien hailing from "a galaxy far, far away" and standing at a whopping "84 pucks" tall. Some of the things he likes are hugs, high fours, space, and Stars fans, while his dislikes include Sharks, Ducks, and the color blue. Vic can be seen wearing black cowboy boots bearing the Dallas Stars logo as well as a victory green Stars jersey that perfectly complements the hockey sticks he has for antennae.
Vic has been greeted by mixed reviews, with some fans loving him, while others feel like he looks like he just walked off the set of Sesame Street. While those fans who dislike Vic are certainly entitled to their own opinions on our new fuzzy companion, they seem to be forgetting who Vic is really for, the children.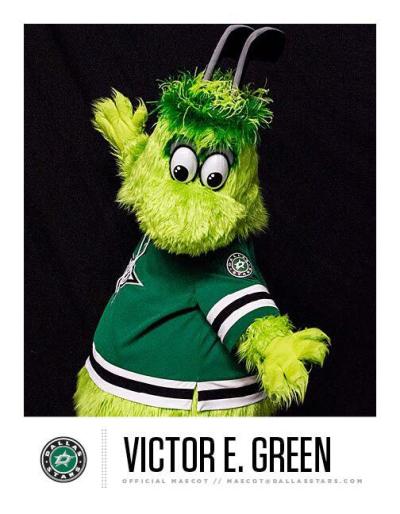 The simple fact of the matter is that some children just don't find sports games very interesting and some will spend a game sitting there bored out of their mind and waiting for the game to end. With mascots like Vic, it gives kids something to laugh at, hug, and entertains them while also getting them interested in the game itself. In addition to participation at the games, the Stars often visit schools and children's hospitals and having a big goofy alien will certainly entertain them more than a bunch of guys who play hockey for a living. Kids will be able to have a mascot they enjoy and can cuddle up with a Victor E. Green plushie while also becoming more interested in the sport itself.
While the Stars probably could have done a better job when it comes to designing the mascot itself, the NHL has certainly seen worse. We look forward to seeing you at games and events Mr. Green.