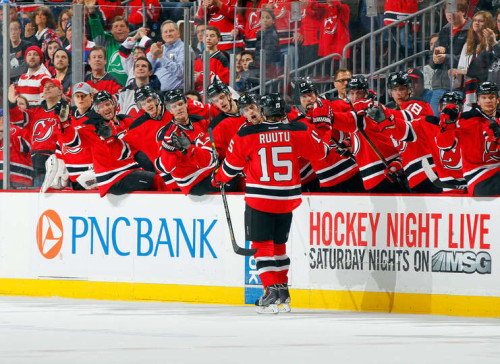 Finally, there is a report on Tuomo Ruutu's injury.
The right winger has missed the past four games, and is expected to be out 4 to 6 weeks due to a fracture in his right foot, reports NJAdvanceMedia.com.
Representatives for the Devils said Monday that the fracture did not initially show up in testing. Though he didn't score any points in the three games he played this season, he had a respectable six shots on goal.
To compensate, the Devils claimed forward Bobby Farnham off waivers from the Pittsburgh Penguins on Monday. Farnham has gained a reputation as an instigator, and has already amassed five penalty minutes in three games this season, building on last year's total of 24 PIM in 11 games. Farnham will presumably join Kyle Palmieri and Jordin Tootoo as the Devils' group of "tough guys."