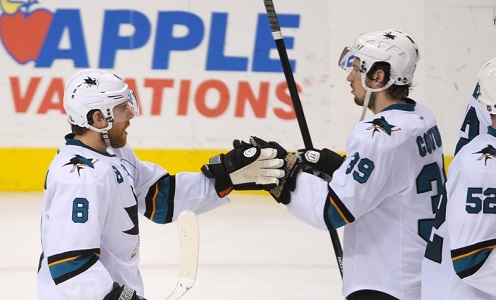 After their disastrous collapse against the Los Angeles Kings, fans were mad, players were mad, and management was mad. Those three things do not go well together, and someone had to pay for the reverse sweep that etched the 2013-2014 San Jose Sharks into the record books. Where is the first place that has to be looked? Leadership.
Sharks General Manager Doug Wilson knew his job would be hanging in the balance. Before anything could happen to him, he endorsed coach Todd McLellan and his crew to stay behind the bench, stating that they are good for the team. Sharks owner Hasso Plattner then met with Wilson, and decided to give him another chance. With that, all of the upper management stayed intact. Associate Coach Larry Robinson even got a promotion. It will require less travel, which is what he wanted, and he will still be able to help the team greatly. Personally, I agreed with the decision to keep all upper management. You can have the best coach in the entire world behind the bench, but if the players don't show up, the coach can't do anything about it. McLellan is the best coach the Sharks have ever had, and Doug Wilson was able to get two second round picks for Douglas Murray. He's doing something right…
So now the organization has to turn to the players. Which players are to blame for the implosion that occurred ever so quickly. Doug Wilson already informed Martin Havlat, arguably one of the biggest busts in franchise history, that he won't be returning to the team. He also let go Dan Boyle, arguably one of the best defenseman in franchise history. Since his unfortunate head injury, he was never the same player, and he wanted a multi-year deal, something the Sharks would not give him. His rights were traded to the Islanders for a pick. The offseason is still long from over, and more players could be let go.
The Sharks have made it clear that new leaders will be set, and the team will be handed to younger guys. The big question is, Who will lead this team?
Could it be Joe Pavelski, the 40-goal scorer who has shown he has the passion when the time is right? Logan Couture who needed surgery to repair an injured hand after fighting with Mike Richards to try and spark a desperate team in Game 6 against LA?
My prediction is Joe Pavelski to be the captain, and Couture and Vlasic to get the A's on their sweaters. Pavelski has been on the team longer, and I think would be a better leader. Couture is next in line giving him the A, and Vlasic is the new commander of the blue line.
I'm not in the organization, so I might be completely off, but this trio has the ability to lead, and should be given the chance.