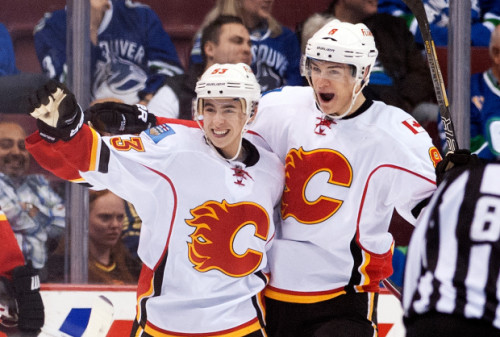 The 2013-14 season wasn't an enjoyable one for the Calgary Flames. They weren't expected to be good – it was a self-pronounced rebuilding season – but a 27th overall finish isn't easy to take no matter how expected it was.
The Flames carried a very young team out of training camp so NHL experience was minimal and it showed in their play. There suffered multiple lengthy losing streaks, but the low point of the season was a stretch of eight games between Dec. 27 and Jan. 11 that saw the team go 1-7 and included five shutouts.
Then there was the coaching situation: Bob Hartley was behind the bench for the Flames for just his second season and was still working out the kinks with his young team. Not to mention that, prior to working in Calgary, the last time Hartley coached in the NHL was with the Atlanta Thrashers in 2007-08.
Even the front office situation didn't help as it was clear former GM Jay Feaster and President Brian Burke wouldn't last together for long. The behind the scenes drama was just another negative in a season that had no shortage of them.
And yet despite all of this there appears reason to be optimistic about 2014-15 – even though it feels like there shouldn't be. A lot of the uncertainties that surrounded the team last year have been erased, which is great news for the team.
The inexperience from last season won't completely disappear, but will definitely be reduced; Hartley is entering his third season with the team so familiarity should be at an all-time high; and Burke solved the GM vacancy by hiring Brad Treliving (formerly of the Phoenix Coyotes).
The roster itself provides plenty of reason to be optimistic, as well. The team got a huge upgrade in net when Jonas Hiller signed on as a free agent for two seasons, and the team in front of him improved, too.
None of the Flames' defense corps played a full 82 games last season – T. J. Brodie played 81 – but all are healthy and will be vital to the team's success. Treliving also added some depth by signing former Pittsburgh Penguin Deryk Engelland – a vet of five seasons.
Up front two players were brought in who could have a tremendous impact on the team's success: Mason Raymond (a Calgary native) and Brandon Bollig. The former is coming off an unexpectedly productive season with the Toronto Maple Leafs, while the latter was a Cup champ with the Chicago Blackhawks in 2013 and – despite its cliché use – is a great role player.
The aforementioned duo will be a welcomed addition to a group of forwards that already includes veterans such as Jiri Hudler, Curtis Glencross and Matt Stajan, as well as the younger Sean Monahan, Mikael Backlund and Joe Colborne.
Possibly the most intriguing player on the roster is Johnny Gaudreau – the highly sought after Boston College star who signed with the Flames in April of 2014. The timing of his signing only allowed him to play one game (he still managed to score a goal), so October will truly be his much-anticipated debut.
Things may not turn around so quickly this season, but on paper Calgary looks like a better team and should have some more success compared to last year. They're still some time away from making the playoffs – the Pacific division and the Western conference as a whole are ultra-competitive – but at this point a playoff appearance shouldn't be the measurement of success.
Love Reading About Hockey?

Subscribe to keep up-to-date with the latest and most interesting hockey news!
| | |
| --- | --- |
| | We hate spam just as much as you |