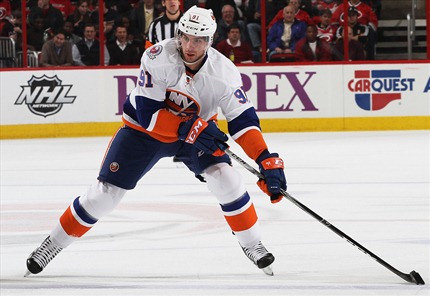 The New York (or should I say Brooklyn?) Islanders are going to be… slightly below mediocre again this year, sorry to say. Ranked 15th (good for last in the East) in The Hockey News's annual yearbook, the Islanders aren't fooling anyone. It's even harder to pretend you have a legitimate shot at contending for anything this year when one of your newest acquisitions and best players, Lubomir Visnovsky, doesn't even want to play for you.
Anyways, let's take a look at some of last season's stats for the Isles and see what went wrong:
2011-12 Stats:
Record: 34-37-11 for 79 points
Standings: 14th in the East
Winning Percentage: .482
Goals For: 196 (28th)
Goals Against: 251 (27th)
Powerplay: 18.5 (8th)
Penalty Kill: 80.5 (22nd)
Top Scorer: John Tavares – 81 pts
Who's Gone: Mark Eaton – D, Milan Jurcina -D, Al Montoya – G, Jay Pandolfo -C, P-A Parenteau -RW, Steve Staios – D, Dylan Reese- D
Who's New: Brad Boyes -RW, Eric Boulton -C , Matt Carkner -D, Griffin Reinhart -D, Keith Aucoin -C, Lubomir Visnovsky -D (Although I guess we don't know if I can already add him to the gone list).
How The Roster Changes Affect The Team:
The Islanders started off horribly as free agency began, losing their third leading scorer, Parenteau, to the Colorado Avalanche for $4 million a year. Although Parenteau did get a boost in production from playing with John Tavares (much like Matt Moulson continues to do), he was a full 20 points ahead of the next highest scorer (67 compared to Mark Streit's 47). Although the Isles were quick to replace him with Boyes, Boyes is a wildcard. After scoring 43 goals, 65 points and 33 goals and 72 points in consecutive years with St. Louis, he's been on a steady decline since joining the Buffalo Sabres two years ago. Boyes posted just eight goals and 15 assists in 65 games last year, so the Isles could be looking at a homerun or a headache – depending on which Boyes shows up to play. On a good note, he is an upgrade to anything to anything else the Islanders have on right wing, but Nino Niederreiter and Kyle Okposo could grow up at anytime and push him down the depth chart.
Lubomir Visnovsky could be a great addition for the Islanders, if he decides to come back. After leading all NHL defensemen in scoring two years with 68 points, Visnovsky hit a wall last year, and only recorded 27 points. Even if he doesn't care much for Long Island, he would still be an improvement over everyone except Mark Streit on the Isles' blue-line. Although the KHL has banned him from signing an extension in Slovakia (his homeland), prohockeytalk.com is reporting that Visnovsky is only fighting to stay home because his son is having some non-serious health issues. He would like to have his son in full health before returning to the NHL, according to the report. If that is the case, and it's not truly just a case of another player not wanting to join the Islanders, than look for Visnovsky to return after a few weeks, which could cause havoc and ruin chances in a shortened season. As of right now though, he has been suspended until his return.
The goaltending department is strong with Evgeni Nabakov, Rick Dipietro and Kevin Poulin, so Al Montoya won't be missed. The former sixth-overall selection in the 2004 entry draft spent parts of four seasons between the ECHL and AHL before the Rangers (the team the drafted him) finally gave up on him and traded him to Phoenix. With the 'Yotes, Montoya got a couple of starts in the NHL, but never found a place and wound up in an Islanders jersey in 2010-11. Montoya, now 27, signed with the Winnipeg Jets in the off-season and takes his 21-17-10 career stats with him. He will be a decent back-up to Ondrej Pavelec, who figures to start 35-38 of the Jets' games this season.
The rest of the "Gone" consists of Jurcina, Eaton, Pandolfo, Staios and Reese. Reese signed in Pittsburgh and was recently waived with the intention of sending him to Wilkes-Barre/Scranton, not as if he had much hope of cracking that roster after putting up average stats in 74 games over parts of four seasons of call-ups in New York. At 28, Reese can look forward to a life as a journeyman or an AHLer at this point. Pandolfo, 38, is past his prime and has spent his time playing with the Providence Bruins while on a tryout contract with the Bruins. Not much of a loss to the Islanders in him, unless you count his experience and cup-winning pedigree valuable. Eaton, Juricina and Staios were all veteran defensemen who became expendable with the addition of Visnovsky, Carkner and the drafting of Griffin Reinhart (who was re-assigned to his junior team). As for Keith Aucoin, as I said in my Toronto Maple Leafs season preview -while he was still part of the Leafs- he's a good AHLer, and that's it. Don't be swayed because of his inclusion in the opening night roster, Aucoin will wind up in Bridgeport by season's end.
The two additions not touched on yet are Boulton and Carkner. They are essentially the same player, just in different positions. Boulton is a left-winger and Carkner plays defense, but both are tough players who don't put up much in the way of points but intimidate the opposition. Boulton only has 73 points in 600 career NHL games, while compiling 1,265 penalty minutes (PIM). The addition of Carkner (361 PIM in 162 NHL games) also adds some added punch to the lineup, literally. Head Coach Jack Capuano said this of Carkner in a article on NHL.com:
"Matt was in Binghamton when I was in Bridgeport and we played against him quite a bit and had our battles. To have that size and grit on our blue line is something we need for sure. He's excited about coming to Long Island and being a part of the Islanders. It's definitely going to give us a boost on the back end."
Current Roster:
Center: John Tavares, Frans Nielson, Josh Bailey, Casey Cizikas and Brock Nelson.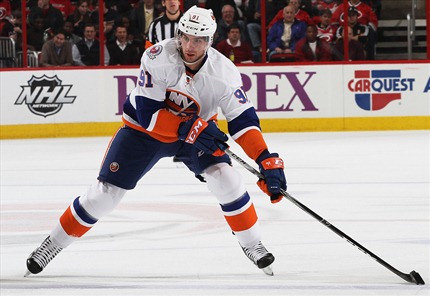 John Tavares is the New York Islanders. There's no two ways about it. He wins them games, and when he can't carry the team by himself they lose. Tavares became the first "next one" after Sidney Crosby, when he was granted exceptional palyer status to be allowed to play major junior in the Ontario Hockey League (OHL) at the age of 15. As a rookie in the OHL, against players as much as six years older as he, Tavares put up 45 goals and 77 points in 65 games. He created Crosby comparisons the next season though, when he led OHL scoring with 72 goals and 132 points in 67 games. That's right, while most people think a point-per-game average is astounding, Johnny T managed more than A GOAL-PER-GAME AVERAGE. Fast forward to 2013, Tavares just started defining himself as an elite player in the NHL last season, putting up 81 points in 82 games. One can only wonder what Tavares ceiling would be like if he found himself playing alongside Martin St. Louis, Vincent Lecavalier, Teddy Purcell, and Ryan Malone, like Steven Stamkos. Instead, Tavares gets treated to playing with a rotation of Moulson, Boyes, Okposo, Michael Grabner and Niederreiter. Except for Boyes -who is new and hasn't played wiht Tavares yet- all of these players have seen a spike in production riding shotgun to Tavares, but have shown their shortcomings when not on his line. As for Tavares, expect a 45-50 point season from him if he stays healthy like last season.
As for the rest of the guys in the middle, Nielson, Bailey and Cizikas all have potential to be second or third line centermen one day, but -especially with Cizikas and Bailey- they're being tossed into the fire to learn the trade at the moment, and will light it up in the next couple of seasons or burn away into relative obscurity. Expect center changes all seasons.
Right Wingers: Okposo, Ryan Strome, Boyes, David Ullstrom and Marty Reasoner.
Okposo hasn't panned out as the star player the Islanders expected when they drafted him seventh overall in 2006, but the same thing can be said for a lot of prospects drafted by the Islanders in recent years (knock on wood for Griffin Reinhart!). Okposo has proven he can put up 45-50 points a season, which is his ceiling unless the Islanders bring in some more star-quality players and that's not happening anytime soon. Look for 25 points out of Okposo in the 48 games. I've described Boyes earlier, in the "Who's New" section, but incase you're lazy and skipped that, he's a bi-polar player. He can score 40 goals, like he did with the Blues, or he could score seven, like last season in Buffalo. If he plays with Tavares on the top line look for 13-15 goals because of the short schedule. I thought Strome had a solid chance of making the Islanders because of his solid season with Niagara of the OHL, and his strong world junior performance, but he was sent back. Ullstrom and Reasoner will just be interchangeable pieces on the wing for the Islanders, with the only difference being Reasoner, 35, has the edge for the third line job due to his experience.
Left Wingers: Moulson, Grabner, Niederreiter and Boulton
Moulson has this job down pat, thanks in large part to Tavares, who essentially made Moulson's career out of nothing. In case some of you haven't heard the story, Moulson was a guy who never scored more than 28 goals all throughout college and his days in the Los Angeles Kings system. He never played a full season. With more draft picks and free agents coming in every year, LA eventually just let him go and washed their hands of another guy who couldn't crack it in the big leagues. Moulson then proceeds to put up seasons of 30, 31 and 36 goal seasons, while increasing his point totals from 48 to 53 to 69 in his first three years on the Island. He also played all 82 games all of those seasons. I like to think of it as the "growing your game while attached to John Tavares" factor. I don't see much more in his potential, because there's only so far you can ride someone's coattails, but still expect a 18 goal, 40 point season in 48 games if he stays on that first line.
As for the rest of the left-side gang, Grabner received Calder Trophy consideration after a 34-goal, 53 point rookie season, but fell a whole 20 points in his sophomore slump posting 20 goals and 32 points. At 25, Grabner is still a mystery, who could turn out to be a one hit wonder, or could elevate his game above his rookie season. In a short season it will be hard to tell so expect to see his true colors in 2013-14. Niederreiter is another one of those potential busts taht I brought up with Okposo. He was selected fifth overall in 2010, and has since managed an unspectacular two goals and one assist in 64 NHL games. At 20, it's too early to give up on Niederreiter, but don't expect him to develop into the offensive dynamo that the Islanders expected to get three years ago. He will start the year in the minors to get some seasoning. I've already talked about the toughness Boulton brings, and his experience is good in a room of young players. He will fill the fourth line hole perfectly.
Defense: Travis Hamonic, Mark Streit "C", Lubomir Visnovsky, Joe Finley, Thomas Hickey, Carkner, Andrew McDonald, Radek Martinek and Brian Strait.
I won't go to in depth here, because aside from Streit and Visnovsky (if he ever comes), this defense corps is swiss cheese, and will rotate accordingly throughout the season. Don't expect the same names in the line-up from game one to game two, nevermind until the end of the season. Streit will carry the load offensively and defensively again, after recording 47 points last season, which included 23 points on the powerplay. All of this while recording 110 hits. Look for Streit to be the anchor of a sinking ship, good, strong and steady, but ultimately pointless on a sinking ship that is the Islanders defense/season.
Goalies: Evgeni Nabokov, Rick DiPietro and Kevin Poulin.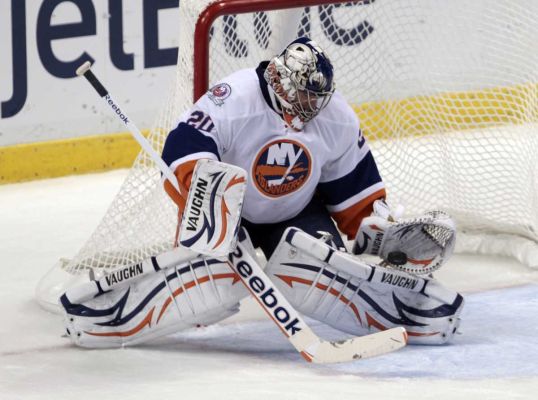 Nabokov is the No. 1 in New York, despite the fact that he was in Visnovsky's shoes just over a year ago, when Nabby signed with the Red Wings but the Islanders claimed him off waivers. At that point Nabokov refused to report and was suspended by the team. Sound familiar? Apparantly nobody wants to play for the Islanders. Anyways, after that was cleared up and now that he's signed a year extension, Nabokov will be the reason the Islanders win or lose games, and yes I realized I said that for Tavares already. Nabokov starting the majority of the games for the Islanders is good for two reasons. One, with a 2.55 goals against average (GAA) and a .914 save percentage (SV%), he is clearly the best of the goalies in the system and gives them the best chance of winning. Secondly, his time with the Islanders means more experience for Poulin and DiPietro, and also gives time for DiPietro to rest his body for the larger part of the season.
This is great news for Islanders' fans, as they are stuck with DiPietro for another eight years of his 15 year mind-boggler of a contract. Sadly, the thing DiPietro will be remembered for most is the length of time he spent on the injured reserve and the fact Brent Johnson took him down with one punch in a fight. Other than that, his career as an Isle has been less than stellar at best, aside from an all-star selection in 2007. His career numbers look something like this: 2.86 GAA, .903 SV% and a record of 130-133-28. None of those stats are impressive enough to warrant the franchise goalie name DiPietro was given when he was drafted first overall in 2000. At 31, time is running out to establish himself as a reliable goaltender who can stay healthy. Just take a gander at his injury history and you'll know why. The sad thing is that the link I posted doesn't include the four games he missed with a concussion and the 58 games he missed to end the season last year with a groin pull. Good luck, too bad we can't say good riddance.
As for Poulin, he's a quality back-up should when DiPietro gets hurt again. His career numbers of .917 SV% and 2.67 GAA to go along with a 6-6-1 record to shout greatness, but good enough. He was having a brilliant time taking over for DiPietro during one of his injured reserve stints two seasons ago until he tore the ligaments in his knee in a warm-up. Now with Nabby in the fold, Poulin will need to wait another year or two until he can strut his stuff again.
Opening Night Roster:
Forwards
Moulson – Tavares – Okposo
Grabner – Nielson – Boyes
Boulton – Bailey – Ullstrom
Jesse Joensuu – Aucoin/Cizikas -Reasoner
Defense
Hamonic – Streit
Martinek – McDonald
Hickey – Carkner
Extras: Matt Martin – LW, Colin Mcdonald – RW, Joe Finley – D, Brian Strait
Visnovsky is on the opening night roster, but as he's suspended by the team and still in Slovakia, don't expect an appearance.
Summary:
The Islanders have a fair shot at making the playoffs in a shortened season. This season will be defined by who starts hot and who stays hot, which the Islanders have the capability to do both on offense and in goal. Defense is a huge question mark though and that never leads to a good situation, especially added to the fact the defense will have the "when's Lubo coming and when will I lose my job?" hanging over their heads. Not a good thing. As for the seasons prospects, even though it's realistic they could slip in the playoffs in a low seed, expect the Islanders to have another bottom-dwelling year. I'm predicting a 14th place finish for the Islanders, despite an award-winning year from Tavares.
Sorry guys.