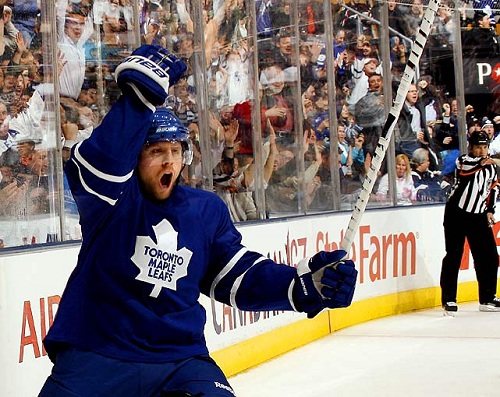 Toronto Maple Leafs fans can rejoice, as the NHL and NHLPA finally agreed to dance together and the result is a 48 game season. As a Leafs fan that can be a really good thing or a really bad thing-especially if you liked not having a hurting wallet from tickets. If they tear out of the gate and don't have time to drive the semi off the cliff as they did last year, it will be good. The season can also be a really bad thing, if they pull off the typical Toronto trend of January-February collapse. It's very hard to pull out of a slump where you lose 19 out of 24 games when there's a 48 game schedule. Especially after the rug is pulled out from under the General Manager's feet four days before training camps are set to begin. You can read the whole story about Brian Burke's firing and possible reasons for it HERE. Anyways, here's some thoughts about the leafs upcoming seasons and facts and changes that you need to know.
Record: 35-37-10 for 80 points
Standings: 13th in the Eastern Conference and 4th in the North East Division
Offense: 2.77 Goals per game (10th overall)
Defense: 3.16 Goals against per game (29th)
Power Play: 18.4% (tied for ninth)
Penalty Kill: 77.3% (28th)
Top Scorer: Phil Kessel – 82 Points
Highest Paid Player: Dion Phaneuf – $6.5 million
(all stats from NHL.com)
2013
New Additions: James van Riemsdyk, Mike Kostka, Leo Komarov, Keith Aucoin, Jay McClement, and Paul Ranger .
Who's Gone: Luke Schenn, Colby Armstrong, Marcel Mueller, Joey Crabb, Jonas Gustavsson, Jeff Finger, Jay Rosehill, Grant Rollheiser, and Colton Orr.
Unsigned: Cody Franson
How The Roster Changes Affect Toronto:
Before you get into this too much, let's explain first that if you're wondering who Grant Rollheiser is, he was a Boston College graduate that the Leafs selected in the sixth round of the 2008 entry draft with the 158th overall pick. He played in the ECHL with Utah last season and was a very underwhelming 7-6-3 with average stats in a 3.21 goals against average (GAA) and a 0.893 save percentage (SV%). In other words, it's very likely he ends up the way of other former Leaf greats (ha!) Justin Pogge and Andrew Raycroft and signs in Italy.
Also included was Colton Orr in the "Who's Gone" section, because although he still has one year remaining on his four year, $4 million contract, he wasn't signed by the Leafs AHL farm team, the Toronto Marlies, and as he finished the season with them last year he became free agent in the AHL. So, despite having an NHL contract for another season, if you can't find a taker in the AHL odds are you won't find someone to take on the $1million remaining on your NHL contract. Adios amigo!
The prized acquirement (and Burke's last trade acquisition), Van Riemsdyk is an upgrade to anything we have at either his natural position, left wing, or center – where coach Randy Carlyle has shown interest in putting him. As for losing Luke Schenn to get him? Meh. Although lots of Leaf fans are up in arms over losing the defensive stud, but the key to winning championships is talent and depth, both of which the Leafs have in defense, and neither of which the Leafs have in offense.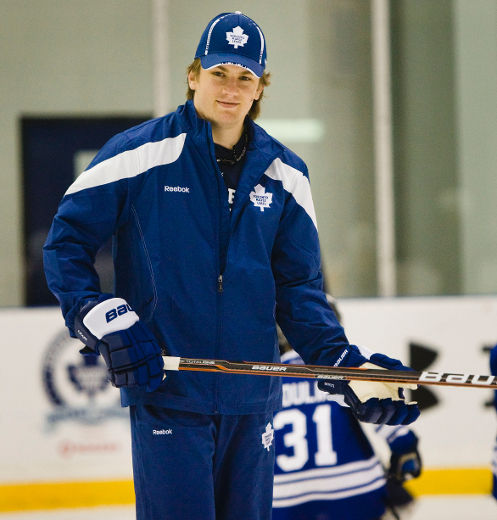 As for the rest of the group:
Mike Kostka was a great snatch for the Marlies, as he led AHL defensemen in scoring last year and also led the Norfolk Admirals over the Marlies in the Calder Cup Finals. He is a quality prospect who could see time as the Leafs 5th or 6th d-man this year.
Leo Komarov is a checking winger who can put up a few points and was brought in to feed Burke's rough appetite, but new GM Dave Nonis still likes the same style of players and Komarov could be a potential replacement for Colby Armstrong.
Keith Aucoin is a proven AHLer and not much else, but will help the Marlies.
Jay McClement essentially fills the gap left by Joey Crabb and will help the penalty kill.
Paul Ranger was a depth defenseman for the Lightning before disappearing for a few seasons due to his personal issues, but he does have good qualities and experience.
Mueller is still the Leafs property, but is playing for MoDo in the Elitserien in Sweden and not likely to return.
Jeff Finger was a waste of money and way overpaid to play in the AHL.
Jay Rosehill was a fighter some fans liked, but will forget about as soon as the next fighter steps up. Case in point: does anyone remember Nathan Perrot, ex-Leaf turned pro boxer?
Last but not least, Jonas Gustavsson. He helped save the team when Brian Gionta's knee took liberties with James Reimers head, but more or less he was just inconsistent. It just didn't pan out in Toronto, but Detroit seems good at finding gems in others trash.
James Reimer is thought to be the No. 1 going into the year, but after the whiplash/concussion (depending on who you talk to) early last year, he hasn't played consistently, and didn't go afar when the lockout was on. Reimer will be a wait and see guy, and if he doesn't live up to expectations, maybe that Luongo deal will come to fruition. He was 14-14-4 last year, with a GAA of 3.10 – numbers that won't get you into the playoffs. Look for a good start from Reimer or the quick pull-of-the-plug by Nonis. Nonis's promotion may also spell the beginning of the end for Reimer, as lots of media outlets question whether Burke was fired due to his unwillingness to trade for Roberto Luongo, whereas Nonis is the man who brought Bobby Lu to Vancouver.
Ben Scrivens was 4-5-2 in limited action last year and had a slightly higher SV% at .903 than Reimer (.900), but at the same time had a higher GAA at 3.13. Scrivens did take the Marlies to the Calder Cup Finals last season, but is unproven at the NHL level and the Leafs don't have lots of time to spare checking out his potential in a shortened 48-50 game season. Look for a new back-up by years end – if the Leafs make the playoffs. An intriguing option -if the Leafs skip on Luongo or wait until after the shortened season- could be Dwayne Roloson. Cheap and a proven winner, he could be a nice stop-gap and playing in a limited role as back-up and mentor to Reimer in the short-term wouldn't sound bad for the 39 year old veteran.
Other notable goalies in the system include Jussi Rynnas and Mark Owuya. Rynnas had a sneak preview of two games with the big club last year, losing once and having a relief appearance. In those games he posted a 4.24 GAA and and .825 SV%, which are unspectacular numbers to say the least. He went 11-9-1 with the Marlies last season and Rynnas does posses a quick glove, so he might be an NHL back-up one day. Owuya is known for being a rapper back in Sweden, and might want to stick to his musical aspirations after being stuck in the ECHL mostly and going 2-2-0 with the Marlies when called up. Then again, Las Vegas is Toronto's new ECHL affiliate, so he might even catch a lucky break.
Defensemen:
Captain Dion Phaneuf pulled out of his slump of 32 and 30 point seasons with a 44 point effort last year, which is a good sign as he is mainly known for his physical aspects and offensive instincts (along with the glass-shattering shot). He was a -10 on the year and needs to work a little bit in his own end still, but the all-star selection and point increase are good indications he's continuing to improve and adjust to Toronto. Having a reliable partner like Carl Gunnarsson again will allow him to play his game and not be a huge liability.
Jake Gardiner was the bright spot of the Leafs season last year, emerging as a stud prospect and scoring 30 points as a rookie, all while keeping his plus/minus as one of the lowest on the team at -2. That would have been a plus too if he wasn't constantly stuck with partners like Mike Komisarek and John-Michael Liles. It is worrisome to Leafs brass and fans alike after he has had concussion-like symptoms from a recent game against Rochester in the AHL. Gardiner had started the year out great, scoring nine goals and recording 17 points in 22 games. Leafs coach Randy Caryle said "There has been progress on Gardiner. We will hopefully have him available to us at the start of camp. But there are certain tests he'll have to pass." After not playing since the hit on Dec. 8, he may start the season on the sidelines.
Despite being ridiculed earlier in this article, both Mike Komisarek (1G, 4A, -5) and John-Michael Liles (7G, 20A, -14) should have better seasons this year. Liles will have had more time to adjust to his new team and city in his second year and has had time to rest his body after a couple injuries hampered his play last year. Komisarek is also entering a contract year, and if he hopes to land anywhere and/or have a shot at making USA's Olympic team in 2014, he must have a much better season. There is a chance Nonis tries to rid himself of the injury-plagued defenseman, as Komisarek is considered to be one of Burke's biggest mistakes. New regime sometimes equals new faces.
Kostka, Ranger, Franson, Gunnarsson, Korbinian Holzer and Simon Gysbers will likely fight for the final two or three spots on the roster. There may only be one spot up for grabs in the end though, as Gunnarsson and Holzer have both played well enough last year to warrant spots.
Outside shots include recent draft picks Morgan Reilly, Matt Finn and Jesse Blacker, although there won't be a long look for the newcomers in a shortened, one week training camp. Read further for more information on some of the top Leafs prospects.
Forwards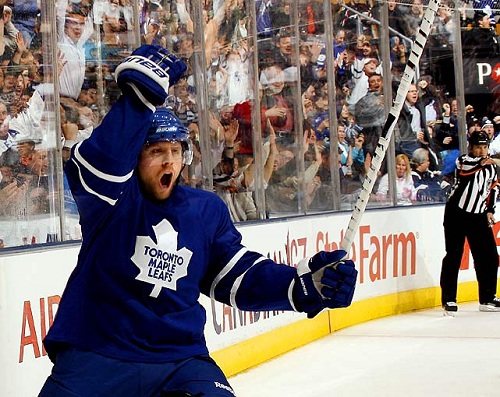 Whether anyone likes it or not Phil Kessel is the be-all-end-all of Toronto's offense. He finished last year with a point-per-game average, scoring 82 points in 82 games. That also shows an important stat, as he played in every game last season. He finished sixth in goals last year with 36, sixth in points, seventh in shots on goal (295), and 15th in power play goals (PPG) with 10. Last season bumped him into the star forward category, and had he found some consistency instead of scoring binges and droughts, he could very well be in the elite player category. A good sign for Leaf Nation is that Kessel seems to always start the year hot and finish streaky, so a shortened season could vault him near the top of the scoring race. Working on his defensive game would help considerably, as he still managed to be a -10 despite all the points, and sometimes looks like he's lost when he doesn't have the puck. If he and Joffrey Lupul find their consistency again, look for a 45-50 point output, even in the short season. Also, to put out the fire on the rumors that Nonis may trade Kessel to distance his team from what Burke left, just know that would be the most stupid and ridiculous idea ever. Kessel is the Leafs main building block, and he wouldn't bring in what Columbus got for Rick Nash, which was already a vast underpayment.
The secondary scoring consists of Lupul, van Riemsdyk, Mikhail Grabovski, Clarke MacArthur, and Matt Frattin. If Lupul plays like he did last year (25G-42A-67Pts), he will be an offensive dynamo and take pressure off of Kessel which will mean more room for the star. Lupul actually finished with a higher points-per-game average than Kessel, as he scored his 67 in 66 games played due to his injury problems with his shoulder. Between his shoulder and his back there's enough concern to scare anyway hoping for that second magical season.
Van Riemsdyk was a steal from Philadelphia, and the former second overall pick could turn into the scoring-machine center with the big body to back it up that Burke had been looking for when he made the deal. However, It's more likely he turns out to be a decent winger with good scoring touch. I'd look for a 30-35 point season for him, which is actually an upgrade from 30-35 points a year when the 48 games are taken into consideration.
Grabo has impressed me since he first came to Toronto, and is a solid second line center, but sometimes struggles when injuries or roster shuffles -because of the Leafs lack of center depth- put him into the first line role. His 109 points in the 155 games he played over the last two years show a growth in his maturity and talent, and I'd expect a good 35 points out of him in the shortened year.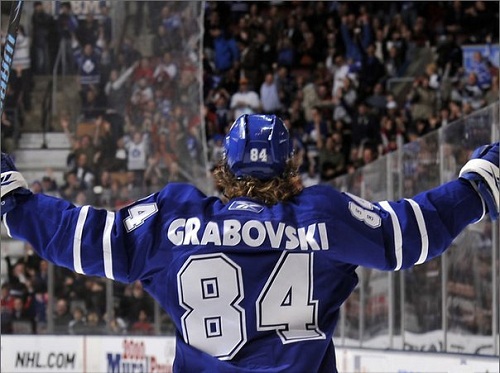 Frattin and MacArthur will likely man the wings on the second unit, although both are headed in different directions. MacArthur is coming off a down season in which he scored only 43 points (20G, 23A) after breaking out in 2010-11 when he pulled a 62 point effort (21G, 41A) out of nowhere. It's critical he find success this season, or he will be labelled a fluke while entering a contract year. He may also have to move to right wing if JVR doesn't work out at center, which could affect his play. Frattin, on the other hand, is only 25 and coming into his prime. Although he only managed 15 points in 56 games with the Leafs last season, he was a monster for the Marlies in the playoffs, scoring 10 goals in 13 games, and almost single-handedly carrying them to a Calder Cup title. It was no coincidence that when he was hurt going into the finals that the Marlies were swept. Expect a 12-15 goal, 25 point ballpark for his point totals, which will only expand next year with a full season.
Tyler Bozak , Tim Connolly, Jay McClement, Nikolai Kulemin and Mike Brown should have spots locked up unless something unforeseen happens also. Bozak is a decent center who puts up okay points (47), but only with Phil Kessel, which means he may become expendable if van Riemsdyk works out in the middle. Connolly is a threat on the ice, but the problem is he's equally a threat to injure himself as he is to score. He may try a tad harder though as it's a contract year for him and I doubt the Leafs will re-sign him. McClement is a penalty killer and not much else -his numbers are 17 points and a -8 rating- but he's a new signing so Carlyle will be influenced to play him by management. Kulemin is a mystery, 30 goals one year, 7 the next. He could be a second line winger, or be traded or sent down if he doesn't produce. Brown is a tough customer who plays old school hockey with his elbows up and stick on the ice. He was a lock because he was what Burke wishes every player was, but might have to earn his time under Nonis. He does have a ton of heart though, which works in his favor.
That leaves one spot to be struggled over by the likes of Matthew Lombardi, David Steckel, Komarov, Carter Ashton, Joe Colborne, and Nazem Kadri. I think the job is Lombardi's to lose, but his body doesn't necessarily stand up well. The two main threats to Lombardi's claim are Steckel, who is a face-off wizard, and Komarov, who is a big-bodied rugged winger who seems molded for the open spot on that fourth line. Komarov's only knock is that he doesn't really skate well and lugs himself up the ice. He also might stay in the KHL after he bolted the Marlies when it became apparent the lockout was going to drag on. Ashton has a shot as a grinding winger, but I think he, Colborne and Kadri will all spend the year in the AHL, unless the Leafs fall out of the race early. Colborne has been injured and the Leafs have a jam up the middle of average talent already, and Kadri won't make the team unless he makes the first or second line, which I doubt he can beat out Frattin for the spot.
Projected roster for opening night:
WITH JVR AT CENTER
LINE 1: Lupul – van Riemsdyk – Kessel
LINE 2: MacArthur – Grabovski – Frattin
LINE 3: Kulemin- Bozak – Connolly
LINE 4: Brown – McClement/Steckel – Lombardi
WITH JVR ON LEFT WING
LINE 1: Lupul – Bozak -Kessel
LINE 2: van Riemsdyk – Grabo -MacArthur
LINE 3: Kulemin – Connolly -Frattin
LINE 4: Brown – McClement/Steckel – Lombardi
D1: Phaneuf – Gunnarsson
D2: Liles – Gardiner
D3: Holzer – Komisarek
extra: Franson/Gysbers
G1: Reimer
G2: Scrivens
Young Talent
The Leafs main focus will be on Morgan Reilly (which you can read my entire article on his potential here) and his dominance and vision at such a young age, but that doesn't necessarily mean he could (or should) make the team. Although he recorded a point-per-game average his draft year and has 28 points in 33 games this year (plus representing Canada/WHL in the Subway Super Series and Canada in the World Junior tournament), a lot of people forget the fact he missed almost an entire season last year. He is a skilled puck-mover, but even if he makes the Leafs, he'd be a 3rd pairing defenseman with 12 minutes of ice time a game, something that benefits neither him or the Leafs.
Here's a countdown of the Leafs top five stud prospects:
1. Morgan Reilly -18 -D- 7G, 21A in 33 games for Moose Jaw/WHL (selected 5th overall 2012)
Smart, fast and talented, he may have gone higher than fifth overall if he wasn't hurt his draft year.
2. Nazem Kadri -22-C/RW- 7G, 18A in 26 games for Toronto/AHL (selected 7th overall 2009)
Finally finding his ground in the AHL, may be boon or bust prospect.
3. Joe Colborne -22-C- 4G, 11A in 30 games for Toronto/AHL (acquired by trade with Boston in 2011)
Big and strong with good hands, looked good in NHL stint before being hurt. Still recovering.
4. Matthew Finn -18-D- 11G, 17A in 33 games for Guelph/OHL (selected 35th overall 2012)
A poor man's Chris Pronger, he's a little smaller, but posses punch both in scoring and fisticuffs.
5. Jesse Blacker -21-D- 0G, 3A in 30 games for Toronto/AHL (selected 58th overall in 2009)
He's a tough son-of-a-gun, and plays well in his own end. Having troubles adjusting to pros.
Outlook for 2013
OVERALL REVIEW:
Offense: B+
Defense: B
Goaltending: C+
The Leafs will be one of many bubble teams trying to force their way into the playoffs, which could be the determining factor in whether Nonis makes a move for Luongo, or other help. Look for him to trade for more grinding, scoring players or to add goaltending help. The Leafs first 10 games will determine whether they draft first overall or squeeze in, but if they do trade for an elite goalie like Luongo you can't count them out at any point. After all, goaltending is what wins you cups -Just ask everyone who played against the Kings and Jonathan Quick in last years playoffs. Van Riemsdyk might be the push they need in a shortened season with everyone healthy, but still expect a ninth place finish for the Leafs if they don't improve in the net. They just aren't mature enough. Yet.