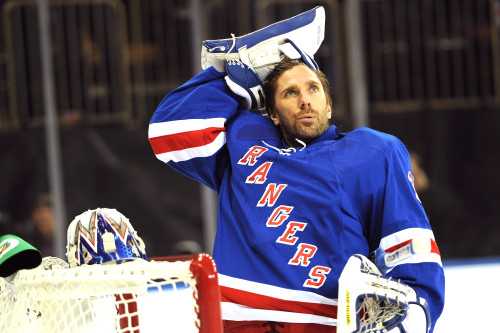 The past two seasons have been nothing shy of exciting for the New York Rangers. The "Broadway Blueshirts" are hungrier than ever to exceed the team's recent success of back-to-back Eastern Conference Finals appearances, and one Stanley Cup Final appearance (2014).
After a run of successful seasons, it's no secret that this Ranger group's time is now in relation to having their best chance at hoisting Lord Stanley before it's too late, though this year's team is different than in past seasons. A unique chemistry mixed with fresh youth and new role players entails New York's roster for 2015-2016.
Yes, expectations are still high in the Big Apple, but all eyes won't be on the Rangers all the time in 2016. Other teams have emerged to be top contenders in the league from the Eastern Conference. But, that fact will serve as a blessing in disguise for head coach Alain Vigneault's crew.
Here's a closer look and expectations for the New York Rangers in 2015-2016.
Subtractions
Let's begin with the losses from the 2015 offseason. It was two summers in a row where the Rangers lost important players from the roster again but, this time around, the losses shouldn't be as potent.
The classy and admirable Martin St. Louis announced his retirement in July. It was apparent that the future Hall Of Famer's future was either New York or nothing – retirement. St. Louis was key (to say at the least) for the 2014 Cup run, but Marty showed signs of losing a step and his passion for the game towards the end of last season.
Goaltender Cam Talbot was traded to the Edmonton Oilers, as expected. Rangers fans gave an appreciative farewell to the arguable MVP of the Rangers last season, after starting goalie Henrik Lundqvist was sidelined for two months with a neck injury.
New York lost a fan favorite and one of the faster skaters the NHL has to offer in left winger Carl Hagelin. Hagelin's presence will be missed, but a change of scenery may have been what was best for both parties.
Additions
One big and positive difference for New York this offseason compared to 2014's were the additions made to address the team's losses in summer of 2015.
The Blueshirts took a risk with their first transaction by signing former Los Angeles Kings center Jarret Stoll. Regardless of his off-ice activities which resulted in the Kings releasing Stoll – it's not that much of a risk, as Stoll's second chance on the East Coast will benefit both parties. Stoll will serve as a role player for the Rangers, but more importantly he was brought in to do one thing – win faceoffs. Stoll has never finished an NHL season with a faceoff percentage under 50%.
Right winger Emerson Etem was acquired from the Anaheim Ducks in exchange for Hagelin. He may be younger (age 23) and less experienced than Hagelin (age 27), yet Etem will provide similar energy and a high-tempo pace that he Swedish native did for New York in years past. And, there's also more of an upside for Etem, at 23, to blossom for the Original Six franchise. Keep in mind, the winger has only played in 112 NHL games… a solid trade, which will prove to benefit both teams in the near future.
Viktor Stalberg was signed this offseason at a very reasonable price of $1.1-million for a one-year-deal. The 29-year-old is a low-risk high-reward caliber player for NYR, and walks into Madison Square Garden with a 2012 Stanley Cup Championship ring (Chicago Blackhawks). Stalberg will serve as another depth player in the Rangers lineup, but there is potential for him to rekindle his scoring touch in front of the Garden Faithful and company.
Antti Raanta, another former Blackhawk, will serve as Lundqvist's backup for the upcoming season. Raanta has displayed spurts in the past when you would think the Finnish native could even potentially be a starter at the NHL-level. The Rangers and their fans will be spoiled yet again with another solid goaltending duo.
Oscar Lindberg proved he has what it takes to finally don a Rangers' sweater. Whether the Swedish prospect likes it or not – he's going to have to be a key part to the Rangers success in 2016, and getting this squad deep into the playoffs again. His youth and offensive talent should be able to take some pressures off some of the veteran forwards down the stretch. Don't be surprised to see Lindberg on the ice in some big situations this season.
Expectations
New York has played a lot – I mean a lot – of hockey the past two seasons. In fact, the Blueshirts have played in more games over the past two seasons that any other NHL club, per NHL.com. I think that will take a minor toll on the Rangers and the outcome of their season.
Rick Nash and company will also be in quite a few close hockey games, and will see plenty of 3-on-3 overtime action, but the team will benefit from the new overtime formart; and that will tribute towards the team getting back some points and staying relevant at the top of the Eastern Conference. Mats Zucarello's role will prove to be more valuable this season, and will end up as the team's MVP by season's end. New York's defense will be solid and one of the league's best per usual, and as long as "The King" is between the pipes — this team has a shot at doing extraordinary things come April.
This team will be exciting to watch, but as mentioned above, they may slump at times and find themselves in the middle of the pack at times during the course of the season. Yet, the Rangers will finish in third place overall for the Conference, and that will serve as the "blessing in disguise." Having the Original Six franchise finish lower in the standings than in years past will take some pressure of the club, and in effect put more on their opponents instead.
The Rangers are legitimate contenders for a Cup run again, but they'll need to find a way to get everyone going at all cylinders come playoff time in order to finally become a championship team.