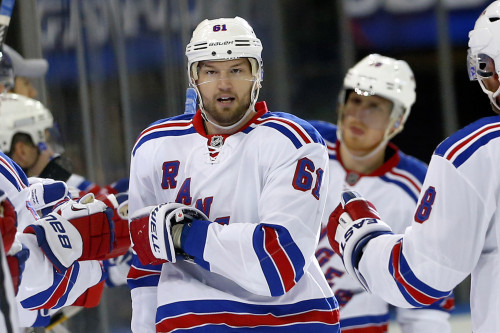 The NHL is experimenting this season with a new overtime (OT) format. Instead of teams entering OT four-against-four and then the shoot-out, clubs will now begin "sudden death" three-on-three. Talk about a big game-changer for teams, and new opportunities for individual players…
A number of NHL clubs are thanking the league's front office, as they will blossom under the new format — given the talent on a team's roster. Franchises like the Pittsburgh Penguins, Tampa Bay Lightning and Washington Capitals first come to mind in relation to who will have the most success with the added variable in 2015-2016. But, the New York Rangers belong in the same conversation as those teams mentioned above.
The "Broadway Blueshirts" roster entails depth at all positions on the ice, and that deep New York roster also includes a variety of skill assets — who will thrive in the 3-on-3 format. The Rangers have players who can single handily win them games in hockey's "fourth period," and potential line combinations that will leave teams shaking their heads in disappointment once sudden death ends.
Here's why the Rangers will succeed in the new overtime:
Mats Zuccarello
New York fan or not — I strongly advise you take Zuccarello in your next fantasy draft, and somewhat early on. The Norwegian native's numbers are going to increase this season, and in large part due to the 3-on-3 OT. "Zucc" was born for the open-ice-style of hockey the new format has to offer. His speed, aggressive play and hockey smarts away from the puck are what will benefit Zuccarello the most, and have teams seeing the five-foot-seven forward in their nightmares, repeatedly.
And, don't forget, while this new format will benefit the highly offensive talented players, two-way forwards will see just as much ice time and be as successful — Zucc brings that defensive quality as well. Rangers fans will see the "pesty" forward backchecking hard to break up an odd-man rush, or even a breakaway. Plus, creating turnovers at both ends of the ice will contribute towards his success in the extra period.
Zuccarello can score in a variety of ways too. Whether it's a scramble for a loose puck and and putting home a "garbage goal," using his speed to create a two-on-one scoring chance or even scoring from the hash-marks while on a powerplay in OT (becomes four-on-three). Expect a handful of game-winning goals from No. 36 in OT this season.
Rick Nash
It's obvious that the Rangers' best offensive player would be mentioned, right?
Yes, but for reasons other than his scoring ability. Not only will Nash be one of the league's top scoring threats in OT, but he'll also create more opportunities for New York to win without putting the puck in the back of the net.
Nash's speed and size will impact the team's strengths and put them in a better position to win games. If you can recall from the first 3-on-3 overtime game with the Philadelphia Flyers, Nash went to stick handle around a Flyers' defenseman in the offensive zone, and did so — Philadelphia's D-man had no other choice, or just tried and was overpowered by Nash's strength, but to take a penalty on No. 61; to prevent him from having an open ice opportunity right in front of the Flyers' net to score. The Rangers then went on a 4-on-3 powerplay…Nash will draw penalties in OT on a regular basis.
Nash can also be used as a decoy and create more time and space for other players to be the overtime hero, such as Zucc, or Derek Stepan etc. Opposing teams will be on edge when the Olympic Gold Medal winner is on the ice, and it may even create more offensive opportunity for the defenseman as well, like Keith Yandle.
Henrik Lundqvist
The rest will rely on New York's best player, Henrik Lundqvist. Most goalies are dreading overtime this season, while others, like "The King," will embrace the challenge and exciting play. The entire NHL has already witnessed Lundqvist standing on his head for the Rangers numerous times, and have seen the Swedish born netminder make second and third rebound chances look like easy saves.
Although Lundqvist is not used to the open ice that will be available to his opponents — he'll adjust just fine as his skill assets were born for the individual challenge he may face every overtime game the Rangers participate in this year.
Just when you thought "Hank" couldn't possibly add anymore top-ten saves to his highlight reel, think again. Overtime at Madison Square Garden will be louder than ever, and cheering for the city's beloved all-star.
Love Reading About Hockey?

Subscribe to keep up-to-date with the latest and most interesting hockey news!
| | |
| --- | --- |
| | We hate spam just as much as you |