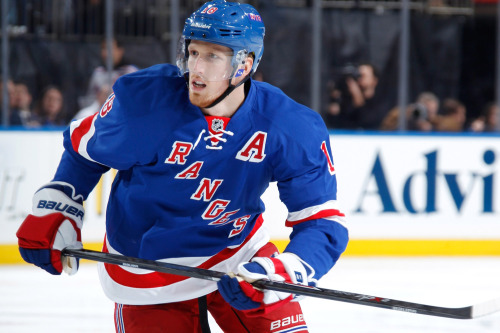 Not too long ago, I examined the Rangers forwards that would be available for free agency following the 2014-15 season. That group consisted of Martin St. Louis (UFA), Derek Stepan (RFA), Mats Zuccarello, and some others. There aren't as many looming free agents on the blueline and in the crease, but there are a couple of intriguing names:
Marc Staal (UFA) – Just like with Henrik Lundqvist, Ryan Callahan,and Dan Girardi last year, until a deal gets done (or he gets traded), this is going to be a story-line that hangs around for awhile. Both sides have expressed interest in getting something done before the season starts, but the clock is ticking on that notion with only a few weeks to go. Staal has been an excellent defenseman since his first season with the Rangers in 2007-08. He would need a raise over his current $3.975 million dollar annual salary, and considering Ryan McDonagh makes $4.7 million and Dan Girardi makes $5.5 million, Staal will be seeking something in the $5-6 million dollar range. The big question is whether or not to deal him at the trade deadline if a deal hasn't been reached. There's a lot of hockey to be played before then, and the Rangers have good blueline depth, so they could be moving a big name on trade deadline day for the second year in a row.
John Moore (RFA) – After signing a one year deal with the Blueshirts a couple of weeks ago, Moore will be negotiating another contract with the Rangers in the summer of 2015. As long as his price tag doesn't jump too much, expect Moore to be back for another season (unless he has an awful 2014-15 campaign). He's an excellent third pairing defenseman with the ability to play on the second pair if needed. If things don't work out with Staal, then it becomes more likely that the Rangers give him a longer deal. Moore certainly wouldn't fill the void of Staal, but keeping a defenseman around that you're comfortable with and trust is important.
*Mike Kostka & Matt Hunwick are new to the Blueshirts, and both will be
competing for the Rangers seventh defenseman spot. It's tough to say
what their future will be, considering they have to play in a regular
season game for the Rangers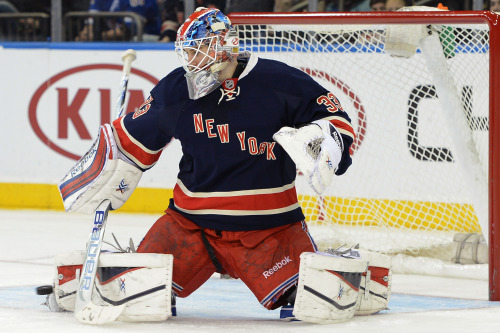 Cam Talbot (RFA) – Talbot did an excellent job backing up Lundqvist last season , and holding the fort while the Swedish netminder was hurt in the early portion of the season. Having a trusty back-up on a contending team is important, but Henrik is clearly the guy for the next six years. A semi-young goalie that has shown he can play, that also has RFA status, will fetch some offers around the trade deadline. If the Rangers can fill a need for another playoff run by parting with Talbot, they could have a different back-up goalie come spring time.