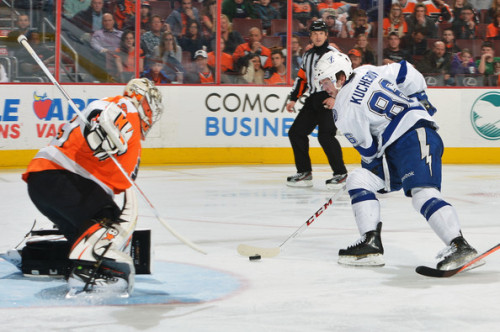 Nikita Kucherov was given the opportunity of a lifetime last season, called up to the Tampa Bay Lightning around Thanksgiving time and sticking through their brief playoff run. Now, with all those rookie jitters out of the way what should fans expect from the young Russian forward?
While it's unrealistic to expect he'll have a Hart Trophy worthy season, or even lead the team in goals and points, I'm not afraid to say Kucherov could open more than a few eyes league-wide with his play during the upcoming 2014-15′ season. To be honest, he probably opened Henrik Lundqvist's eyes on his first shift last season, sending a rocket of a wrist shot past the all-world goaltender in the Lightning's November 25th 5-0 whitewash of the eventual Eastern Conference champion New York Rangers.
Last season, he was a bit of an enigma for those watching. In the 52 regular season games he played, Kucherov potted nine goals and 18 points. Good, but not eye-popping numbers. However, three of his goals were game winners, tying him with Calder Trophy finalist Ondrej Palat for third on the team. He also had a beautiful shootout goal to beat the storied Detroit Red Wings, important when you realize the Lightning clinched home-ice advantage during the first round of the playoffs by a single point over their opponent, the Montreal Canadiens.
During the teams brief postseason run, Kucherov struggled like most rookies in their first appearance on the big stage. He did score the first goal in what ended up being a Game 1 overtime loss, but then ended up scratched for two games. A disappointment I'm sure, yet not overly surprising as his overall play hadn't been living up to expectations.
Even though that last part could pertain to much of the Lightning team during last years playoff sniff, I believe Kucherov sat out those two games as part of the learning process. Keep in mind, he was just 20 years old when he joined the big club and had less than one full American Hockey League (AHL) season under his belt.
This season, I expect the young winger to really take off. He's got the talent, he's got the shot and now he's got the security of knowing he'll likely make his first opening day NHL roster. If he can perform the way many expect, the Lightning will have another weapon at their disposal, and that could be an extremely good sign for a team predicted to go fairly deep into the 2015 playoffs.