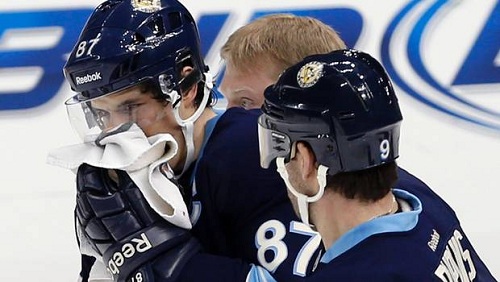 At the Consol Energy Center, it is business as usual. Players file into the arena for morning practice while Dana Heinze gingerly hangs jerseys in each stall. It is almost picture perfect—but one important piece of the puzzle is missing.
That piece is the incomparable Sidney Crosby. Sidelined indefinitely after sustaining a broken jaw from a thundering slap shot courtesy of teammate Brooks Orpik, Crosby is lying in wait for his return to the club's roster. The pain, surgeries, and overnight stay in hospital are fleeting memories for the gifted centre. True to form, Crosby is mirthful and flashes a grin to the media scrum that envelopes him. The Penguins have remained tight-lipped about his progress and offered no timetable for his return.
Crosby's recent plight is yet another saga in a turbulent relationship with injuries. The Cole Harbour native has sustained three major injuries in his career: a high ankle sprain, concussion and reoccurring symptoms, and a broken jaw. Each time, Crosby has exhibited maturity, confidence, and tranquility in the face of hardship. Crosby, in an interview with PensTV on Monday, said the injury is "one of those things that happens" on the ice.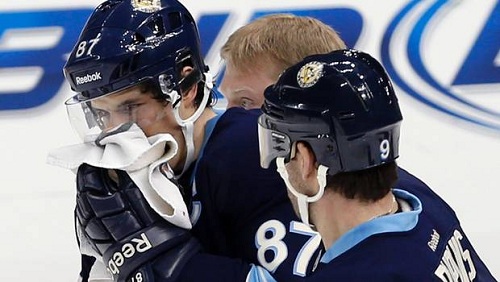 Make no mistake, Crosby is not a tragic hero—instead, he remains valiant and eagerly awaits a meal that does not require a straw. Simply put, don't direct any pity in Crosby's direction.
The halls of the Consol Energy Center, the home of the Eastern Conference powerhouse Penguins, are adorned with relics that proudly display a rich and impressive history. The building serves as a cathedral, paying tribute to legendry players of the past and present. Like Lemieux before him, Crosby has cemented his place in the hearts of the Penguins faithful—as evidenced by the plethora of photographs and displays of the beloved eighty-seven. In a unique way, the Consol Energy Center celebrates the triumphs of one of Pittsburgh's favourite adopted sons. In doing so, it also serves as a beacon of hope, ultimately silencing doubters and reminding fans that Crosby will undoubtedly again rise to the apex of the sport he adores. Until then, the hockey world holds its breath and patiently awaits Crosby with open arms.