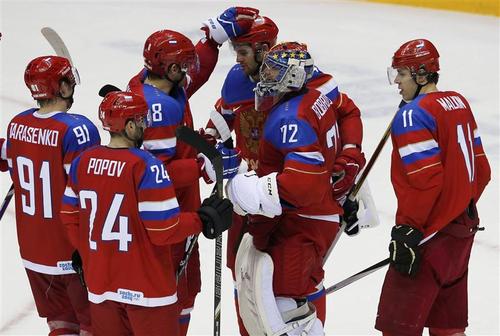 In what promised to be a rout for Russian hockey fans to enjoy, Norway and Russia took the ice in the qualification round Tuesday. Similar to other matchups at the Olympics this year, the expectations were not exactly matched throughout the game. Although Russia eventually won 4-0, a dominant performance as far as hockey goes, this game was actually significantly closer than anyone expected it would be. For the majority of the game Norway remained within striking distance, and in a scoreless tie after the first there was the faintest glimmer of hope on their bench.
In the second the Russians emerged on top scoring two goals from Radulov and Kovalchuk, but the Norwegians didn't give up. In the third the game got a little more serious, as Russia was yet again unable to avoid a close, tense game. The score remained at 2-0, with Russia leading throughout, but it never seemed one hundred percent certain that the Russians had this game in hand. Two goal leads are commonly referred to as the most dangerous lead in hockey, which is why it was so surprising to see the Russians seemingly let up after attaining their lead.
Norway had a tough road ahead of them this Olympics, but they did play well in just about every one of their games. They were never really a medal contender but they proved that they are capable of playing with some of the best teams In the world. Look for them to develop more in the upcoming years and become much more of a presence in the international scene.
With the win Russia looks forward to facing Finland in a tough quarterfinal matchup.