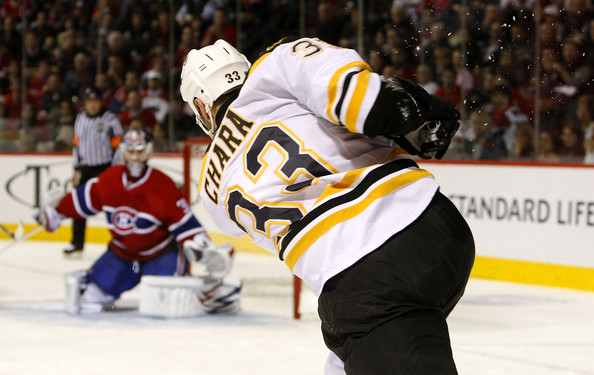 Yesterday we took a look at the top 5 forwards in the Northeast Division and today we are going to look at the defensemen that are tasked with shutting those guys down. There's no shortage of quality defensemen in the Northeast, so we'll begin the tough task of trying to narrow it down to a top 5. First, our honorable mentions.
Honorable Mentions (in no particular order): Christian Ehrhoff, Robyn Regehr, Chris Phillips, Andrei Markov, P.K. Subban
After being such an offensive stud for the Vancouver Canucks, Ehrhoff jumped over to the Sabres for the 2011-2012 season. Ehrhoff didn't put up the same numbers as he did in Vancouver. However, the Sabres still rely on Ehrhoff to be their main point producing defenseman and the quarterback of their powerplay. Ehrhoff also led the Sabres in ice time. If Ehrhoff can bring his numbers back into the 40-50 point range, we could see Ehrhoff on the list next year. Robyn Regehr also jumped ship from the Flames to the Sabres last year and also had a down year offensively. However, Regehr's contributions aren't measured by his point totals, but rather by his physicality and hitting. Regehr led the Sabres in shorthanded time on ice and hits, and was second on the team in blocked shots. If Regehr can bring his point totals up just a tad and improve on his -12 from this past season, Regehr could find himself on the list. Chris Phillips is another stay-at-home defenseman that is getting up there in age (34), but is still an integral part of the Senators defense. His improved play during the 2011-2012 helped spark the Senators and helped give the Rangers a serious scare. Andrei Markov is on this list strictly for what he used to be able to do. 3 years ago, Markov was the do-it all defenseman for the Habs. However, in the last 2 years, Markov has only managed to play 20 games total. If, and this is the biggest if ever, Markov can come back and be healthy, the Habs will gain a big time defenseman. Finally, P.K. Subban, as overrated as I think he may be, is getting better each season so logically speaking, I think we can see him on this top 5 list somewhere down the road. He's a big hitter, puts up points, and has a big slapshot, and if he can just fix his big defensive miscues and tone down his attitude, we'll see a good young defenseman.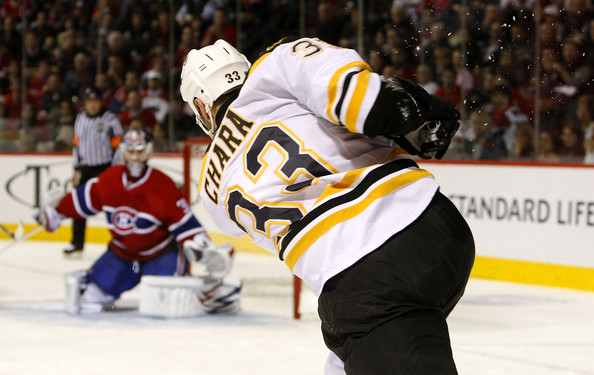 And now….the top 5
5. Tyler Myers, Buffalo Sabres
After his stunning rookie season in 2009-2010, Myers has seen his point totals slip the past two years, down to just 8 goals and 15 assists. However, "The Big Easy", as Myers is known, is a tough defenseman to play against because of he is 6'8″ and knows how to use his reach. He played the 2nd most minutes for the Sabres this past year and played big minutes on both the powerplay and the penalty kill. Sure his point totals haven't been great, but with the addition of Christian Ehrhoff, the Sabres don't necessarily need Myers to take as many chances to create scoring opportunities. Sabres fans should be happy that Myers is just 22 years old and hasn't even begun to tap into his potential. He skates well, has a big slapshot, and can hit big when he needs to.We should see Myers get a lot better down the road and hopefully become a future All-Star defenseman.
Last Year: 8 goals – 15 assists – 23 points
Projection: 10 goals – 24 assists – 34 points
4. Dion Phaneuf, Toronto Maple Leafs
I think it's safe to say that Phaneuf finally found his game with the Maple Leafs last year. Phaneuf earned his 3rd All Star game nomination and put up some solid offensive numbers. The Leafs expect Phaneuf to be their all-around defenseman and he did a fairly decent job in that role last year. Phaneuf was 2nd on the Leafs in hits (214), 2nd in blocked shots (127), 3rd in powerplay goals (7), 2nd in powerplay points (22), and was 1st in ice time (25:17/game). Now many still believe that Phaneuf takes too many chances and too often pulls himself out of position to throw a big hit and that is still true to a certain degree. Phaneuf is getting better at it, but I can't really place him any higher than 4 because of his tendency to take too many chances with the puck and his tendency to pull himself out of position trying to go for the big hit. But as far as doing the job that the Maple Leafs have asked him to do, Phaneuf has done just that. We also can't discount his leadership duties he has as the captain of the Leafs. Ultimately though, it comes down to this: if Phaneuf just stayed home a little bit more and didn't make as many gutsy passes, we would see Phaneuf evolve into a much better defenseman.
Last Year: 12 goals – 32 assists – 44 points
Projection: 10 goals – 37 assists – 47 points
3. Dennis Seidenberg, Boston Bruins
One of the most underappreciated defenseman in the NHL, I can safely say that without Seidenberg's play in the 2011 Stanley Cup Playoffs, the Boston Bruins would not have won the Stanley Cup. He was that good during their postseason run. Many people don't often get to hear about Seidenberg because he's never in the points race and plays most of his shifts with Zdeno Chara, so he never gets the recognition. However, Seidenberg is your prototypical physical defenseman that you really don't want to go into the corner with. He's 6'1″, a big 216 lbs, and knows how to use his body. Seidenberg was 3rd on the Bruins in hits (154), 1st in blocked shots (151), 2nd in shorthanded time on ice (2:34/game), 3rd in powerplay time on ice (2:36/game), and 2nd in time on ice (24:02). Without Seidenberg's defensive abilities, Chara would not be as free to take chances offensively. You always know what you're going to get from Seidenberg. I just don't think we'll ever see Seidenberg get the recognition he deserves, such as an All-Star nomination, because the media and fans tend to focus on point totals from defensemen too much. Here's to someday Seidenberg getting the credit he deserves.
Last Year: 5 goals – 18 assists – 23 points
Projection: 4 goals – 20 assists – 24 points
2. Erik Karlsson, Ottawa Senators
It may come as somewhat of a shock to see the reigning Norris Trophy winner as only the 2nd best defenseman in his division, but honestly, I find that this won't really be this controversial. Karlsson was awesome offensively last year, scoring the most points by a defenseman (78) since Nick Lidstrom in 2005-2006 (80). Karlsson increased his point total by 33, improved his +/- from -30 in 2010-2011 to +16 in 2011-2012, and led his team in ice time at 25:19 a game. He capped the season off by winning the Norris Trophy, becoming only the 3rd player ever less than 23 years old to win the award (Bobby Orr, Denis Potvin). Yeah, Karlsson is only 22 years old, and is going to get a lot better. Already we can see marked improvements in his own zone, from his body position, to the use of his stick, to the way he plays the corners. Karlsson by no means is going to throw a devastating body check, or instill fear in an opposition's eyes. The guy is only 6'0″ 180 lbs. However, he's modeling his game after another great Swede, Nick Lidstrom (you may have heard of him), and the results are starting to come. We'll see how much he improves heading next year, but the kid can skate, shoot, and pass with the best of them.
Last Year: 19 goals – 59 assists – 78 points
Projection: 16 goals – 56 assists – 72 points
1. Zdeno Chara, Boston Bruins
What more can I say about Zdeno Chara? The guy does it all for the Bruins. He's 6'9″, hits big, blocks shots, displays great leadership, has a booming slapshot, makes great outlet passes, and has an incredibly high hockey IQ. You can easily make the case that he's been one of the top 3 defensemen since the lockout, right there with Nick Lidstrom and Shea Weber. Last year alone, Chara led his team in ice time (25:00/game), shorthanded time on ice (2:43/game), was 2nd in hits (166), 2nd in powerplay ice time (2:39/game), 3rd in +/- (+33), and he posted a career high 52 points. One could argue that this was the best season of Chara's career. I personally believe that Chara is the best defenseman in the game right now and can definitely maintain that title for a couple of more seasons. There's not really much more I can say about the guy except for the fact that he just plays the game the way it should be.
Last Year: 12 goals – 40 assists – 52 points
Projection: 13 goals – 35 assists – 48 points
So there you have it. That's our countdown of the top 5 defensemen in the Northeast Division. Stay tuned tomorrow for the Top 5 goalies of the Northeast to wrap up our breakdown of the Northeast Division. Don't agree with our selections? Comment below!