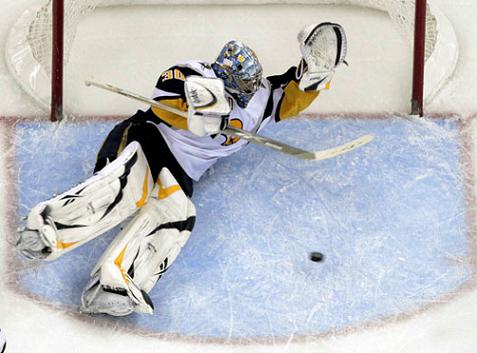 After looking at the top defensemen and the top forwards in the Northeast Division, today we will look at the top goaltenders. First, we'll rank the top 5 backups, and then we will rank the top 5 starters. Since Tim Thomas has gone on a hiatus, we will not include him on either list. Now, let's look at the backups. Again, we won't project the stats for the backups because we can't project how many games they'll get and for the starters, we'll project their stats based on the number of games they played last season.
Backup Goaltenders:
5. Ben Scrivens, Toronto Maple Leafs
We've seen very little of the 25 year old netminder from Spruce Grove, Alberta, so it's hard to make a great determination of his skill level. Last year, we saw Scrivens appear in 12 games, going 4-5 with a 3.13 GAA and a .902 SV%. This year, Scrivens will be the back up to James Reimer and if Reimer struggles, Scrivens may get an actual shot at being a starter. Scrivens has proven that he can play at all the levels he's reached, earning a Hobey Baker nomination while at Cornell, and moving quickly from the ECHL to the AHL last season. In just 1 season, he's jumped from the ECHL to the NHL and we'll get a chance to see how good he is this year.
4. Anton Khudobin, Boston Bruins
Similar to Ben Scrivens, we haven't seen much of Khudobin as he's been buried behind Tim Thomas and Tuukka Rask. However, with Thomas deciding not to play hockey this year, Khudobin is getting a shot at being the backup to Rask. Khudobin has only appeared in 7 NHL games over the past 3 years, but in those 7 games, he's gone 5-1 with an insane 1.32 GAA and a .961 SV%. While it's an extremely small sample size, those games included matchups with the Flyers (stopped 38 of 39 shots against the Flyers in their runner-up season), Canucks (stopped all 32 shots against the Canucks in their Finals run season), and Senators this past year, stopping 44 of 45 shots. Those are some quality wins. While those really can't be used as predictors of future success, they are some solid building blocks
3. Ben Bishop, Ottawa Senators
The only reason Bishop gets the nod over Khudobin and Scrivens is that he has more games under his belt and has shown over the past 3 seasons that he can be counted on when he steps in. However, this past year in Ottawa did not go as expected as Bishop only appeared in 10 games, going 3-3-2 with a 2.48 GAA and a .909 SV%. Bishop is the tallest goaltender in NHL history at 6'7″ and he's just 25 years old. Ottawa may try to take the workload off of Craig Anderson, and Bishop will be tabbed for those starts.
2. Peter Budaj, Montreal Canadiens
After trying and not having much success as a starting goaltender with the Colorado Avalanche, Budaj signed with the Canadiens last year. Budaj appeared in 17 games, going 5-7-5 with a 2.55 GAA and a .913 SV% in relief of Carey Price. Both of those numbers were actually career highs for Budaj so hopefully this is the start of something good for him. Budaj has shown that he's more than capable every now and then, but consistency was always his biggest problem. Being a backup is good for him as he just has to come in every now and then and put up a good performance. Budaj's solid play allows the Canadiens to keep Carey Price's workload at a manageable number so hopefully Budaj can keep up the good play this year.
1. Jhonas Enroth, Buffalo Sabres
When Ryan Miller went down last year with a concussion, the Sabres turned to Enroth. Enroth had won the his first 6 starts of the season and was actually starting a bit of a goalie controversy as Miller lost 5 of his first 9 starts. However, Enroth finally came back down to earth, finishing the season at 8-11-4 with a 2.70 GAA and a .917 SV%. However, those first 6 games really showed the potential that the 24 year old Swede has. Enroth managed to hold the high-powered Penguins, Senators, and Flyers to a combined 5 goals in 4 games, while stopping 105 of 110 shots faced (.954 SV%). Enroth will one day get his chance, but for now, he's a great backup to Ryan Miller.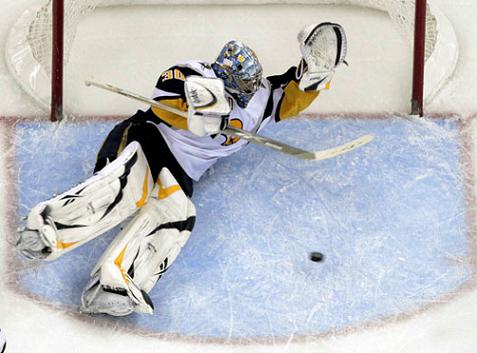 And now, it's time to look at the starters:
5. James Reimer, Toronto Maple Leafs
The main thing you need to know about James Reimer from last year is that injuries derailed what could have been a great season for him. Reimer started the year 4-0-1. However, in his next game against the Canadiens, Reimer sustained an injury and missed the next 19 games. After coming back, Reimer struggled for a period of time, not really finding his game until early February when he posted back to back shutouts against the Penguins and Senators. However, injuries struck Reimer again in March, and that ended his season. Reimer finished 14-14-4 with a 3.10 GAA and a .900 SV%. In the offseason, the Leafs let Jonas Gustavsson walk, so Reimer will be the unquestioned starter heading into the season. It's just a matter of whether or not "Optimus Reim" can find and sustain his game.
Last Year: 14-14-4, 3.10 GAA, .900 SV%
Projection (based on a 60 game season): 25-29-6, 2.77 GAA, .905 SV%
4. Craig Anderson, Ottawa Senators
Will the real Craig Anderson please stand up? In 2009-2010, Anderson went 38-25-7 with a 2.63 GAA, a .917 SV%, and was named an alternate candidate for Team USA that year. Then in 2010-2011, Anderson went 24-20-4 with a 2.83 GAA, a .913 SV%. Anderson was so bad that the Avalanche actually traded him to the Senators. Then 2011-2012 starts and Anderson goes 33-22-6 with a 2.83 GAA and a .914 SV%. Anderson was incredible in the playoffs and nearly steered the Senators to a monumental upset over the New York Rangers. Heading into this season, which Craig Anderson will show up? Hopefully for Senators fans, they'll get to see the Anderson that they saw last year in the playoffs. Anderson had a 2.01 GAA and a ridiculous .933 SV% while never giving up more than the 4 goals he gave up in Game 1.
Last Year: 33-22-6, 2.83 GAA, .914 SV%
Projection: 35-21-5, 2.68 GAA, .916 SV%
3. Tuukka Rask, Boston Bruins
With Tim Thomas deciding to go AWOL, Tuukka Rask is finally getting his starting job back. After wrestling away the starting job towards the end of the 2009-2010 season, Rask saw Thomas step in and steal the job right back and then lead the Bruins to the Stanley Cup in 2010-2011. 2011-2012 saw Thomas keep up his incredible numbers which just kept Rask pinned to the bench. Rask only appeared in 23 games, going 11-8-3 with a 2.05 GAA and a .929 SV%. Now, Rask is back in the starting role and we'll see if he can keep these numbers up over the course of an entire season. Rask has never played more than 45 games in a season, so we'll see how he holds up, especially with the largely unproven Anton Khudobin behind him. The Bruins may count on Rask to play between 65-70 games this year.
Last Year: 11-8-3, 2.05 GAA, .929 SV%
Projection (based on a 60 game season): 38-18-4, 2.15 GAA, .925 SV%
2. Carey Price, Montreal Canadiens
After the 2010 playoffs, the Canadiens had to make a choice. Do they go with playoff hero Jaroslav Halak, or do they keep the younger Carey Price? The Canadiens chose Price, and since that choice, Price has done his best to prove to them that they kept the right man. Price has gone 64-56-17 with a 2.39 GAA, a .920 SV%, and 2 All Star Game appearances. This being done behind the shoddy Montreal Canadiens defense. The Canadiens haven't done much for Price this offseason, so Price will once again be relied upon to play a heavy amount of games. However, the Canadiens have found a solid backup in Peter Budaj so Price may be able to resume playing a healthy amount of games instead of the insane 72 he played in 2010-2011. Price will be going for his 3rd consecutive All Star game nomination, which would be quite a feat in the East with such goalies as Martin Brodeur, Henrik Lundqvist, Marc-Andre Fleury, Tim Thomas, Ryan Miller, and Cam Ward. Let's see if he can do it.
Last Year: 26-28-11, 2.43 GAA, .916 SV%
Projection: 31-28-6, 2.35 GAA, .919 SV%
1. Ryan Miller, Buffalo Sabres
The 2009-2010 Vezina Trophy Winner struggled a bit out of the gate this past season and then had to deal with Milan Lucic running him over. For a period of time, Ryan Miller looked a bit lost and definitely didn't have his game. But by the end of the season, the Ryan Miller that we all know and love was back. It looked like all Miller needed was a bit of extended rest from the All Star Break. From the All Star Break (January 31st) until March 27th, Miller went an insane 18-3-5 with a 1.63 GAA, a .931 SV%, and 5 shutouts. Miller essentially reconfirmed that he was and still is one of the top 5 goaltenders in the NHL. With Miller hopefully being over the injury bug and his defensive corps getting more accustomed to each other, we could see Miller turn in another Vezina Trophy worthy season. Watch out Northeast Division, because when Miller gets on a tear, he's awfully hard to be beat.
Last Year: 31-21-7, 2.55 GAA, .916 SV%
Projection: 35-19-5, 2.38 GAA, .920 SV%
That's our wrap of the Top 5 Goalies in the Northeast Division and this also wraps up our breakdown of the Northeast Division. Tomorrow we'll start on the Southeast Division and the top 5 forwards in the division. Don't agree with our picks here? Comment below!