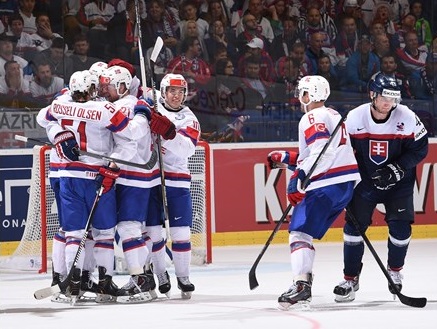 I'm sorry guys, but this one's gonna be preeeeeeeeeeeetty sub-standard on my end; 15 hours crammed into a van with 15 other dudes really takes a toll on your ability to conjure up a coherent thought, let alone translate that into writing. Oh, and my computer is a veritable dinosaur. Cretaceous period. Reallyfackingslowus P.C. It happened.
While my laptop slogs through the virtual quagmire that is…well, I'm not exactly sure what it is…I should probably get a start on this recap. In essence, the nation of Norway has a cause for celebration tonight; having knocked off Slovakia in dramatic fashion, this underdog squad registered its first win and points of the 2015 IIHF World Championships. With Mattias Norstebo's third-period power-play goal, Team Norway sealed a monumental victory for their program as a whole, conquering the Slovaks on the global stage for the first time in team history.
Things started off a bit shaky for the Norwegian contingent; having gotten to netminder Lars Haugen twice in the early stages of the game, it looked as if Slovakia-powered by goals from Tomas Surovy and Marek Daloga-were set to cruise to yet another victory over their Scandinavian neighbors. The second period, however, would prove crucial for the Norwegian counterattack; capitalizing on a Surovy hooking penalty, the blueliner Norstebo solved Slovak goaltender Jan Laco, halving the deficit and providing a glimmer of hope to a Norwegian side fresh on the heels of a 5-0 shelling at the hands of Finland. European pros Jonas Holos and Mathis Olimb notched helpers on the power play tally.
Ten minutes later, the Norwegians were at it again, finding an even-strength equalizer in Mats Rosseli Olsen's marker. Assisted by Morten Ask and Andres Martinsen, Rosseli Olsen's effort juiced his teammates, giving them a spark that would ignite a most improbable comeback. Hero-turned-villain Marek Daloga's goalie interference penalty in the opening stages of the third soured an already spoiled night for the Slovakian side, affording the prolific Norstebo-fresh off of his first goal for the senior side-yet another opportunity to dent the twine. And dent it he did; converting a Patrick Thoresen set-up, the 5'10" Brynas Gavle rearguard propelled his squad to victory and vaulting them three places, from eighth to fifth, in Group B standings.
Next up for Norge, an interesting tilt against Group B minnows Slovenia could make or break their tournament, either potentially tying them up with Scandinavian nemesis Finland or damning them to an appearance in the relegation round. For all I know, everything that I just told you could be wrong-I think I'm starting to see sounds. Iggy, you'll proofread this, right? RIGHT?
P.S.-Sorry Shannon, but no Drake memes this time through.