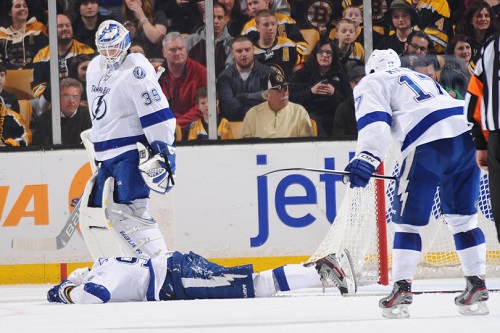 There was only one NHL game on Veterans Day. But it may go down as one of the most important games of the season. For the Tampa Bay Lightning, it already is.
I was going to write about how the Bruins are the Bolts' kryptonite. I was going to write about how the Lightning haven't won in Boston for eight straight games. I was going to write about how three of the Lightning's five losses this season have come against the Bruins.
But I can't. Because the Lightning lost much more than a game on Monday.
If you haven't seen it, it looked bad. Really bad. Steven Stamkos fell and slid into Anders Lindback's crease, and his right leg slammed into the goal post and bent awkwardly. He writhed in pain, throwing off his helmet and gloves.
The guy who refused to sit out when he broke his nose in the 2011 playoffs against the Bruins had to be taken off the ice on a stretcher.
According to Sun Sports, he was taken to a local Boston hospital for X-rays during the game.
Aaron Ward of TSN has reported that Stamkos broke his tibia, also known as the shin bone, and will require surgery. GM Steve Yzerman has confirmed this report.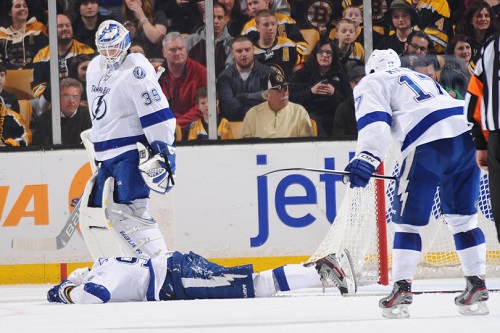 At this early stage, the timetable for his return looks to be anywhere from three to six months, according to the Stats Guy of TSN.
That means best-case, he's back in February for the Olympics. Worst-case, he's out for the rest of the regular season.
Either way, losing Stamkos could derail what has been a promising start to the year for Tampa Bay. Without Stamkos anchoring the top line, goals will be a lot harder to come by. And the look of the roster is significantly downgraded.
I'll hold off on doomsday predictions until we get to see what they look like without Stamkos on the ice, but the future looks a lot darker than it did this morning.
It's a shame, but injuries are part of the game. However, losing one of the top three players in the league is a debilitating blow for the Bolts.
Notes
Keith Aulie (upper-body injury) and Sami Salo (lower-body injury) also left Monday's game against Boston and did not return. Salo will likely miss Tuesday's game against Montreal. Other than that, there is no word on the severity of their injuries.
Ben Bishop will likely play in net against the Canadiens since Lindback played Monday against the Bruins.
Mark Barberio, B.J. Crombeen and Pierre-Cedric Labrie were healthy scratches for Tampa Bay against Boston.
What does everybody else think? Are the Bolts' postseason chances shot?