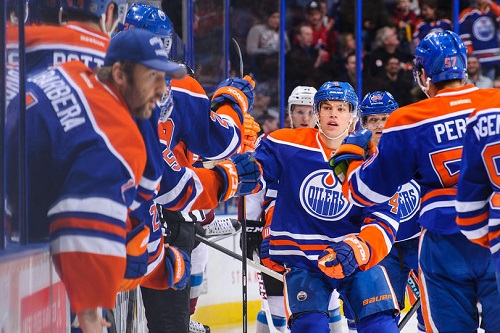 Well, to say the Edmonton Oilers have been confusing in their performance this season is putting it mildly. They had an extremely rough start to the season, failed to capitalize on a brief but important three game winning streak, and now seem to be bouncing between wins and losses. Not merely one or two point difference wins or losses, but generally nearly complete blowouts either way. They slaughtered the Columbus Blue Jackets 7-1 on Nov. 19, then lost 5-1 to the Chicago Blackhawks on Nov. 25. They shut out the Nashville Predators with a 3-0 win on Nov. 28, then suffered a crushing 6-2 loss to the Phoenix Coyotes a few days later on Dec. 3.
Guys…what is happening? Anytime the Oilers' trajectory is heading upwards, fans are happy, but it's been a weird back and forth. However, they added to their list of big wins by trouncing the Colorado Avalanche 8-2 on Thursday, December 5.
After the brutal 6-2 loss to Phoenix, Edmonton tweaked its lineup a bit, replacing about a quarter of the lineup. Whatever this freshening up sought to do, it worked here. Taylor Hall got his fourth career hat trick during the game, and goals were also scored by Ales Hemsky, Marc Arcobello, Jordan Eberle, Sam Gagner, and David Perron.
Even coach Dallas Eakins was surprised, interviewing that "over the last few weeks, our group has taken a step in mental toughness. I didn't see a win of that score coming, though. I definitely thought we'd be in a tight game."
Edmonton opened the game with the first goal, courtesy of Taylor Hall – the first of his three goals of the night – less than four minutes into the game. Hall made some great comments about the effect that getting that first goal had on the time. "It gave us confidence," said Hall. "We're a team, you've seen it, that when we're not confident and we're not playing with poise, we don't look like the same team. And all of a sudden we get a goal and it just seems like we're skating better and we have that burst of energy. The best teams in the league, they don't need that spark, but at times we do."
The Oilers managed to thwart Colorado's opportunity to even the game by killing their power-play a few minutes later.
The Oilers continued to dominate the first period, scoring two more power-play goals only a few seconds apart with only two minutes left in the first period. The strong start to the game definitely left the Oilers positive exiting the first period.
The Avalanche managed to get back into things in the second period, scoring two goals to the Oilers' one scored in the second, bringing the score to 5-2.
However, their moderate comeback was short-lived, as the determined Oilers shot four more goals past Varlamov – the last, Hall's third of the night, with mere seconds remaining in the game.
"I haven't been in this league long, but I've been in it enough to know that anything can happen on any night against any team," Hall said in a post-game interview. "You have to be ready for the opportunity. You just have to come out and play your game. Sometimes you're going to get eight and some nights you're going to get zero. And tonight was a great night."
" There is tremendous amount of skill here and we have to utilize it on a daily basis," defenseman Ryan Smyth said. "We can't just sporadically use it. If we get consistent at it, we're going to be successful."
They faced their provincial rivals, the Calgary Flames, on Saturday, December 7th in an interesting game with a 2-1 final score (unfortunately for Oilers fans, it was in Calgary's favor).
They started out strong, and David Perron – who has been performing really well lately – nearly got a goal early in the first period.
Unfortunately, with less than 5 minutes left in the first period, Calgary's Lee Stempniak managed to evade Andrew Ference and shot one past Devan Dubnyk to bring Calgary to a 1-0 lead.
It was an unfortunate way to close out the period, but Edmonton was playing a quick and aggressive game. They had double Calgary's shots on goal, so while they may not have sunk one between the pipes, they were at least trying to get those chances.
A few minutes into the second period, Jeff Petry was smashed into the boards and his head hit the glass partition. About halfway through the period, the Oilers made the announcement that he wouldn't be returning to the game.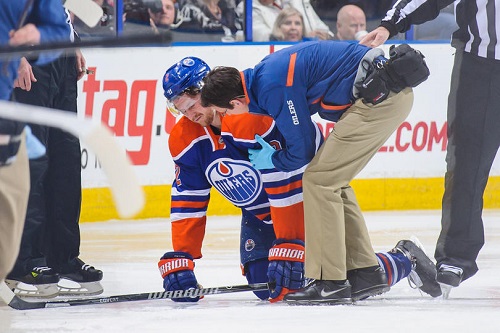 The shots on goal were again in the Oilers' favor this period, but they just couldn't yet manage to get one in, keeping the score at 1-0 for Calgary.
Things weren't looking good for the Oilers in the third period, but Taylor Hall came to the rescue with seconds left in play. He fired the puck into the net and, with the clock almost running out, managed to get Edmonton's first goal of the night to tie the game.
The provincial rivals went into overtime. Edmonton fans likely hoped that Hall's last-minute evening of the scores would give them the energy needed to pull out another win, but unfortunately this wasn't the case. With less than 2 minutes remaining in overtime, the Flames took the lead once again and closed the game out 2-1.
Love Reading About Hockey?

Subscribe to keep up-to-date with the latest and most interesting hockey news!
| | |
| --- | --- |
| | We hate spam just as much as you |