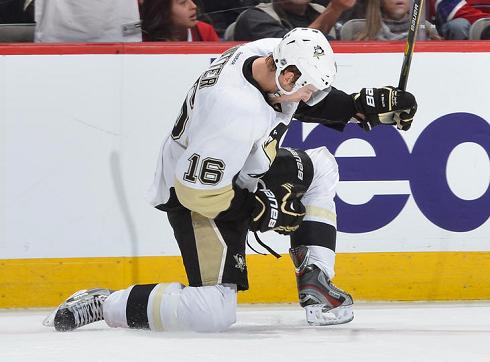 Hockey is a game of momentum. Ultimately, the victors maintain momentum through a perfect marriage of offense and defense. For the Pittsburgh Penguins and Montreal Canadiens, this message falls on deaf ears. The visiting Penguins would best the Canadiens Saturday evening in a 7-6 contest, which featured a scoring blitz by both teams.
"That looked look like the 1980s out there," said Penguins captain Sidney Crosby, beaming. "I think everybody got their money's worth tonight. It was exciting. I haven't played in one like that in quite awhile so it reminded me of when I was in Rimouski watching those. [Those types of games] don't happen very often."
Brandon Sutter, the club's third line center, scored 52 seconds into the extra frame, punctuating a precarious Penguins victory with an exclamation point.
"If you ask both teams, it's probably not the best way to win a game when you give up six goals," Sutter told the media. "But on the end of a road trip like that, I think it's a great win. We still felt we played pretty well. We have to get a little tougher around our own net to keep some pucks out, but it's a good win and it feels pretty good."
Saturday's win on the road snaps the club's two game losing streak.
James Neal and Simon Despres—a native of Montreal—carried the puck north and connected with Sutter in the attacking zone. With velocity and skill, the New York native sailed past tired Canadiens defense and beat netminder Carey Price cleanly with a quick wrist shot. The winning tally was Sutter's second of the evening, earning him a plus-2 rating.
"[Despres] just found me as the wide guy. I just had one guy to step around and I just tried to put my head down and shoot it," Sutter said.
On the whole, the contest was thrilling, riveting, and exciting. Too bad the Penguins don't echo these sentiments.
"No, it's stressful," Kris Letang said coyly with a smile. "Honestly, you get the lead and you don't even know if you're going to keep it. You're all over the ice, you're trying to get back into it. You're pushing the issue. It goes on and on like that."
The Penguins' blueliner and potential Norris Trophy candidate notched four assists, for a total of 16 helpers this season. Letang seemed focused and determined—working hard along the boards, capturing rebounds in front of Price, and effortlessly finding the open man in the slot.
As it is often said, coaches detest these types of games.
"I don't want to remember ever being in one like this again," Penguins Coach Dan Bylsma said with a chuckle. "Was more expecting gutting one out 2-1 or 3-2 tonight, not a 7-6 game. I don't think Michel [Therrien] or I are going to really like a lot on the tape."
Byslma's predecessor and current coach of the Canadiens, Michel Therrien, agreed.
"Crazy game, eh? Exciting for the fans, but that's one of the reasons coaches start to get grey hair," he said lightheartedly after the game. "But you know what, we're making comebacks and we find a way to get a point."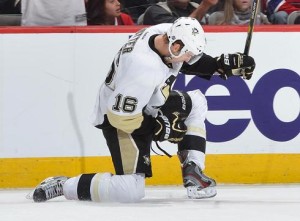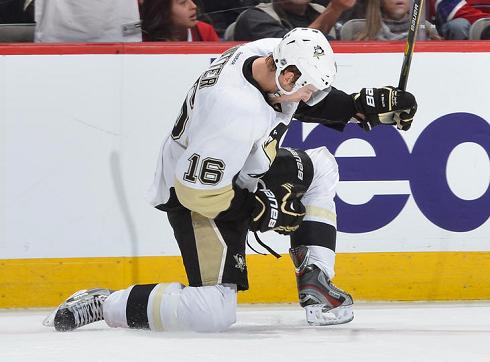 For Byslma and his troops, the win highlighted the club's passion and commitment to success.
This was obviously an up-and-down game … Just all over the map," Bylsma said emphatically. "Maybe our best game in terms of sticking with it and staying with it and not deviating. We were able to get the (tying goal) and also get the goal in overtime."
To add, Pittsburgh's favorite adopted son, Sidney Crosby, displayed his unparalleled skill and creativity, despite the Canadiens' valiant efforts to spoil his evening. Crosby registered 3 points (1G, 2A), thrusting him to the top of the heap in the NHL's scoring race. Currently, the esteemed Penguin has 34 points (10G, 24A) and was named the third star of the game.
The Penguins are in action Monday night as they return to Consol Energy Center and welcome the Tampa Bay Lightning.