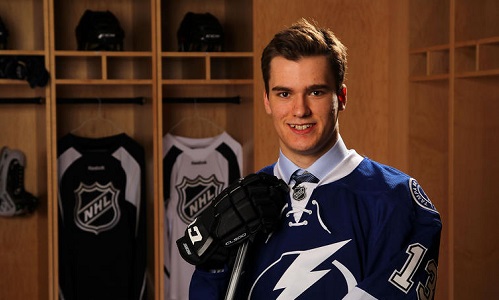 With the offseason down to its final days, many prospects are sizing up their chances of making an NHL roster come October. Jonathan Drouin is no different, though the general consensus is that he'll easily crack the Tampa Bay Lightning lineup straight out of training camp.
Selected third overall in the 2013 draft, Drouin found himself in an unexpected role. The decision by general manager Steve Yzerman to return him to the junior level for another season was met with lots of questions. Around November 11 or shortly thereafter, that turned into an outcry.
The loss of elite goal scorer Steven Stamkos exposed the Lightning's need for another player who could score. Martin St. Louis' sudden trade request left the team searching for a playmaker as well. Drouin fits both of these categories.
His 108 points in 46 regular season games with the QMJHL's Halifax Mooseheads during 2013-14′ were a career best, as was the 13 goals and 41 postseason points he produced. Put very simply, he dominated the junior ranks. Knowing that, the only thing worth asking would be whether the 19-year-old can impress enough to land a full time spot.
If you ask me, Drouin has the potential to not only make the Lightning roster but also compete for a top six role alongside Stamkos sometime during the year. Heck, a Calder Trophy might also be in his future. Near future that is.
First things first though. Rookie camp, followed closely by training camp, will give the coaches a chance to assess how ready he really is. Does he have what it takes to compete on the biggest stage against some of the best players in the world? Though unknown, Drouin's ready to embrace this opportunity and leave his mark.