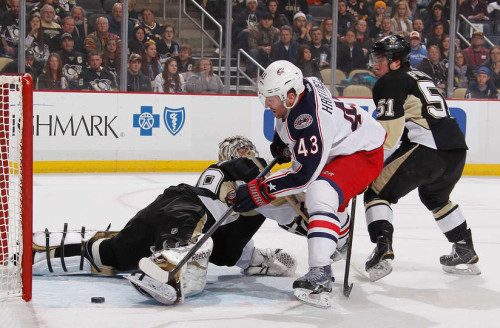 The Pittsburgh Penguins are currently on the Wild Card bubble. They are 7-11-4 against their own division. As far as potential playoff matchups? They beat the New York Islanders once at the start of the season. They beat the New York Rangers once in a whacky shootout. They have yet to beat the Washington Capitals, but at least they finally got a puck past Holtby… right?
The Penguins played the right way against the Chicago Blackhawks last week. They got off to a good start against the Capitals. They almost played a good game against the Columbus Blue Jackets.
These Penguins are streaky. Win or two there. Three game skid here. It's hard to be confident about a team that's not dominating the regular season like they have in the past.
The 2011-2012 Pittsburgh Penguins were one of the most complete teams on paper. Statistically, that team had everything it took to go all the way. That was a team that went on an 11-game winning streak. That was a team that went 11-3-1 over the course of a month. That was also a team that went on a five-game losing streak in January. I actually couldn't believe it was only five-game losing streak. A five-game skid prompted the team to respond to all of the criticism in a bizarre fashion involving masking tape and makeshift C's.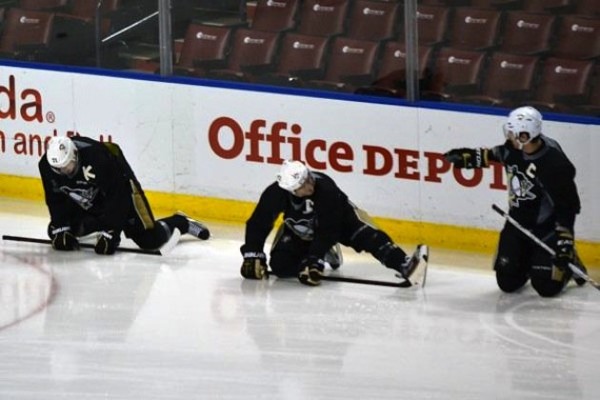 That's the kind of panic that happens here in Pittsburgh. It's actually the norm at this point.
Advanced statistics show that the Penguins are not deep enough. Sidney Crosby has had more fights in the month of February (one) than the team has had power-play goals (zero). They're winning against bad teams and losing to the ones that matter the most. Asking anyone about the Penguins and their playoff hopes right now will probably warrant a cringe for a response. Is it really time to prepare for the worst?
No.
Regular season success does not equal playoff success. Everyone in Pittsburgh should know this especially well. For a fan base that will take nothing less than the Stanley Cup, they sure do want a President's Trophy really bad. Has that ever gone well for this team? Rhetorical question.
It's surprising that people aren't cheering in the streets right now. For once the Penguins are facing some adversity. A few losses here or there are usually seen as such. But after this three-game skid, have we finally reached the breaking point of too much adversity? The fact that injuries can no longer be blamed. The fact that all of their stars are on the ice. The fact that there is literally no excuse for this team to be losing now. Is that too much adversity for these Penguins? Is being the losing team simply because you didn't play as well as the other team too much to overcome?
It's not. For once the regular season Penguins are getting a swift kick in the pants. Good. They need it. They've needed it for quite some time.
Advanced statistics currently show that this team is in no shape to have a good post-season run. They usually translate to what we see on the ice every night. They're correct. Don't push those aside. Don't forget about those. Those are important.
But remember that it's February. Remember that there is time. Remember that the 2012 Los Angeles Kings squeaked into the playoffs at the last minute and won it all. Remember that all these Penguins have to do is get in the door and get hot at the right time. Is that asking a little much? Sure. Is it possible? Sure. Doesn't mean it will happen without a little help though.
In a recent report from the Trib's Jason Mackey:
General manager Jim Rutherford, I learned, did not travel with the team. Instead, he spent the day Friday on the phone, exploring various trade angles.

Nothing is imminent, but I'm told Sidney Crosby, Evgeni Malkin, Kris Letang and Marc-Andre Fleury are the only names not in play.
If Jim Rutherford can ship out a poor performer or two and bring in someone with good possession numbers to help out the bottom-six, it would make this team a lot easier to get behind for some. Rutherford has to be careful not to give up too much of the Penguins' future or make any trades just to make a trade. You can only hope that any potential moves he's waiting to pull the trigger on have been potential moves for quite some time.
Line shuffles are another great potential fix as well. Hopefully Rutherford voicing his disappointments will prompt a line change or two. Now is the time to experiment and get things set in stone before the final push. Ryan Wilson over at HockeyBuzz offered a few suggestions for shuffles earlier today.
This weekend isn't do or die. It's another chance for the Penguins to get back on the right track. Two regular season games. The beautiful thing about hockey is that any team can win on any given night. Never forget that.
Don't throw your remote at the T.V. Don't hide your face at games. Don't start selling your memorabilia on eBay. Don't even think about throwing your jersey on the ice.
Most importantly? Don't panic.