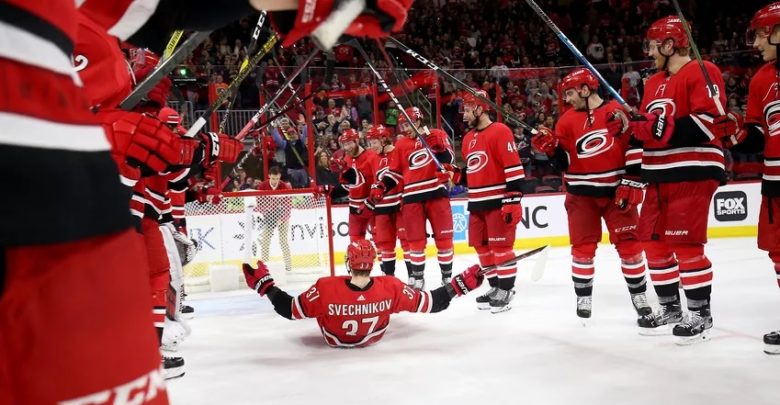 If you're a loyal reader, you know that I am a bit of a fan of weird memorabilia. I totally would have bought the Ryan Reaves photo demolishing resident bad boy, Tom Wilson in a Tom Wilson-esque type hit; however, those were destroyed before they hit the market and I had to remortgage my imaginary house (thanks, Boomers).
I am a huge fan of the direction the Carolina Hurricanes have taken with their new t-shirts, which follows in the vein of this other unofficial piece of merch, which I am the proud owner of:

I'm not looking through the laundry for it right now… Go Blue Jays!
If you are not in the know, let me give you the Cliff Notes (or Coles Notes, if you're in Canada, buddy):
Every time the Carolina Hurricanes win at home, they do something like this:
https://www.youtube.com/watch?v=7uTcYzBBuHM
Which leads to some crotchety old Don Cherry shenanigans (fast forward to 4:30 if you can't handle the ramblings of a drunk Canadian national treasure), in which he proceeded to chastise the Carolina Hurricanes for their extravagant celebrations. Ron McLean is trying his hardest to make Don Cherry not blow a gasket, but it is kind of funny, until Don lets his Crown Royal rage get the better of him and calls them, well, I'll let their merch department tell you:
Can't drive in snow, but damn, can they steer into a skid!
Also, look at their amazing twitter handle description. This is marketing done right, in my opinion.
Does Don Cherry have a point? Sort of. It looks like this iconic scene from BASEketball. Is it silly? Yeah, absolutely. Is it disrespectful? Not in the slightest (until they start thrusting at their opposing bench or decapitating the opposing team's mascots… sorry, winter IS coming…)
What Grapes fails to realize is that the NHL is sorely lacking in big personalities that make the other big four sports entertaining. You don't have a "Manny being Manny" type of player.There's no real iconic pre-game rituals like Lebron's chalk toss. You don't have a Terrell Owens type of soundbite machine. I rescind that last one. Sorry, Torts, I love you. God forbid a sport be fun to watch or the players get some sort of joy from either playing or winning their game.
Especially in one of the league's smallest markets (26th in terms of value), any buzz is good buzz, and what better way to make people interested in the game than doing something no other team is doing? Even more so now that the Hurricanes are slated to make the playoffs for the second time since winning the cup in 2006 (that's right, they've only made it once since, in 2009, where they were swept in the Eastern Conference finals by eventual champions, Pittsburgh Penguins). If Grapes is worried about the narration in the BASEketball clip above, I highly doubt that the celebrations will catch on and take over the sport; if they start, though, I'm sure the NHL can take a cue from the No Fun League and fine excessive or outrageous celebrations. If it was up to me, I'd tell the Canes to celebrate away. Throw in a viking clap while you're at it like some other famous underdogs. I will certainly drink to that. Especially if they beat the Capitals…
Oh, and for the record and while speaking of the Capitals, Don Cherry was not on board with Ovechkin's "stick on fire" celebration either. I'm perfectly okay with making the NHL a league to troll Don Cherry too.